Virtual Town Hall Meetings: Everything You Need to Know
10 min read
October 19, 2022
Town hall meetings have always been a popular format. They allow a group of people to gather under one roof and have an informal, open and honest discussion.
You can use them to deliver news and company updates, introduce new products and engage stakeholders. Town halls are a flexible format with many potential uses.
Table of contents
Online town hall-style events are becoming very popular online. Virtual town hall gatherings have quickly become a staple in most companies' virtual communication strategy. The virtual version has many advantages over in-person gatherings.
Today we will explore what a virtual town hall is, what the benefits are, how to plan your own and our top tips to ensure that yours is a success
What is a Virtual Town Hall Meeting?
A virtual town hall meeting is an informal gathering where organisations can deliver news and updates to their employees.
Everyone is considered on the same level in town hall meetings and all questions should be treated equally valuable.
They are useful for delivering updates, Q&A sessions, progress updates, new product updates, milestones and celebrations etc.
Virtual town hall meetings are hosted on a videoconferencing platform of your choice at a time that best suits your business.
The best thing about this format is that it gives everyone a chance to speak, and everyone is considered equal when asking questions. They allow you to get feedback and views you might not get in a formal setting.
More and more businesses are successfully incorporating virtual town halls into their meeting schedule. Let's look at some of the benefits of virtual town hall meetings.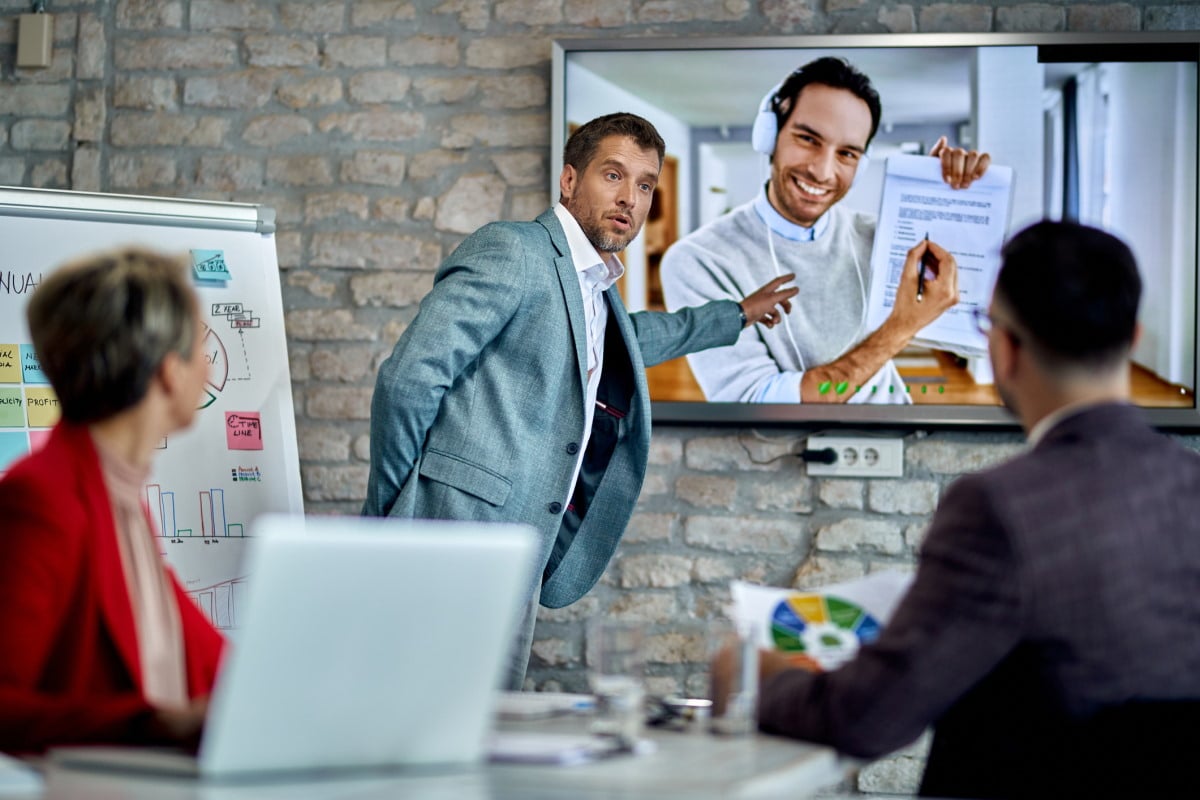 Benefits of Virtual Town Hall Meetings
Virtual meetings are cheaper and give you more bang for your buck. An in-person town hall involves booking a venue, travel, catering and other overheads. You only need a video conferencing platform to host a virtual town hall.
Because online meetings are so simple and quick to set up, they are also very scalable.
You don't need to worry about the number of seats or venue size.
Virtual town halls are much more democratic than their counterparts. There is no front row and no preferred seating. It's easier to sort through questions and give all questions equal time.
In real-life meetings, the people sitting at the front or shouting the loudest usually receive the most attention. Going virtual gives quieter people a better opportunity to express their thoughts. They also make it easier to treat all questions equally.
Because virtual meetings are cheaper and easier to set up, you can host them more often. They give organisers greater flexibility to achieve their organisation's communication goals.
Town halls are known for occasionally getting a little crazy. Because the format is so open, you never know what questions will appear. They are also prone to interruptions from unexpected guests.
Online meetings give you the benefit of fair and transparent moderation.
You can use waiting rooms, hand raising, Q&A and polling tools to control the flow and ensure attention is equally divided across your agenda.
Good luck getting everyone at your in-person event to accurately fill out feedback forms after the event. An online platform makes gathering feedback and data from features like polls and surveys much easier.
With no paper, pens or clipboards, everything can be done quickly and with minimal effort.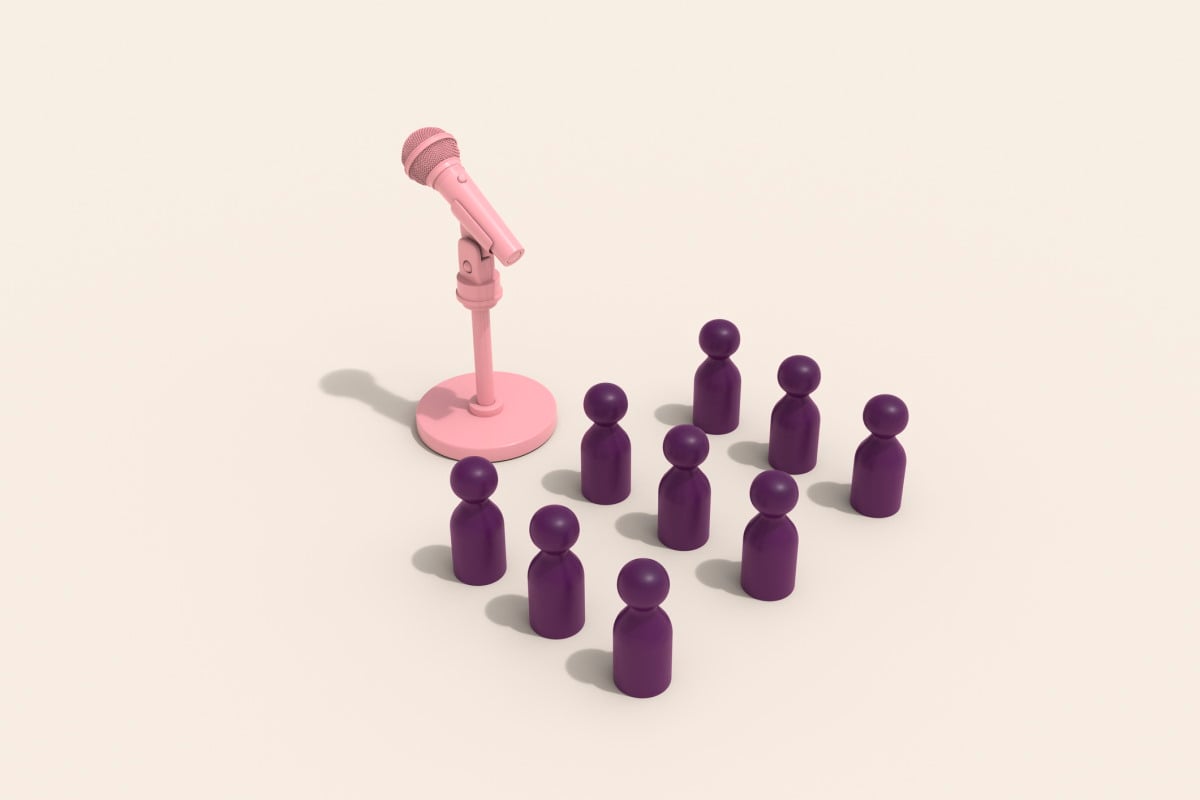 Best Virtual Town Hall Formats
Virtual town halls tend to follow a vague template, you can adapt it to suit your unique needs, but we have outlined a typical town hall meeting format below:
Be creative and grab your employee's attention. Starting the meeting in a boring way can lose your audience before you even begin.
Don't just stand there reading from slides.
Open up with an interesting anecdote or a cool story. If you have any funny jokes saved for a special occasion, feel free to use them!
Now that you have everyone's attention, you can deliver company news to a keen and engaged audience. Let everyone know what is new without taking too long to get to the point. Here are some examples of what kind of news is suitable for a town hall:
New product launches

New policy implementation

Achievements and milestones
No town hall is complete without a Q&A discussion. The Q&A is the bread and butter of the town hall; you should save plenty of time for it. Open the floor and let people ask whatever they want.
Video conferencing platforms like ours - Digital Samba for Meetings are super useful for hosting virtual Q&As. Hand, raising, virtual Q&A, waiting rooms, breakout rooms and polling are just a few of the features that can enhance the Q&A of any virtual town hall.

Now the Q&A portion is over, you should be nearing the end of the meeting and ready to call it a day. Before you do, show leadership and deliver a motivational message to boost your employee's morale and make them feel valued.
Always seek feedback after hosting a virtual town hall. It will help you become a better host and improve your next virtual town hall. You could send a simple follow-up email requesting feedback or ask employees to rate how it went out of five.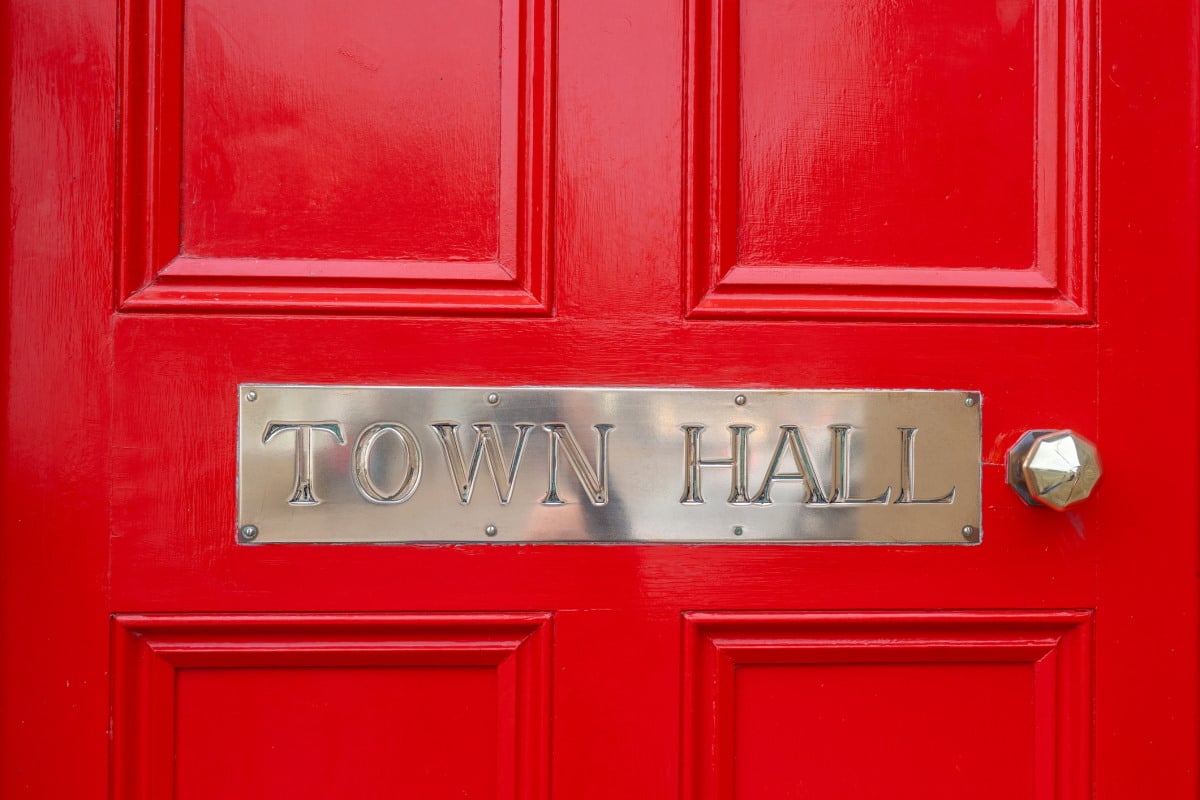 How to Plan a Virtual Town Hall Meeting
Planning and leading an engaging and effective town hall meeting takes a little planning. Follow the below steps to ensure yours runs smoothly while being engaging and memorable.
1. Planning
Prepare to succeed or prepare to fail, as they say. Preparation will be key for your town hall.
Platform - Choose a video conferencing platform to host your meeting. We recommend that you use our platform - Digital Samba for Meetings. It has everything you need to host engaging and unique town halls. HD video, Q&A, hand-raising, polling, breakout rooms, screen sharing, file sharing, email invitations and more.
Time zones - Show consideration to where your employees are based. Try your best to find something that suits everyone. Digital Samba for Meetings has an in-built time zone management feature to help you with this.
Administration - For smaller gatherings, one person can comfortably handle the hosting and moderation aspects. When it comes to 50+ people, you might want to think about allocating an administrator to help you moderate questions and ensure the meeting flows smoothly.
2. Set the agenda
Town halls are supposed to be a relaxed and informal format. Despite this, you still need an agenda to give the meeting some structure. Because it is a town hall, you should allocate plenty of time for Q&A. Here is an example agenda you can adapt for your own company:
Welcome/introduction - 5 mins

icebreaker/activity - 10 mins

Company updates - 15-30 min

Q&A - 30-60 min

Wrap-up - 5 min
3. Prepare your materials
Now is your chance to prepare any PowerPoint presentations or other materials. We leave this up to you, but please don't forget the golden rules of presenting effectively. Here are some pointers to help you on your way:
Clean/informative/interesting slides

Avoid slabs of text

Avoid excessive use of acronyms

Speak slowly and clearly

Practice once or twice by yourself before the meeting
4. Send invites
Use your chosen platform to send out invites. Digital Samba for Meetings lets you send customisable one-click meeting invites with automatic reminders. You should choose a date and time that will likely get the highest attendance rate. We will cover this in more detail later. Here are some things to include in your invites:
Now is also a good opportunity to start asking participants for questions in advance. Doing this will let you draft responses to difficult questions and give you a flavour of which issues are likely to be raised.
5. Rehearsal
We recommend that the key speakers practice delivering their materials before the event. Doing this will ensure your delivery is crisp and clear on the day. Those who struggle with public speaking should spend more time rehearsing to build their confidence.
You should test your technology and ensure there are no bugs or issues. Don't wait until the meeting to realise you aren't familiar with your platform's functionality. Our platform helps you avoid this issue by having a clean UI that is super easy to use.
6. Town hall day
The Meeting day is here. You shouldn't be stressed out because if you follow all of our tips, you will be perfectly prepared to host an engaging and informative virtual town hall. Don't forget to keep the session as informal as possible and don't turn your town hall into a super structured and curated Q&A session.
7. Follow-up
Afterwards, you should send everyone a quick recap with a copy of the minutes. We recommend you include a feedback form to see what went well and what could be improved.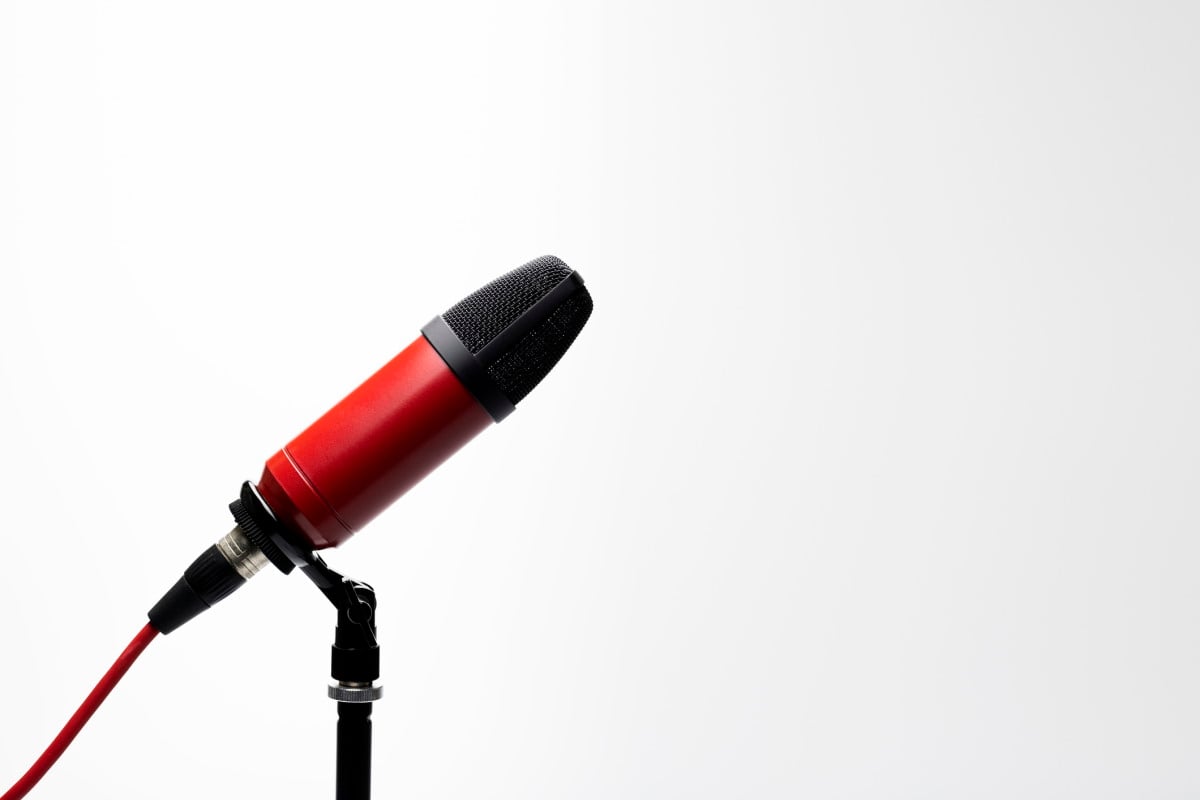 Best Virtual Town Hall Meeting Best Practices
Here are some bonus tips that you can use to make your town hall meeting a success:
Keeping your audience engaged is essential and an art form. No one will listen or care if you talk to them for an hour using a boring slideshow. The best way to boost engagement is to get your audience involved.
A videoconferencing platform with many interactive features like Digital Samba for Meetings makes engagement simple.
Recording the session lets you share it with anyone who couldn't attend. You can use the recording later for training purposes.
If your platform has a data analytics suite, you can use it to get an in-depth look at the success of your event. Statistics can give you a true picture of who participated in the meeting.
Virtual activities and icebreakers
These are a great way of getting your session off to a good start. Many employees like to quietly "sit at the back of the room" and not participate. An icebreaker or virtual game gets everyone involved and puts everyone in the right mindset for sharing their thoughts and ideas.
You can choose some from our list of virtual activities here.
Never forget that this meeting format works best when things are kept informal. Town Halls are not corporate Q&A. The more relaxed people feel, the better your chance of hearing people's true thoughts and feelings on important matters.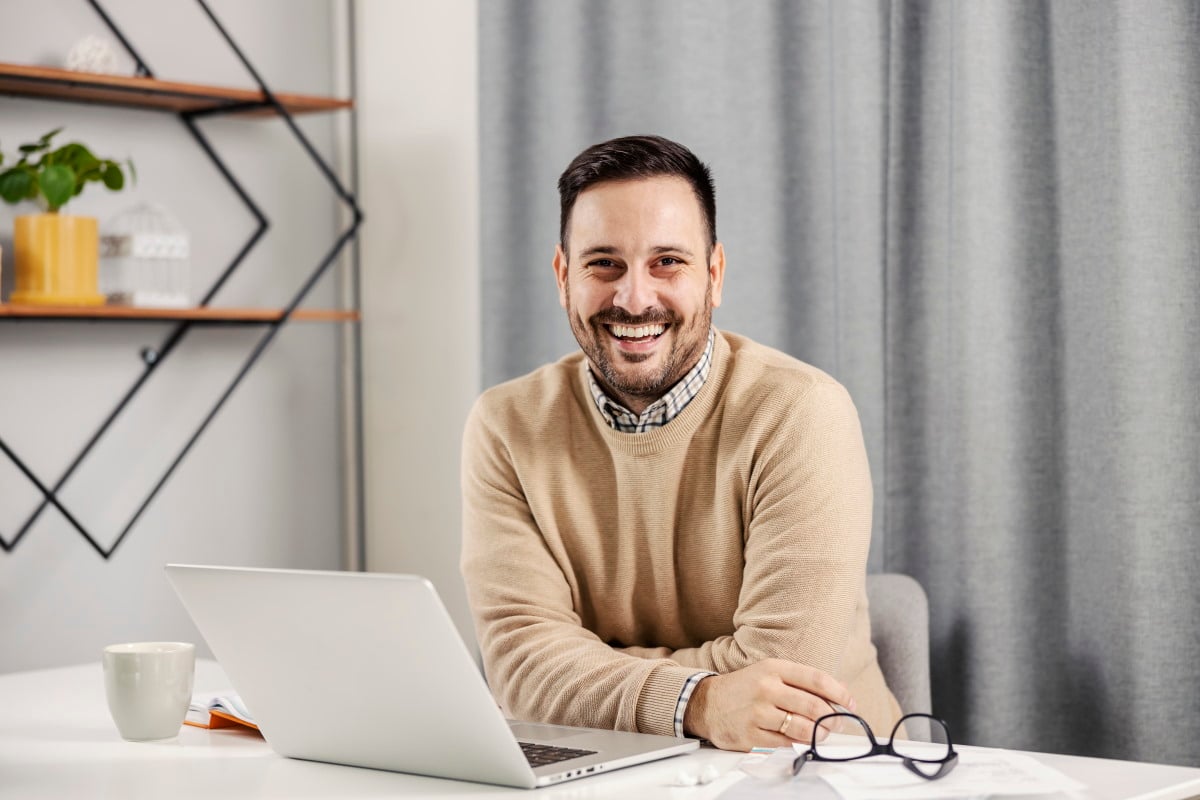 What is the Best Time of Day to do a Virtual Town Hall Meeting?
The best meeting time for your team will depend on whether you work with multiple time zones.
International remote teams should use a platform with a recording feature. Here is an example time slot for an international team:
A team with colleagues based in western/eastern Europe and the eastern USA could host meetings at 13:00 or 14:00 UTC. This time falls within normal working hours for each country.
If your platform doesn't have a time zone management function, you can use a tool like a world clock to help you.
Local teams - Normal rules apply to these teams. Avoid the school run because many people will be unavailable. Try and stay away from Friday afternoons. Some people hate to sit in meetings during lunch, so send a poll to get a feel for people's preferences.
It is really up to you in terms of what day you use. You can start the week on a high and use Monday morning, give a mid-week update on Wednesday, or have a weekly debrief-style meeting on Friday morning.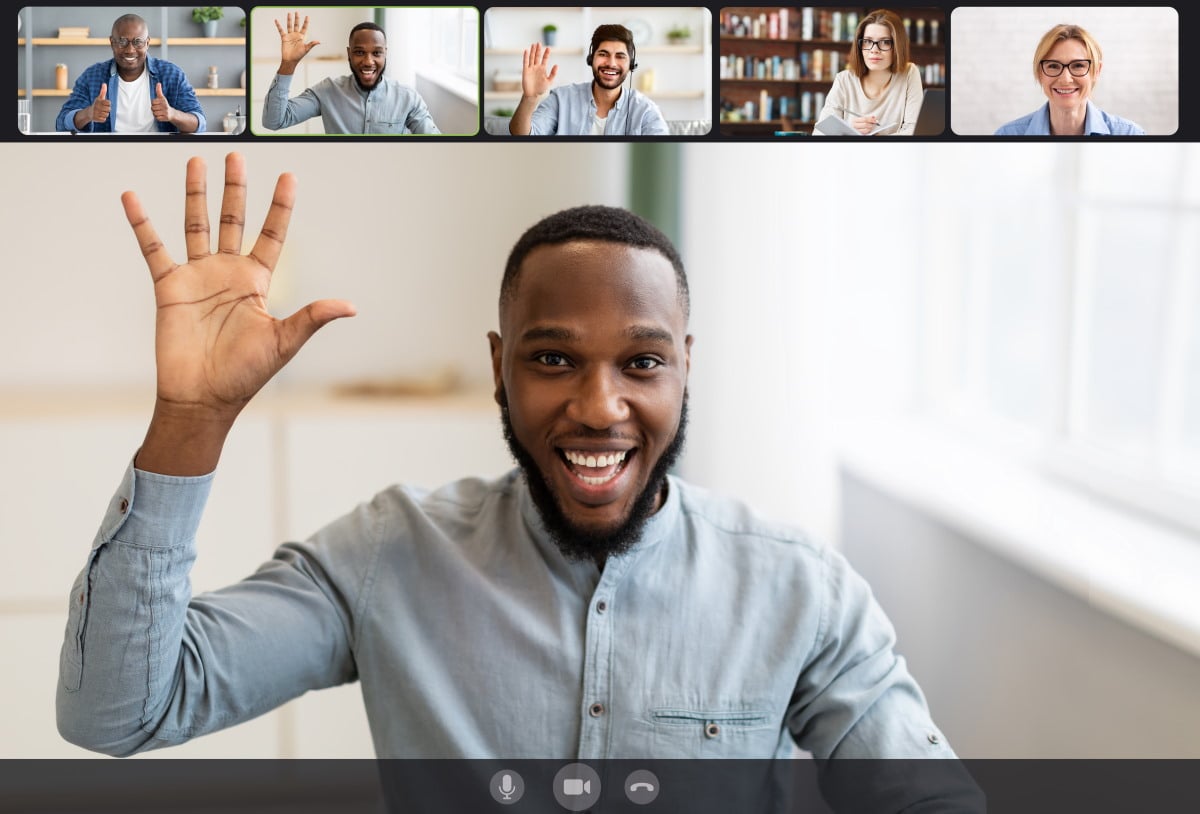 How Often Should You Host a Virtual Town Hall Meeting
How often you hold these meetings will depend on what type of company you have and your personal preference. Naturally, smaller companies will find it easier to set these up to use them more frequently.
Larger companies require strong leadership as meetings take more effort to organise.
You could host this format as infrequently as 2-4 times a year. The frequency will also depend on the seasonality of your business.
Always be mindful of the employee hours you use when setting up meetings. Don't overdo it, or the format will become boring and feel like a chore. Less can be more when it comes to the town hall format.
Wrap-up
Virtual town halls should be an important part of your digital communication strategy in 2022. They give you and your employees valuable opportunities to collaborate in an informal setting. They are cheaper and more cost-effective than in-person town hall meetings.
If you follow our guidance, you will have no problem hosting engaging and unique town halls that will stay fresh in your employee's memory. Start planning your virtual town hall with our platform Digital Samba for Meetings.
Sign up here for a 14-day free trial or live demonstration.