Digital Samba Embedded
Write one line of code to integrate video conferencing anywhere
Integrate scalable & GDPR-compliant video conferencing into your software and mobile apps. Made in Europe.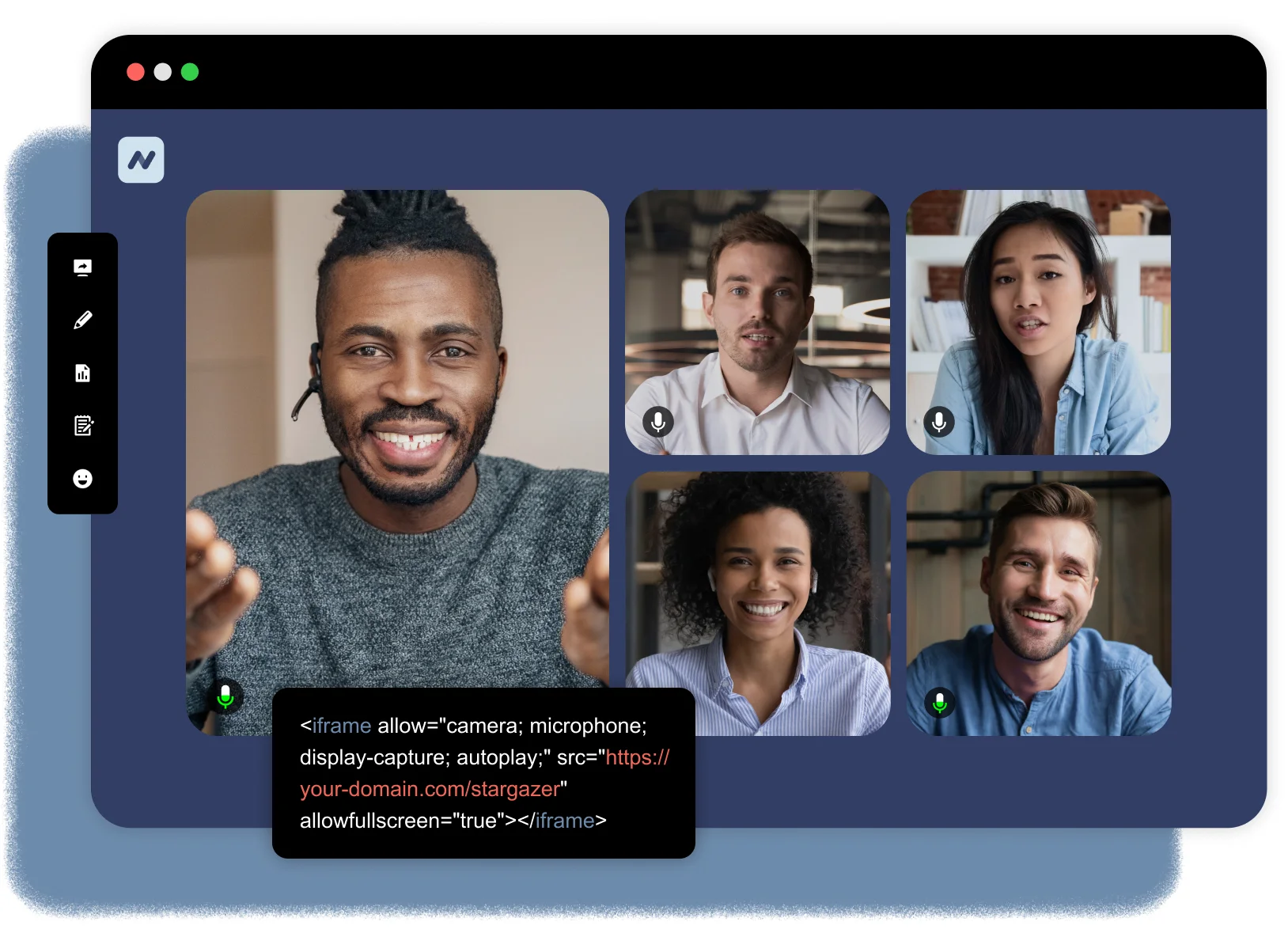 The embedded iframe's rich feature set can be customised to fit any use case
We built video conferencing, so you don't have to
Accomplish in days what would otherwise take years
Digital Samba's Video API features
White-labelling
Fully white-labelled, from domain to colour scheme.
White-labelling
Dynamic roles
Teachers & students? Doctors & patients? Martians & Earthlings? You decide.
Dynamic roles
Virtual webcam backgrounds
They are fun and add security by blocking out private spaces.
Virtual webcam backgrounds
Whiteboard
Let users collaborate visually using intuitive drawing and mark-up tools.
Whiteboard
Remote muting
Room moderation is essential in professional group calls.
Remote muting
Content library
Users can upload, share and store videos, PDFs, spreadsheets or other media files in a cloud-based media library.
Content library
Screen sharing
Easily include a live screen feed video element in your webinar.
Screen sharing
Cloud recordings
Capture video conferences in full HD MP4 and store them in secure cloud format.
Cloud recordings
Live streaming
Stream your webinar to Facebook, YouTube and Vimeo instantly.
Live streaming
Email automation
Automate webinar email invitations, reminders and follow-ups.
Email automation
Live chat
Let participants chat with a speaker or amongst themselves using public and private messaging.
Live chat
Mobile app
Provide a first-class mobile webinar experience with hand raising, chat, Q&A, shared notes and other features.
Mobile app
Securely hosted directly in Europe
Digital Samba is GDPR and SOC-1 compliant
Our highly secure European server infrastructure guarantees your data is safe and ensures you remain compliant with European legislation. Don't worry about deploying your own infrastructure and building your own solution to achieve compliance. Digital Samba has you covered. Digital Samba Embedded plan types
Choose the feature package that's tailored to you
Embedded for Meetings
Integrate high-quality video conferencing into your software with a few lines of code.
Build video calls for any device with true HD quality, screen-sharing features and much more. Let users enjoy seamless meetings with simplistic UX. Give your team a ready-to-go product. Read our Meetings Video API documentation.
Up to 49 active videos.
Video conferencing and screen sharing features.
Up to 100 meeting participants.
Fully mobile responsive.
Cloud recordings.
No set-up fee.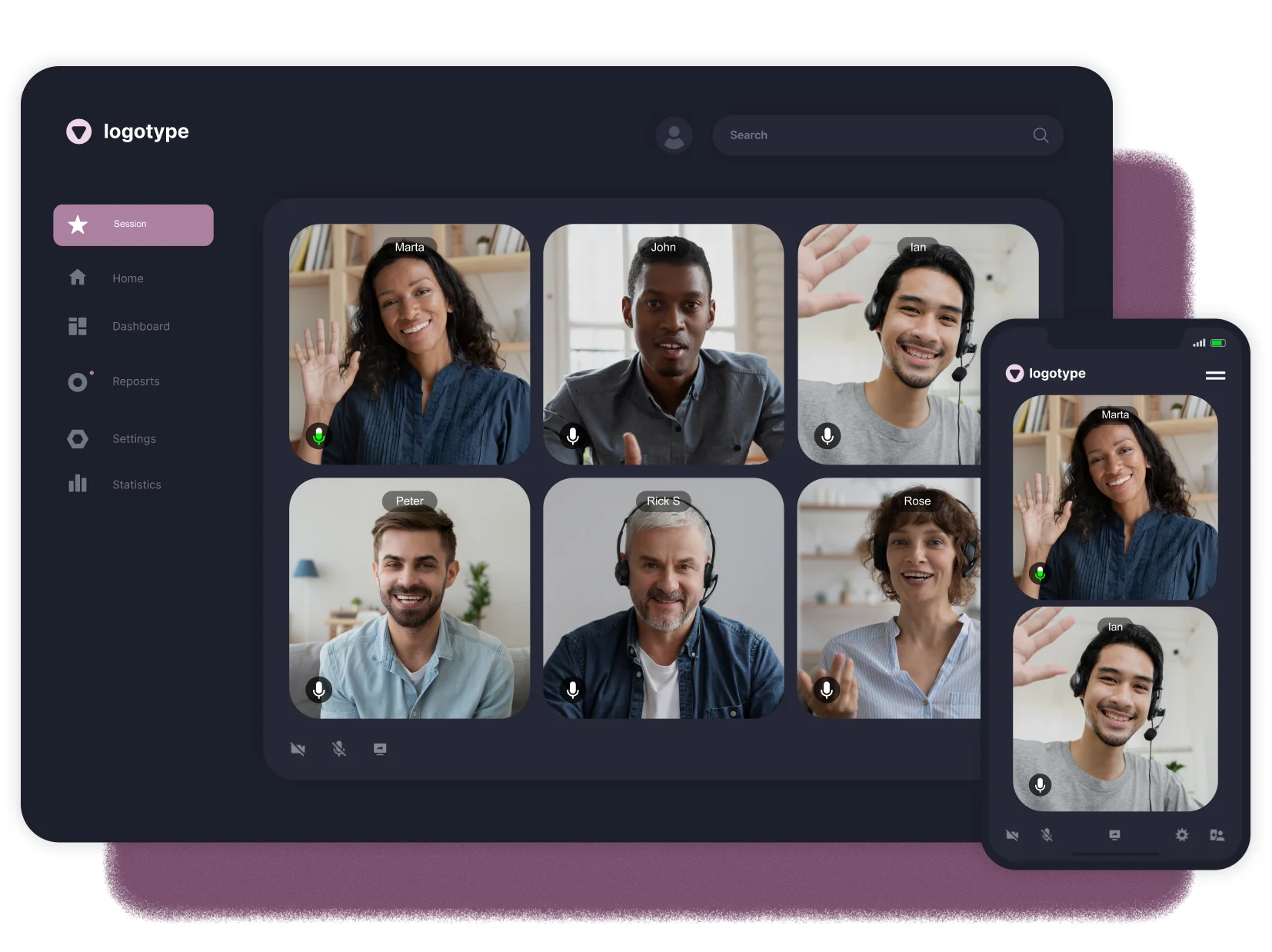 Embedded for Webinars
Integrate an extremely feature-rich webinar experience into your app.
Let users exchange, upload and share files and materials, chat with each other, record meetings, take part in polls and much more. All in a secure encrypted environment. Read our Webinars Video API documentation on Postman.
Up to 25 active videos.
Extensive webinar features (Q&A, polls, etc.).
Up to 2000 meeting participants.
Cloud recordings.
Content library and file sharing.
Mobile app (iOS, Android).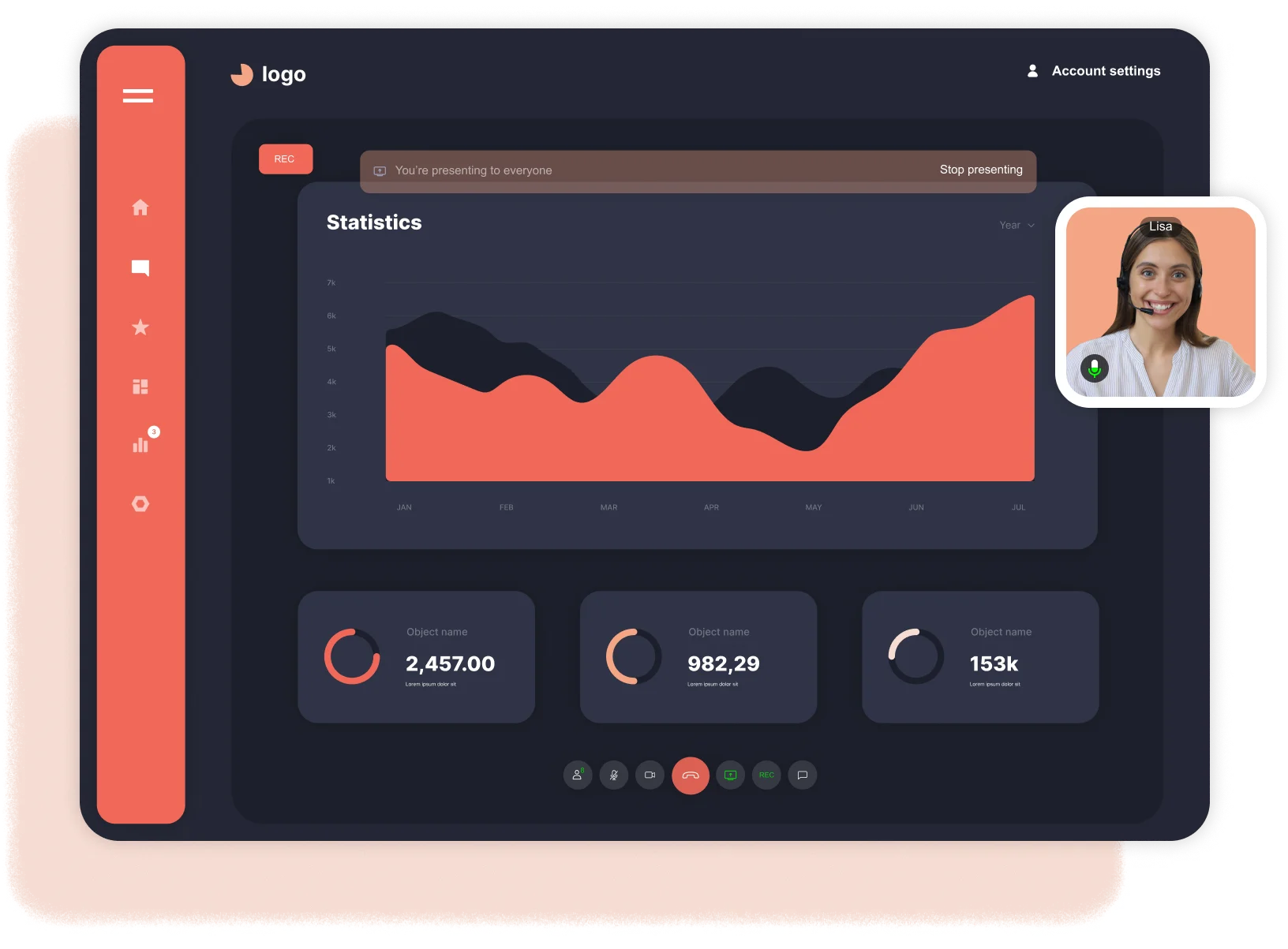 Live video is hard, so we made it easy
A REST API built by developers for developers
Embed encrypted video to your mobile app or software with a few lines of code. Generate rooms, access recordings, and create users with a few simple API calls. Forget about media queries, signalling, STUN and all other WebRTC headaches.
We handle everything on our end. We built video conferencing, so you don't have to.
Everything we do is for call quality, scalability and stability
Video bandwidth management
Our algorithms are optimised to respond to available bandwidth and local computing resources. Ensuring you stream in the best possible video quality.
SFU scaling
Handle 1-1 calls or 2000 user webinars. Our Selective Forwarding Unit architecture is designed for scale.
Ultra-low WebRTC latency
Human communications require 300ms latency or less, we optimise for fluidity.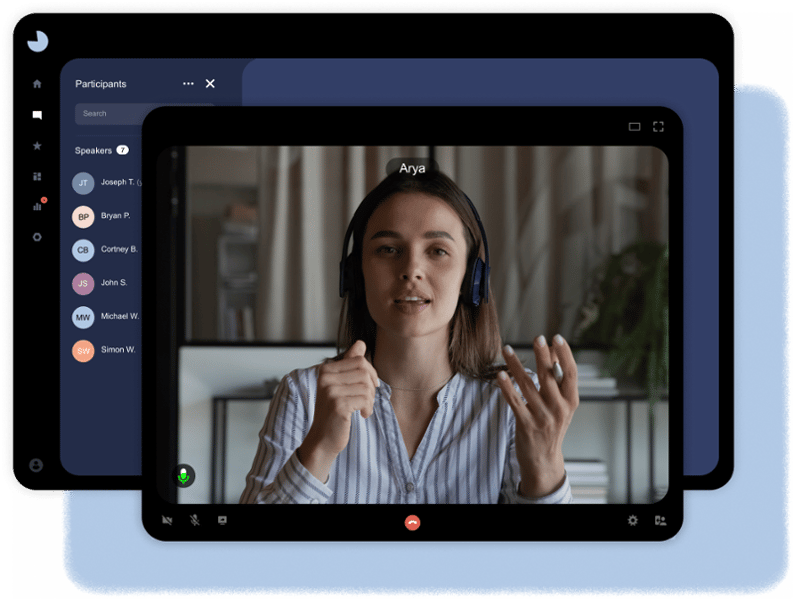 Get your product live quickly with developer tools made for you
WebRTC
We're fully committed to building the future of real-time live video on the web.
99.99% uptime
Commit with confidence and enjoy record uptime with to our carefully maintained infrastructure.
Embed instantly
By using a few lines of HTML code, you can embed a video conference in any website or app.
Get started with Digital Samba
Just like your customer base, our robust enterprise infrastructure never sleeps. Digital Samba delivers smooth, uninterrupted video to anywhere with an internet connection. Try it now.