Digital Samba video API & SDK features
We provide businesses with award-winning video communication solutions that work.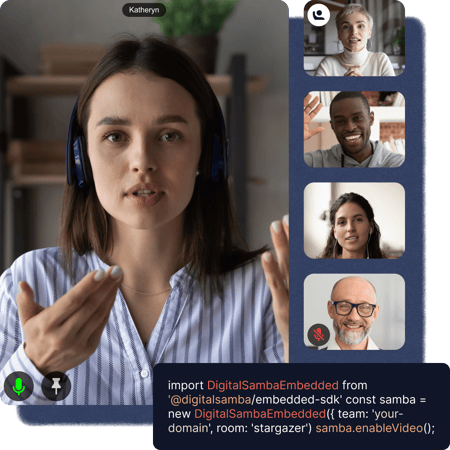 WebRTC
We're fully committed to building the future of real-time video communications on the web.
99.99% uptime
Commit with confidence and enjoy record uptime with our carefully maintained infrastructure.
Embed instantly
By using a few lines of HTML code, you can embed a video conference in any website or app.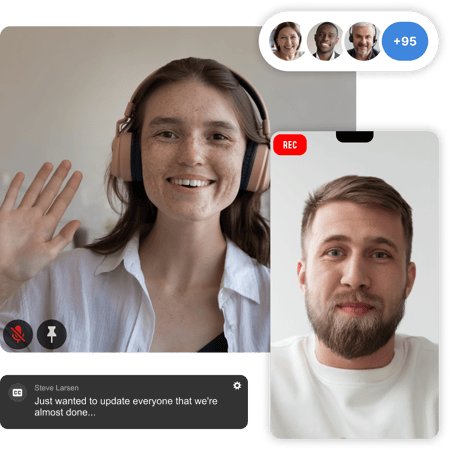 Video conferencing
With Digital Samba, effortlessly manage video calls with up to 100 participants, ensuring crystal clear quality and a comprehensive suite of functionalities for an optimal conferencing experience.
Full screen & pinning
Empower participants to concentrate on desired content by enabling full-screen view and pinning specific participants or presentations.
Remote video & audio muting
Exercise control over participant audio and video feeds to minimise disruptions and maintain a focused and productive conference environment.
Multilanguage support
Select a language for the room user interface. English, Spanish and German are currently supported.
Cloud recordings
Record your meetings or webinars directly on our secure servers and access them through the API for easy retrieval and management.
High-quality video
Deliver crystal-clear, lag-free video conferencing for enhanced virtual interaction and engagement.
Waiting room
Choose who enters your session and when with your private event lobby.
Collaboration
Elevate your user experience with Digital Samba's collaborative tools that empower your end users, fostering effective communication, efficient coordination, and dynamic interaction.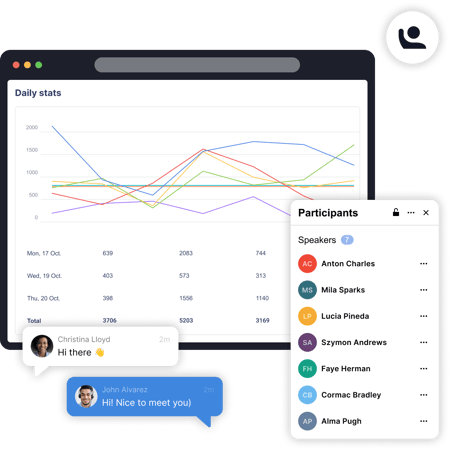 Whiteboard
Let users collaborate visually using intuitive drawing and mark-up tools during a video call.
Group chat
Use the chat feature to exchange messages, share links and engage in text-based communication with participants.
Screen sharing
Share your screen, application windows, or browser tab to enable real-time collaboration with participants, without the need to install any software.
Breakout rooms
Boost your in-app video conference interactivity and productivity by splitting your audience into sub-groups.
Real-time invitations
Seamlessly invite participants to meetings using the dashboard or directly during the video conference.
Participant list
View connected participants and easily manage their permissions and roles.
Roles and permissions
Create tailored roles and permissions to suit your use case, accommodating a diverse range of user types.
Hand raise
Allow participants to take turns speaking without disrupting sessions.
AI captions
Leverage AI to generate transcriptions of spoken words, transforming them into easily accessible captioned text.
Integrate GDPR-compliant video calls into your website or app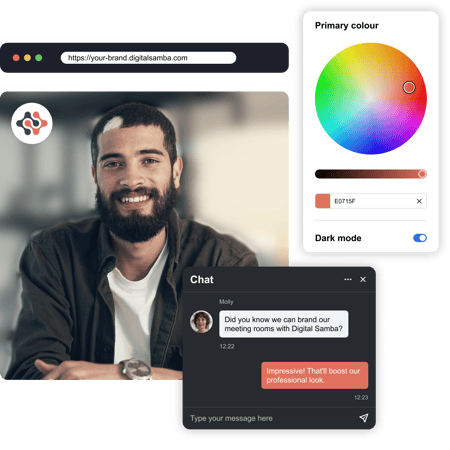 Branding and UI
Elevate your user experience with Digital Samba's collaborative tools that empower your end users, fostering effective communication, efficient coordination, and dynamic interaction.
Virtual backgrounds
Add a personal touch and maintain privacy by obscuring private spaces with customised backdrops.
Vanity & friendly URLs
Use custom subdomains for your team and create easy-to-remember room URLs for a simplified join experience.
Dark mode
Experience reduced eye strain with Digital Samba's Dark Mode, optimised for comfort during long video conferences.
Logo and colour branding
Personalise your rooms and enhance your branding by incorporating your own logo, customising buttons and toolbars, and adding a unique favicon for a bespoke visual experience in your web meetings
SDK support
Embed a conference, control the UI and subscribe to events with just a few lines of Javascript.
CNAME / White-labelling
Complete the white-label experience with a CNAME record that points to your domain, giving your users the impression that the platform is yours.
Data privacy and security
Digital Samba's infrastructure, data handling and security meet industry-leading standards. You are backed up by European security and GDPR compliance.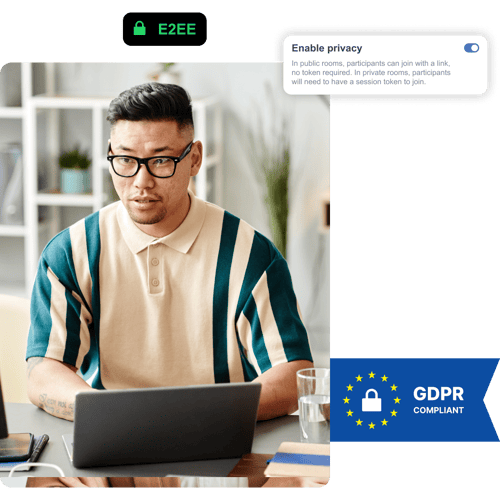 E2E-encryption (E2EE)
E2EE secures all video and audio streams, including shared screens, ensuring that the data is only accessible to the intended recipients and cannot be read or modified by unauthorised users.
Anonymised user IDs
Safeguard personally identifiable information with anonymous user IDs, enhancing platform privacy and security.
TLS encryption
Rest assured with our industry-standard TLS encryption that uses advanced algorithms and cypher suites, providing robust protection for your data transmissions
Token-based security
Manage entry to your rooms with JWT tokens, ensuring authorised access and enhanced protection for your sessions.
GDPR compliant
Digital Samba meets all the requirements and obligations under the GDPR regulation, ensuring that your personal data is properly handled and safeguarded.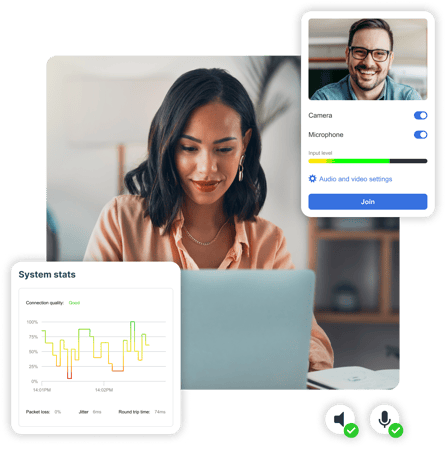 Stability & s
mooth connectivity
Experience reliable and adaptable video conferencing, equipped to handle varying bandwidth scenarios with flexible layout options for smooth connectivity.
Bandwidth management
Benefit from advanced simulcast algorithms to efficiently allocate bandwidth, ensuring optimal video quality.
Error detection and correction
We detect and correct connectivity issues, giving feedback to the user.
Join screen
Prepare yourself for the session by previewing and choosing your preferred devices before entering.
Audio devices check
Verify that your microphone and speakers are working correctly. Get helpful diagnostic feedback if your audio or video device is not recognised.
MOS scoring
Experience proactive detection and resolution of connectivity issues, with valuable feedback provided to the participant.
Auto reconnection
Enjoy seamless and stable conferencing, with automatic restoration of connection during network disruptions.
Add customisable GDPR compliant WebRTC video conferencing to your product in days rather than years.