We hope you will join us to celebrate Digital Samba's 19th birthday! As we approach the two-decade milestone, it's time to reflect on our progress and achievements.
Digital Samba's flagship product, Samba Live, is a market-leading virtual communication platform for companies of all types and sizes. Our two decades of experience in the online communication industry gives us a huge edge over the competition.
Adapting to new innovations and technologies has always been central to Digital Samba's ethos. We combine innovation with our experience and reliability to create a truly unique and valuable product for our customers. As a company, we continue to evolve to give our customers what they want.
This year alone, we have won 9 prestigious awards. Our "best in category" win at the RemoteTech Breakthrough Awards was a proud moment. A sure sign that we are heading in the right direction.
On average, Samba Live now has 618 thousand users in 117 countries. Our customers report incredibly high satisfaction rates.
In the 2022 G2 Spring Report, over 95% of users were satisfied with our customer support, and 96% were satisfied with Samba Live's ease of use.
A Quick Bit of History
2003

- Digital Samba is founded in Barcelona, Spain. Back then, widespread remote working was just a dream. We had one vision, a browser-based video conferencing platform.





2016

- Digital Samba ends a successful year with 22% annual revenue growth after expanding into new countries.





2019

- With Flash no longer supported, we adapted Samba Live to run on HTML5, providing a more robust and secure connection.

Mobile traffic overtakes desktop traffic. We responded by producing a browser-based mobile version of Samba Live.





2020

- The pandemic happens. The result is an unprecedented surge in demand for virtual communication solutions. Our team rose to the challenge and delivered.

Digital Samba always had a culture of remote work. In 2020 we decided to go fully remote and closed our headquarters in Barcelona for good.





2021

- The pandemic may be largely over, but the change in work habits is here to stay. Virtual and hybrid meetings remain popular. Many organisations have stayed fully or partially remote.





2022

- One of our most successful years to date. Samba Live scoops eight prestigious awards from companies like G2 and the RemoteTech Breakthrough Awards. 2022 has seen a host of new platform features and improvements.




Industry recognition
As you can see, it has been a busy award season! Samba Live has won 9 awards. Take a look at our award season so far: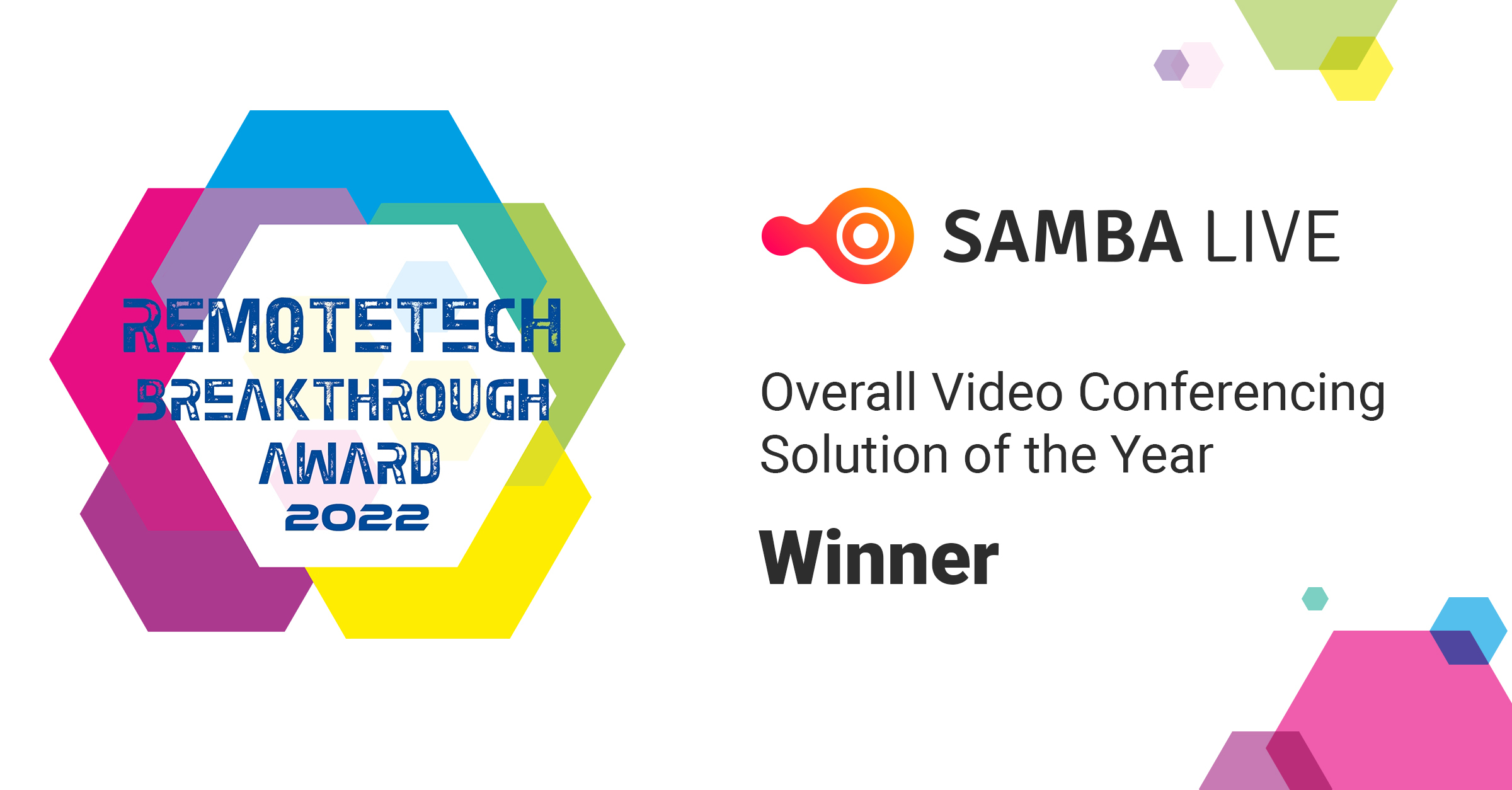 RemoteTech Breakthrough Award - Digital Samba won the coveted "Best Overall Video Conferencing Solution" 2022 RemoteTech Breakthrough award. Our biggest win of the season!
CompareCamp Rising Star Award - CompareCamp is a leading B2B software marketplace and review site. The CompareCamp rising star award acknowledges innovation and rapid growth in the video communication sector.
Computing Digital Technology Leaders Award - Samba Live has been nominated as a finalist in the "best development team" category. We hope you will join us in wishing luck to our development team. The award ceremony will take place in London on the 6th of July.
FeaturedCustomers Rising Star Award - Samba Live was awarded rising star status in the FeaturedCustomers 2022 Video Conferencing Software Customer Success Report. FeaturedCustomers Rising Star awards acknowledge companies rapidly gaining momentum and establishing themselves as market leaders.
FinancesOnline Rising Star Award - FinancesOnline is a respected B2B software marketplace. The FinancesOnline Rising Star award is given to new software companies that have swiftly acquired market validation.
G2 2022 Spring Report High Performer Award - G2 is one of the most globally recognisable software marketplaces and review sites. Being named as a high-performer in a G2 report is an amazing achievement because it means that real people love and use our product.
Software Suggest Customer's Choice Award Winter 2022 - Software Suggest is a leading software marketplace and review hub.
Software Suggest Customer's Choice Award Summer 2022 - We are thrilled to have won two Software Suggest Customer's Choice Awards in 2022. Winning these awards shows that real customers value the Samba Live platform.
SoftwareWorld "top-rated" award - SoftwareWorld is a reputable software review platform. Winning this award means that we are one of the top performers in our category.
Top new features brought to you in our 19th year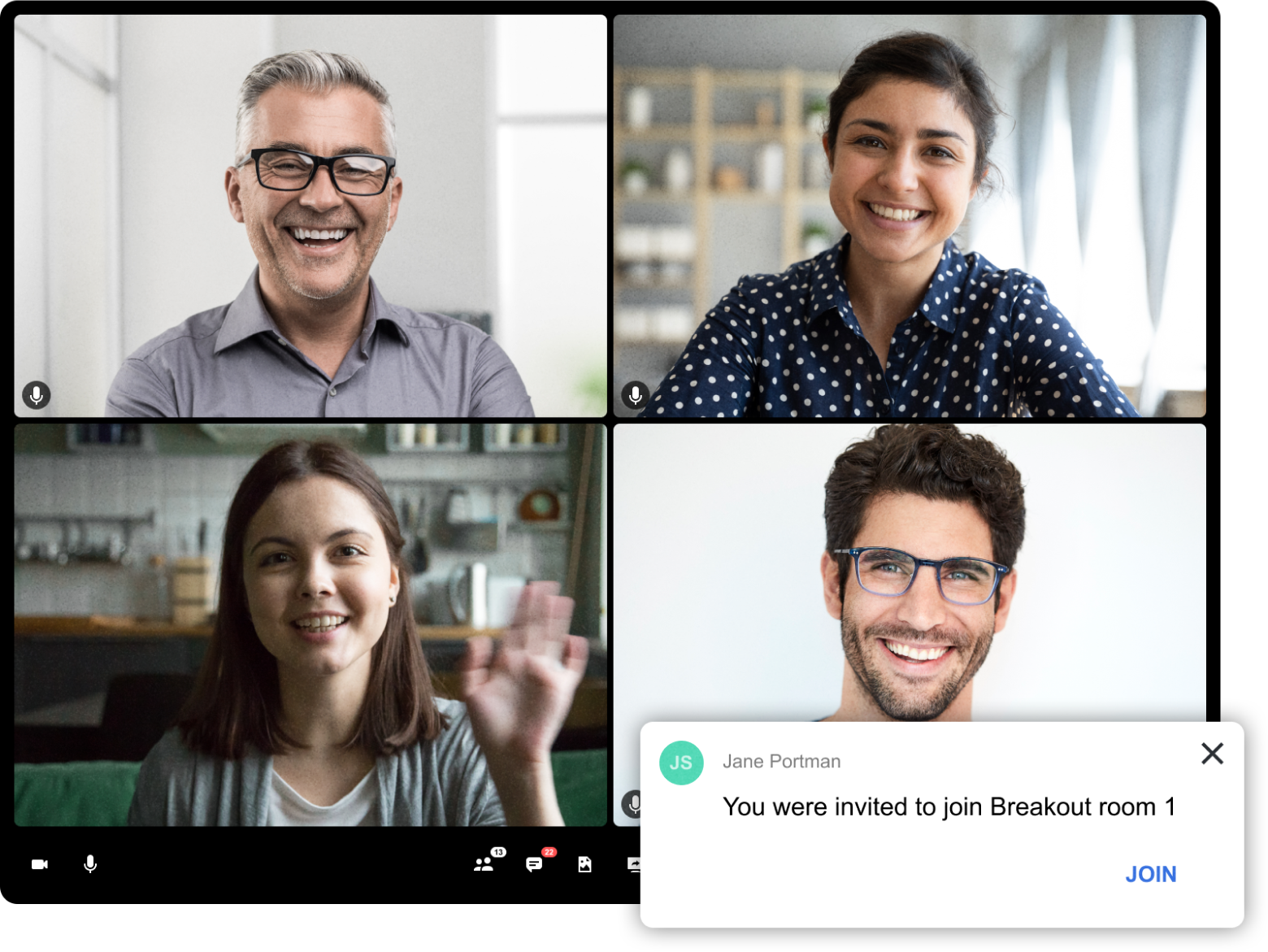 Our 19th year has seen a host of new features added to Samba Live. Our web version and mobile platform have received a revamp and new functionalities. Let's take a look at what has happened.
End-to-end encryption (E2EE) -

E2EE is a secure communication method that prevents third parties from accessing data when it is transferred from one device to another. Samba Live users are now protected by the highest level of security and privacy




Vimeo integration -

Broadcasters can now add Vimeo links and open them for all participants to view. Samba Live can now be broadcast through Vimeo, Youtube and Facebook Live.




Virtual backgrounds -

Choose from one of our beautiful virtual backgrounds to give your broadcast a personal touch. A beach, a country farm, misty mountains, the choice is yours.




Custom Roles -

You can now create custom roles under admin settings. Custom roles can only be seen by the audience if "discoverable by audience is ticked".




Recordings player -

Users can now replay recorded sessions in the account centre. Recordings feature basic controls and can be password protected and timestamped.

"Join room" improved -

We improved the "Join room" function. Wait times have been reduced, and you no longer have to scroll to find the button.

View 8 tiles with open content -

You can now view up to 8 people when you have content open

.

Share surveys -

Allows speakers to share and reuse polls and questionnaires.

Preset layouts -

Allows users to customise their layout and reorganise tiles to match their preferences.

Remote peripherals management -

Speakers can now manage remote users' microphones and cameras.

Sharable Content Library files -

You can now share files from your content library with your participants.

Bulk Actions -

Speakers can now apply the following to the entire audience: mute microphones, turn off cameras, and allow and remove broadcast permissions.
New mobile platform features:
Whiteboard -

We improved the shared whiteboard experience for mobile users.




Q&A -

We added create and edit Q&A functionality for mobile users with admin permission.




Content Library -

Improved the content library experience for mobile users.

File-sharing -

Additional file-sharing capabilities added for mobile users.

Breakout room management -

Speakers now have additional functionality to manage breakout rooms, including the ability to pre-assign breakout rooms.

Remote peripherals management -

Mobile speakers can now manage remote users' microphones and cameras.




Search box -

Mobile speakers now benefit from the search box function.




Switch between front and back camera -

Users can switch between their front and back camera.




Screensharing (Android) -

Android users can now screen-share on mobile




The Future
Our main goal is to provide our customers with the best possible experience. Throughout 2022 we have looked for ways to help our customers add value to their businesses. We have made significant progress, but we can't rest on our laurels.
We will continue to do everything we can to make Samba Live the best choice for customers who want to implement remote working, educate online, or host webinars and conferences.
Next year will be our 20th anniversary, a huge milestone. In our 20th year, you can expect huge platform improvements and incredible new technology. Keep your eyes open for more updates!
Still not a Samba Live user? Get in touch.