2022 was a massive year for Digital Samba. It's been a year of change. We relaunched our brand, released new products and features and won lots of awards. We've built on the momentum of 2021 and continued to provide value for our customers.
Video conferencing has continued to expand and users' standards are higher than ever. We've proactively stayed ahead of expectations by revamping our brand and releasing new features and products. Here are Digital Samba's 2022 highlights.
Relaunch and Rebranding
We completely relaunched our brand as Digital Samba (formerly Samba Live). Times change and those who stay the same get left behind. With our relaunch came two new products, new features and a fresh pricing structure.
Our new products and pricing changes ensure that all types of businesses have a plan tailored to them. Small, medium or large businesses, white-labelling and reselling, there is a plan for everyone.
New Products
Digital Samba Embedded
Digital Samba Embedded lets customers integrate videoconferencing into any app or website with a few simple lines of code. Digital Samba Embedded replaced Samba Live OEM and now includes new technology and a streamlined pricing plan.
Our new video conferencing API was built for developers, by developers and provides unparalleled customisation options. Read the full announcement here.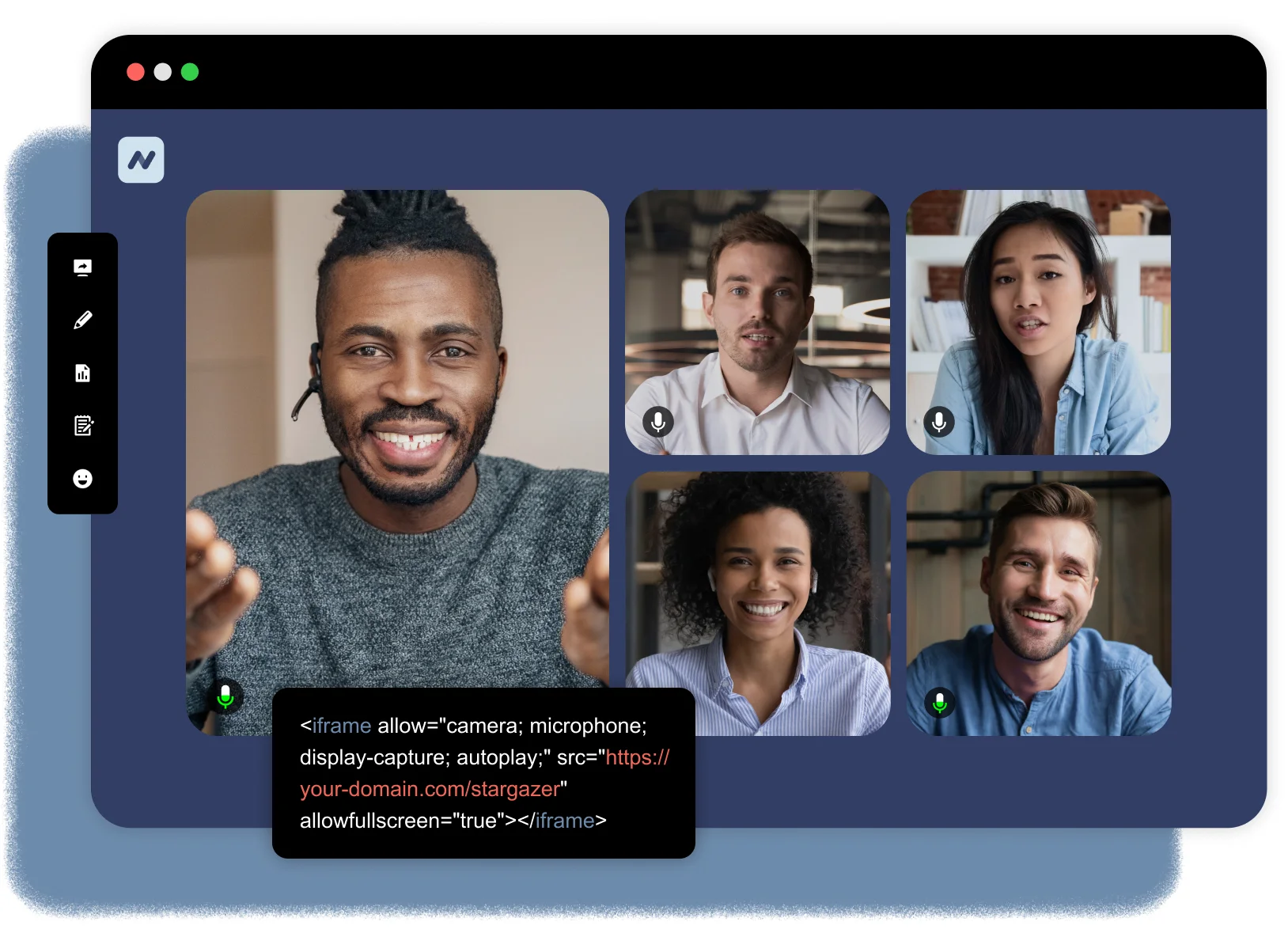 Video calling SDK
At the end of 2022, we launched a major update that empowers Embedded Meetings called Digital Samba Video SDK. Read more about the Digital Samba Video SDK here.
Digital Samba for Meetings
Digital Samba for Meetings is our European-made, GDPR-compliant, end-to-end encrypted (E2EE) video conferencing solution for day-to-day business communications. Our meeting platform is suitable for remote teams of all sizes and budgets and includes interactive features far beyond simple screen sharing and chat.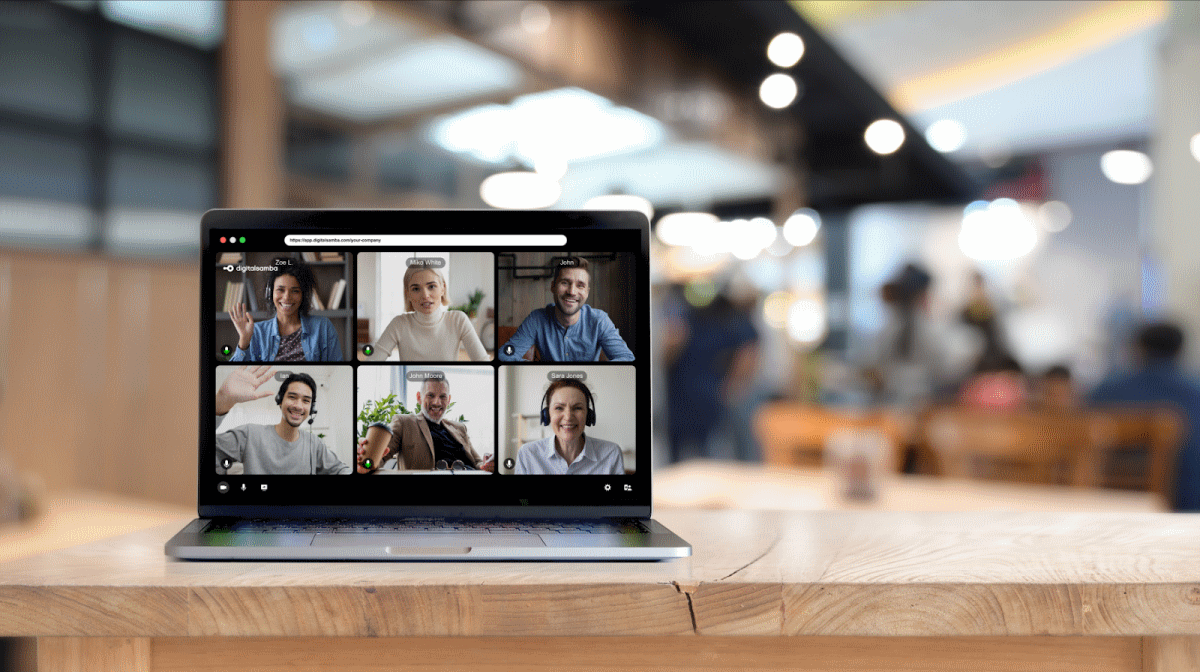 All Digital Samba for Meetings product plans include breakout rooms and a virtual whiteboard so your team can experience free-flowing collaboration. Check the meetings platform's functionality here.
Fresh Pricing Structure
We recognise that one size doesn't fit all. What works for someone else might not work for you. Our new pricing structures ensure that we have a variety of plans to suit your unique business.
We've created basic plans jammed full of features that are available at competitive prices. For example, our web conferencing platform, Digital Samba for Meetings starts from just €9/month.
Our new product, Digital Samba Embedded, can quickly enhance your business. The free Embedded plan comes with 3000 monthly participant minutes, up to 49 attendees and mobile compatibility. Click here to sign up for free and test-drive Digital Samba's Video API & SDK.
Larger organisations have more complex needs. We recognise this and have added bespoke professional and enterprise plans that can be expertly tailored to fit your business needs like a glove.
New Technology
As a part of Digital Samba's brand relaunch, we've introduced Digital Samba Embedded (Meetings). An upgraded version of our flagship GDPR-compliant video conferencing product tailored towards software developers and integrators.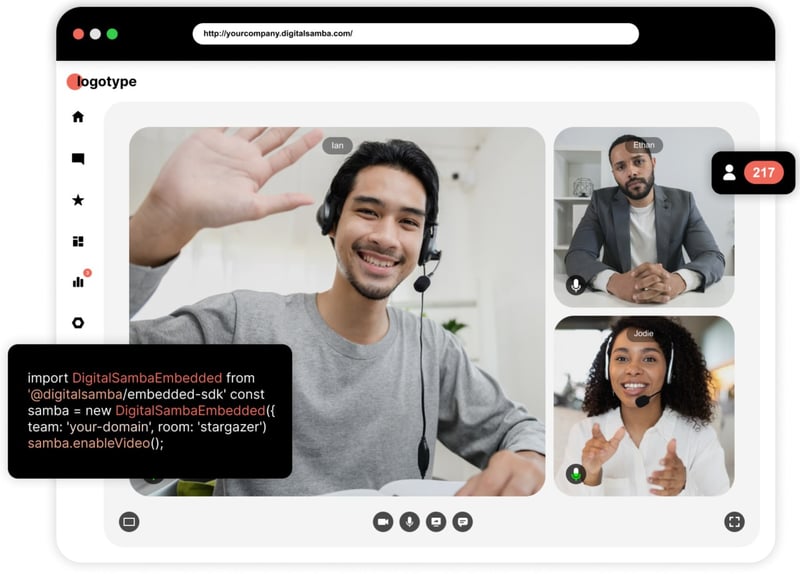 With Embedded Meetings, users can host virtual events across different browsers and devices using just a few lines of HTML and CSS. The product is written in modern frameworks with performance, scalability and a great user experience in mind. Its implementation focuses on delivering core features at blazing-fast speeds with rock-solid stability.
Embedded Meetings is best-suited to hosts who need to quickly assemble a group of 2 to 100 people into a simple conversation with basic video conferencing features, exceptional video quality and multi-tablet responsiveness.
The Digital Samba Video SDK supports developers with the power to externally control the video conferences you embed.
Top features released in 2023
Video SDK - gives you the power to externally control your embedded conferences. The SDK is written in TypeScript and is provided as an npm package, released under the permissive 2-Clause BSD open-source licence;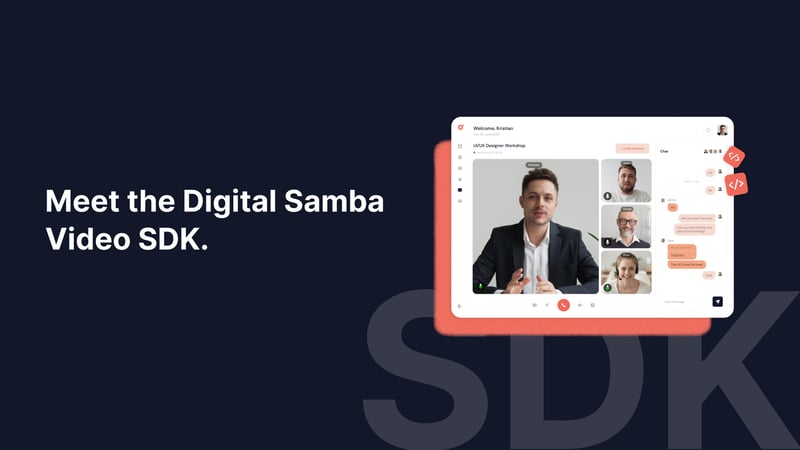 Cloud recordings -

record your meetings directly on our servers and have them stored on our secure infrastructure for later retrieval.

End-to-end encryption (E2EE) - communicate with the guaranteed privacy that only E2EE can give;

Emoji reacts - you can now engage with your team using our newly added emoji reacts;
Vimeo integration - stream your live video conference to Vimeo for maximum exposure;
Time-limited breakout rooms - automatically close breakout rooms and reassemble the group after a set period of time;
Anonymous polls - encourage participants to give honest answers with the security of anonymity;
Mobile app features - improved menu design, user experience, Q&A and whiteboard have drastically improved mobile usability;
Virtual backgrounds - express yourself with our massive selection of virtual backgrounds and colour options;
Custom roles - assign custom roles like moderator, assistant or viewer to participants;
Shareable content library - get your point across in style using our sharable content library feature;
Preset layouts - optimise your Digital Samba experience with a preset layout that suits your needs;
Share surveys - share survey results to educate participants and drive engagement.
Visit our release notes to learn more about recent platform updates.
Awards
2022 has seen us win a record-breaking number of awards. What does this mean for you? It means you have chosen an industry-leading and secure platform backed by European values and two decades of experience.
Here is a quick list of the awards won by Digital Samba in 2022:
RemoteTech Breakthrough Award - Our biggest win of the year, the coveted "Best Overall Video Conferencing Solution" 2022 RemoteTech Breakthrough award.
Computing Digital Technology Leaders Award- Nominated as finalist in the "Best Development Team" category.
2022 Unified Communications Leader of the Year - Robert Strobl, our CEO, was awarded highly commended status by UC Today.
G2 Best Support Award - Being named as a high performer by a leading brand like G2 was a huge thumbs up for our platform.
FinancesOnline Rising Star Award - Their Rising Star award is given to new software companies that have swiftly acquired market validation.
FeaturedCustomers Rising Star Award - Awarded rising star status in the FeaturedCustomers 2022 Video Conferencing Software Customer Success Report.
CompareCamp Rising Star Award - The CompareCamp rising star award acknowledges innovation and rapid growth in the video communication sector.
SoftwareWorld Top Rated - Awarded to software companies who are top performers in their category.
SoftwareSuggest Customer's Choice - Awarded by customers to platforms used and loved by real customers.
GoodFirms Top Web Conferencing Software Rating - Designated a top performer in the web conferencing category based on genuine customer reviews.


Digital Samba in 2023 and beyond
2022 has been a massive year for us and we want 2023 to be even bigger. As we advance, we will work hard to ensure that every aspect of Digital Samba is as secure and reliable as possible. We want you to videoconference confidently, knowing that your data is held under the strictest security standards.
Our Digital Samba Embedded platform opens the door to huge opportunities for developers and integrators. Expect us to focus on this product and heavily expand its capabilities and feature set.
We've got big Digital Samba feature announcements that we'll make at the beginning of 2023, so stay tuned.
Thanks for being with us this year. Here's to an amazing 2023!