Best Webinar Platforms for Online Education in 2023
16 min read
August 25, 2022
A webinar is a presentation that can be viewed online by anyone. The presenter can interact with attendees in real-time through instant messaging and live Q&A sessions. Webinars are perfect for training staff or building communities of users around specific topics of interest.
Table of contents
With the rise of virtual classrooms, webinar platforms have become a major part of eLearning. Webinars are essentially online courses that you can watch at any time, so they're especially useful for those who tend to work late nights or early mornings.
They're also a great way to reach remote workers who may not be able to attend in-person classes. With so many different options out there, though, how do you choose which platform is right for your needs?
Here are 20 popular webinar platforms that might just be able to help.
What is a webinar platform?
Webinar platforms are used for hosting live events and virtual classrooms. They allow you to host webinars and other interactive events, like training sessions or sales calls.
You can use a webinar platform in education to organise online classes, promote teaching resources, and create an online space where students can interact with each other and their teachers. Businesses also use these tools for team meetings or customer support sessions.
Some companies even use them to outsource their customer service—they'll hire freelancers who work remotely on the platform so that they can offer 24/7 support without sacrificing customer satisfaction levels (or having any overhead costs).
How to pick a webinar platform for your virtual classroom
When choosing a platform, you should consider the following factors:
The ease of use of the platform.
The ability to integrate with other systems. This may be needed if your school uses its own administrative system, or if it uses Open EdX for hosting courses and needs to be able to show attendance data in that system as well.
How easy it is for students to access the course materials and participate in discussions or other activities on their own devices (if using BYOD). You don't want them struggling with technical issues.
Digital Samba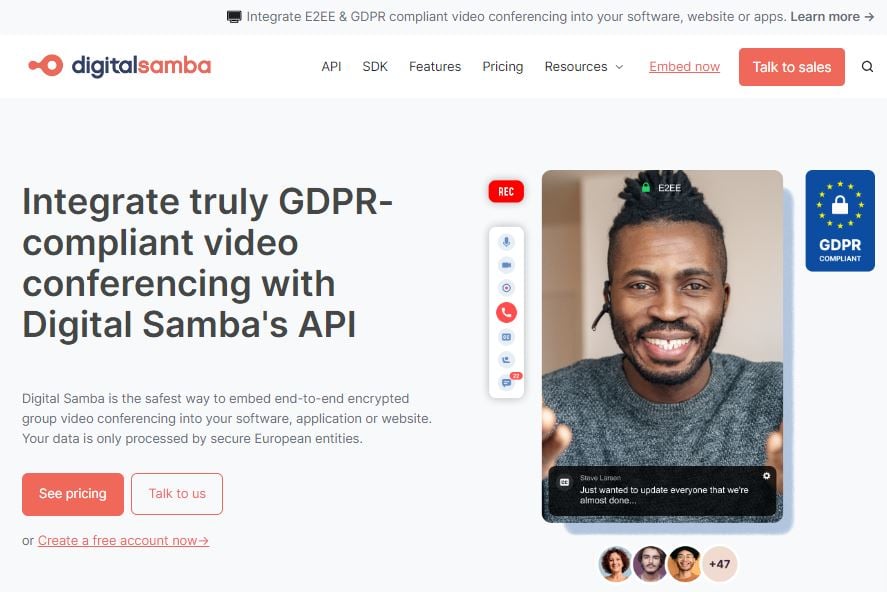 Digital Samba is a free platform that makes it easy to host webinars. The company has been an industry leader in educational technology since 2008 and has built its reputation on delivering the best product possible to teachers, students, and companies alike.
Digital Samba's software allows anyone who wants to host a virtual class (even if you're without your own classroom) to do so at a low cost with no need for any technical expertise whatsoever.
You can also use it as an online classroom platform if you don't want to go through all the hassle of setting up your own webinar software.
Zoom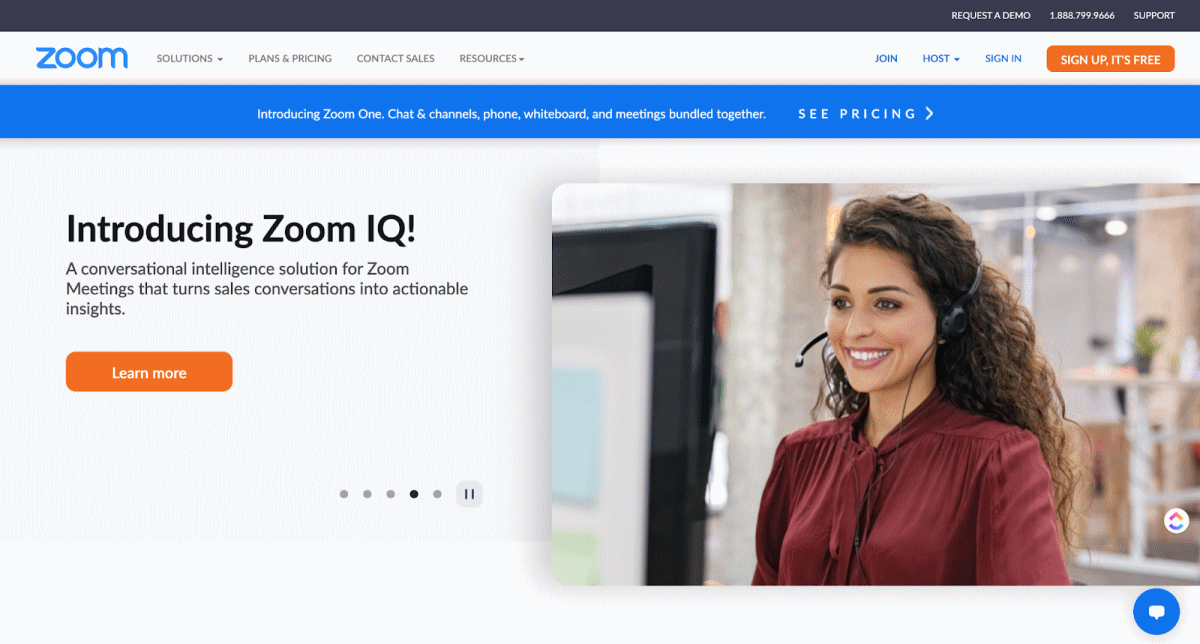 Zoom is a webinar platform that has been praised as the "best" by many users, and it comes with a free option for up to 100 attendees. If you need to host larger audiences or want additional features, Zoom offers paid plans starting at $690/year per licence for webinars. You can screen share or broadcast videos on your computer during your webinar using Zoom's built-in tools.
Zoom has a few common objections, though. While it is certainly true that Zoom is not lacking as a product or as a company; the common complaint– particularly with enterprises – is that the responsiveness and relationship from Zoom just simply is not there. You are a number to them, and the account representative that is your point of contact to Zoom is also another number to them.
This means that necessarily the relationship that any given company must have with Zoom is a strict vendor for a software-tool relationship; not as a key growth partner. You will never be able to call up Zoom's CTO and pitch them a feature idea that you want and then next quarter that feature rolls out. They are simply too big for that.
Google Meet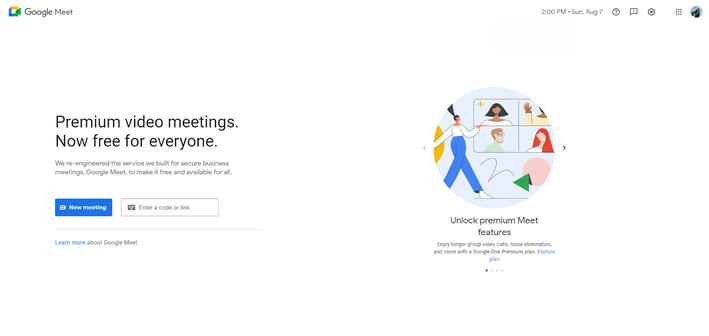 Google Hangouts Meet is a video conferencing service that's best for companies that want to host virtual classrooms with up to 30 participants. It's free, easy to use, and easy to set up — no need to download software or create an account.
You can share your screen, desktop, camera (even dual screens), and more while chatting with other participants in the same room. It also has features like one-click dialling, voice chats, polls and surveys.
GoToMeeting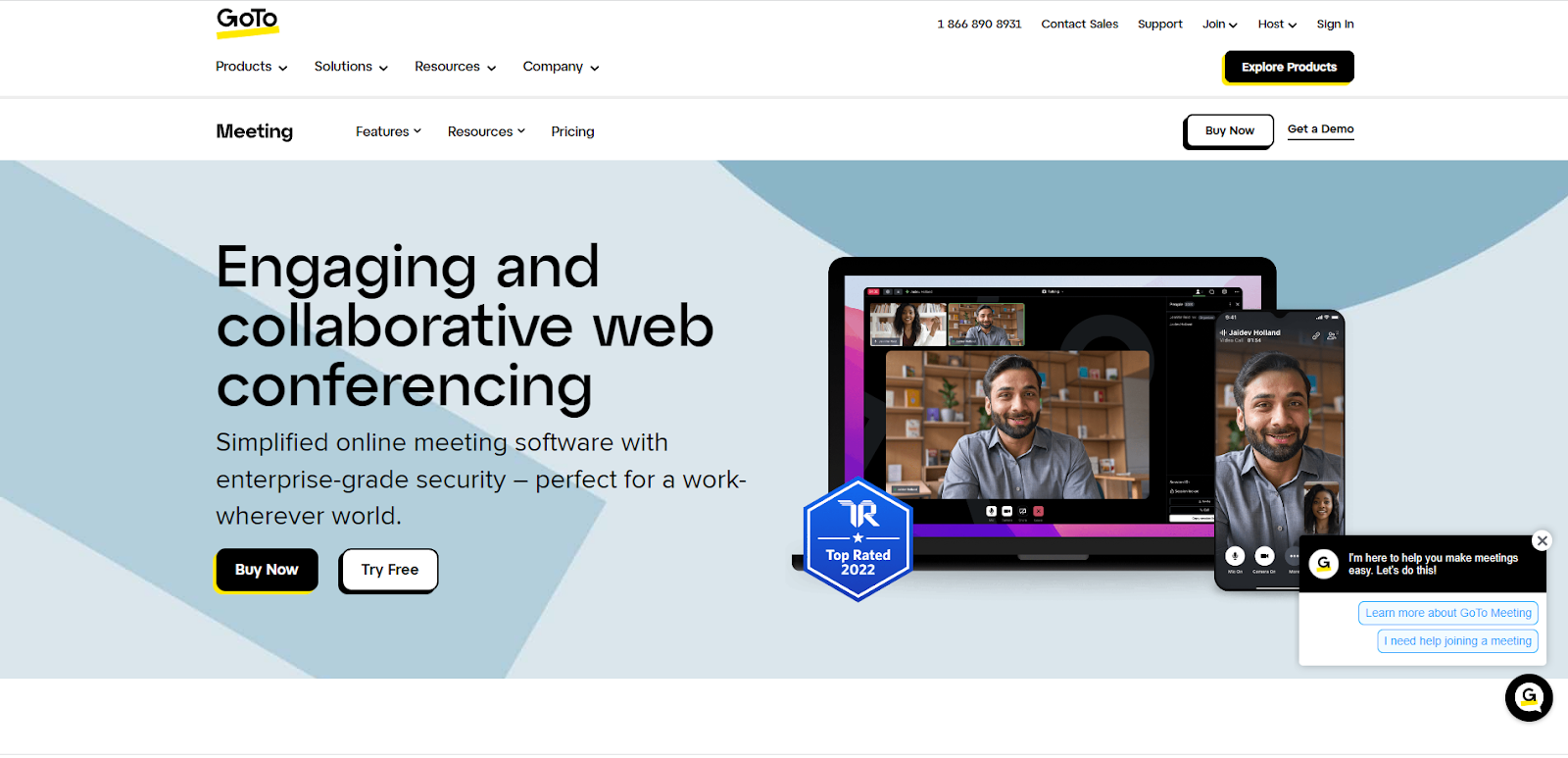 GoToMeeting is a popular webinar platform that is used by a lot of large companies, such as Amazon and Adobe. It's easy to use, which makes it great for small or large companies, but also has some advanced features if you need them.
With GoToMeeting, you can host webinars with up to 100 participants or unlimited attendees. You can also record your meetings, and export them to MP4 files for later playback.
The software is compatible with both Macs and PCs, making it convenient if you have a mixed audience.
Adobe Connect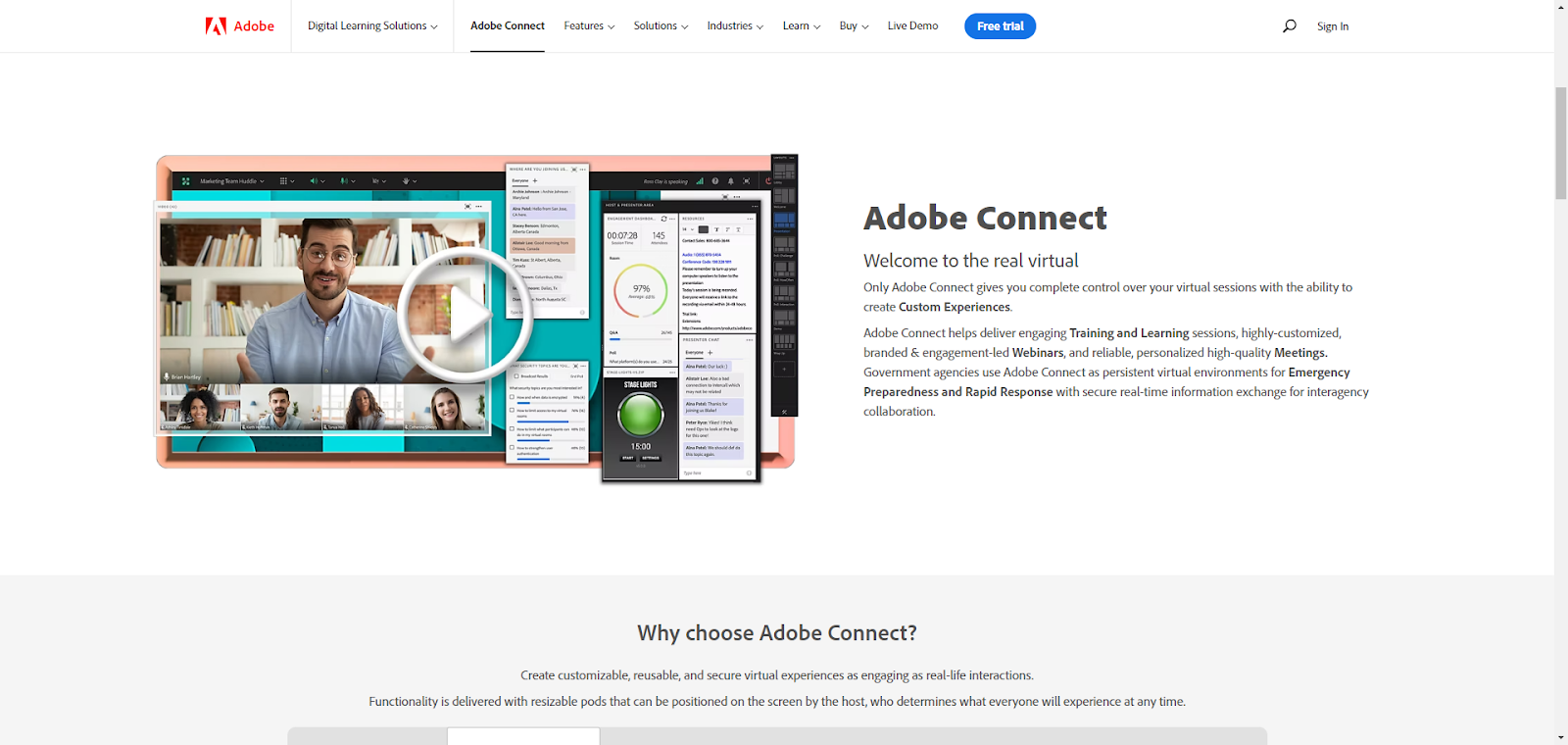 If you're not interested in using a third-party webinar platform and would rather host your own virtual classroom for your audience, Adobe Connect is a great option. Advantages of this service include:
The ability to use your own domain (and/or subdomain), which can be helpful if you want people to associate the virtual classroom with your brand.
Adobe Connect can handle larger groups than most other platforms; it's ideal if you want to host an event that involves multiple speakers and/or presenters throughout the course of a day or week.
You can record meetings, saving them as videos that can be shared with participants later on. This makes it easy for people who were unable or unwilling to attend live sessions because they were too far away or otherwise unavailable—they'll still have access to all the information provided during those meetings!
EasyWebinar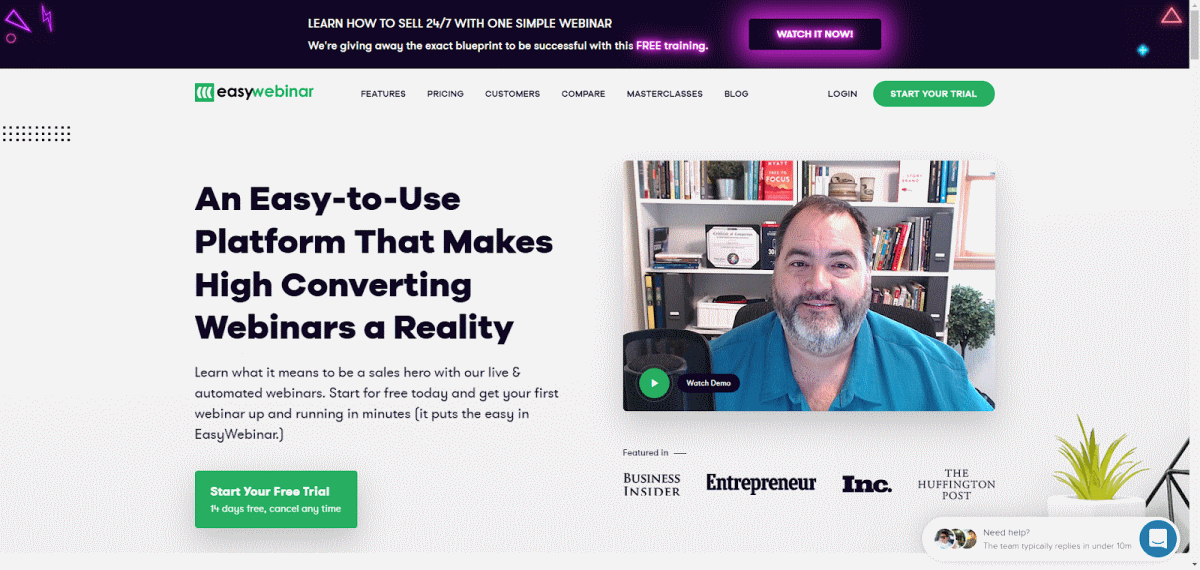 EasyWebinar is a webinar platform that has been specifically designed for teachers and educators. The platform features an easy-to-use interface, making it perfect for teachers who want to engage their students through virtual classrooms.
If you are interested in using webinars as a teaching tool, EasyWebinar is a good choice because of its simple setup and excellent customer service team.
EasyWebinar is a webinar platform for online education and training. As an online paper writer, you can leverage EasyWebinar's cloud-based software to conduct live events, share videos and files, create interactive polls, surveys, and quizzes, among other features, enriching your virtual teaching sessions.
EasyWebinar can be integrated with other services such as GoToWebinar (webinar hosting), Zoom (video conferencing), Slack (messaging app) and MailChimp (email marketing platform).
WebinarJam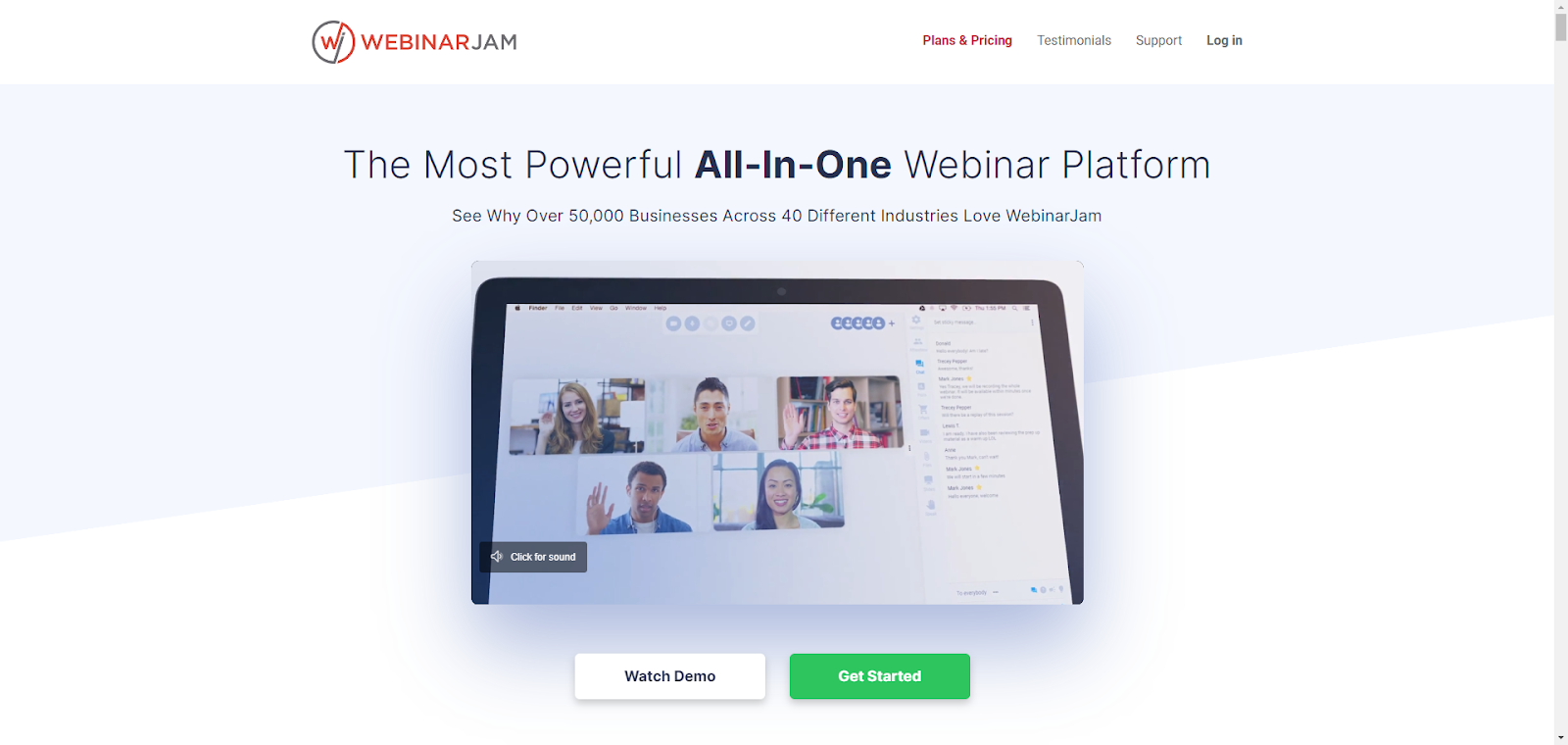 If you're looking to create a webinar in less than 5 minutes, WebinarJam is a good solution. With features like live polls and screen sharing, it's easy to see why this platform has become so popular.
Creating a webinar is simple: just choose the date and time that works best for your audience and its members. Then, choose how many attendees will be allowed into each session (up to 30). Finally, hit "Create Event" and wait for people to join!
WebinarJam is an all-in-one solution that lets you host live events as well as create virtual classrooms for ongoing training sessions or weekly meetups with your community members.
The free version comes with unlimited access during a 30-day trial period; after that, choose from monthly or yearly plans starting at $29/month.
Webinato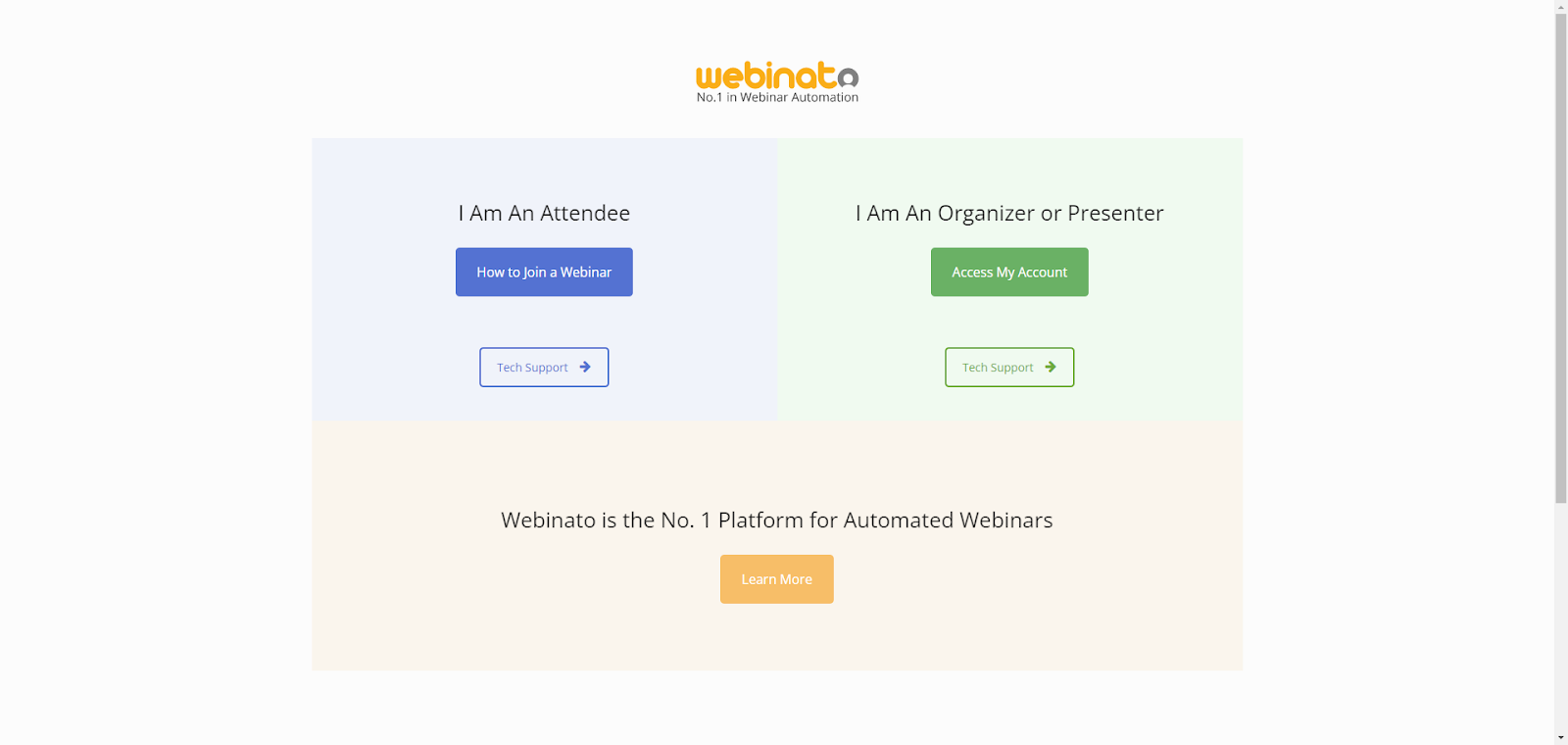 Webinato is one of many webinar platforms for education that can be used for online classrooms. It's a cloud-based software that allows you to set up virtual classrooms and hold live sessions on any device.
You can also use Webinato for free, but there are some limitations: it won't allow you to use an unlimited number of participants or record your sessions if you want them saved.
However, if you're just looking for an easy way to host webinars without paying anything upfront—or if you know that the majority of your attendees will be teachers or students who don't need certain features—this could be a great option!
Demio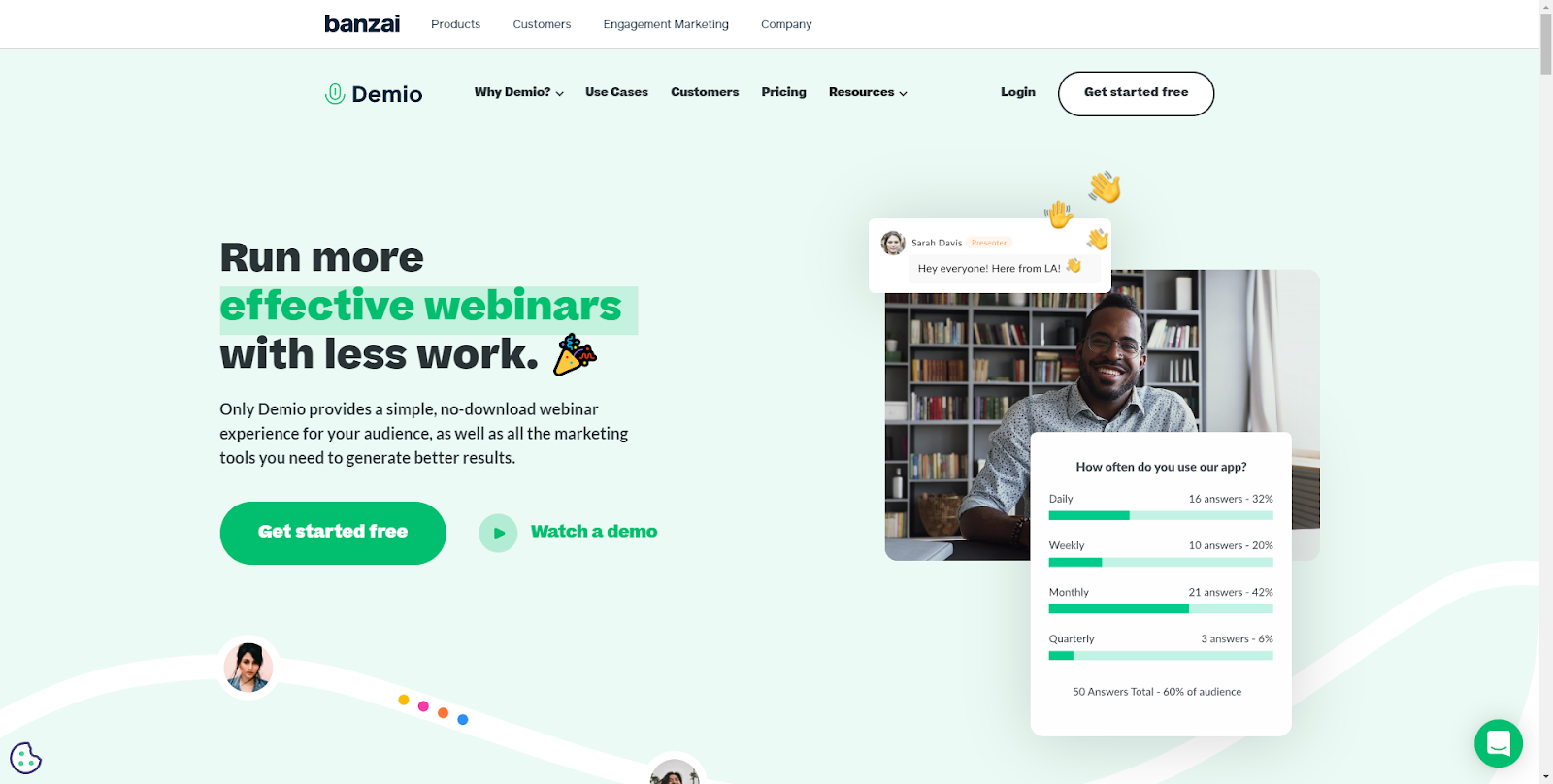 Demio is a cloud-based webinar platform, which means you can use it on any device at any time. Because it's in the cloud, you don't have to worry about downloading software onto your computer and managing that software as you would with something like GoToWebinar or even Zoom (we'll get to those later).
Demio was designed to create a collaborative environment for online classes. It allows teachers, professors, and lecturers to create interactive sessions with their students using Google Hangouts or Skype for Business. This makes it easy for them to collaborate on projects or share information without having face-to-face contact at all times.
Webinar Ninja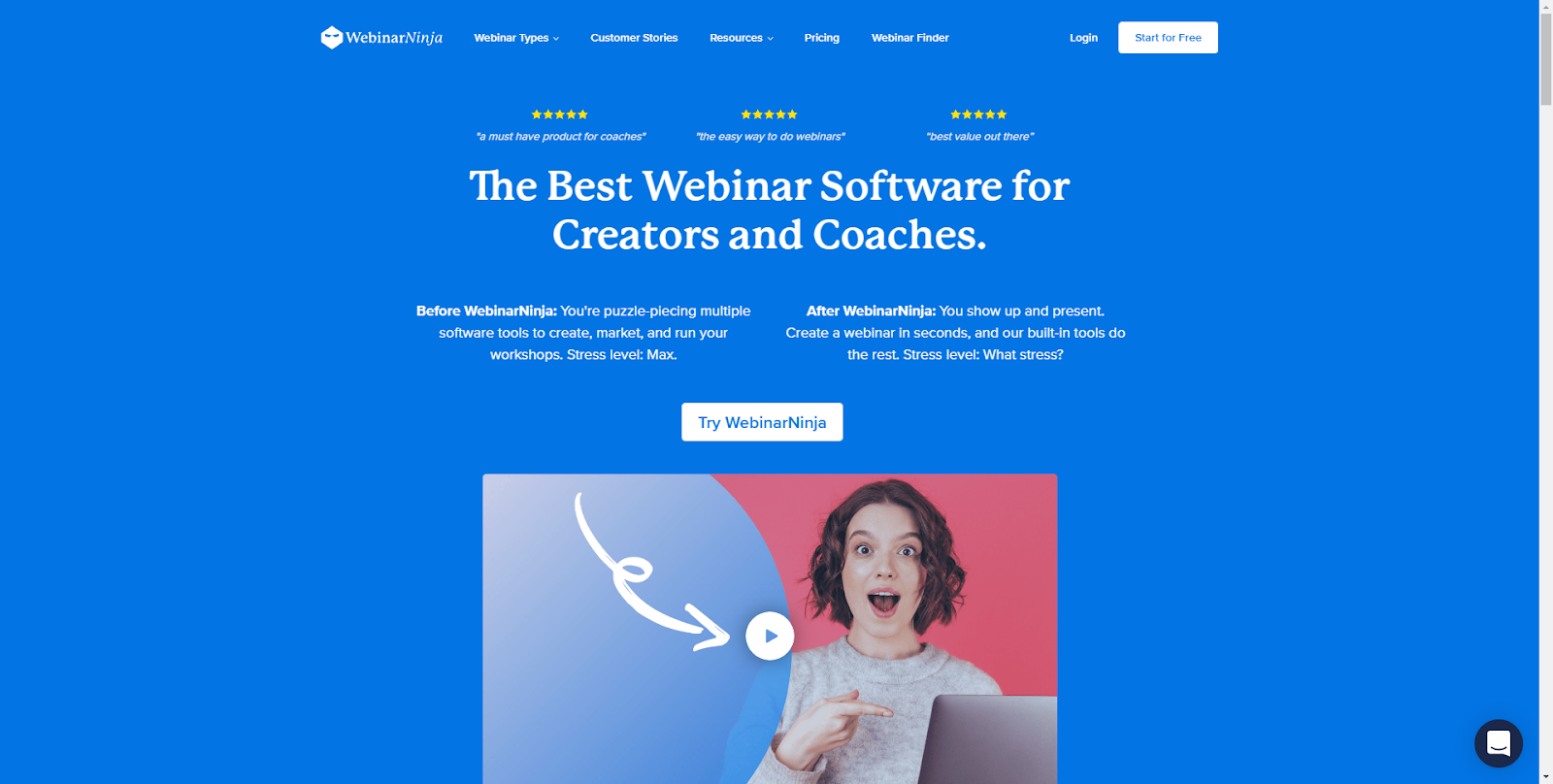 Webinar Ninja is a webinar software that allows you to create and host webinars, live events and live broadcasts. You can build and customise your own website to host your webinar, get started with a free trial, or use one of their hosted solutions.
It is a great tool for online education. Webinar Ninja features include:
Webinar platforms for education
Webinars for teachers
Webinar software for presentations
Ever Webinar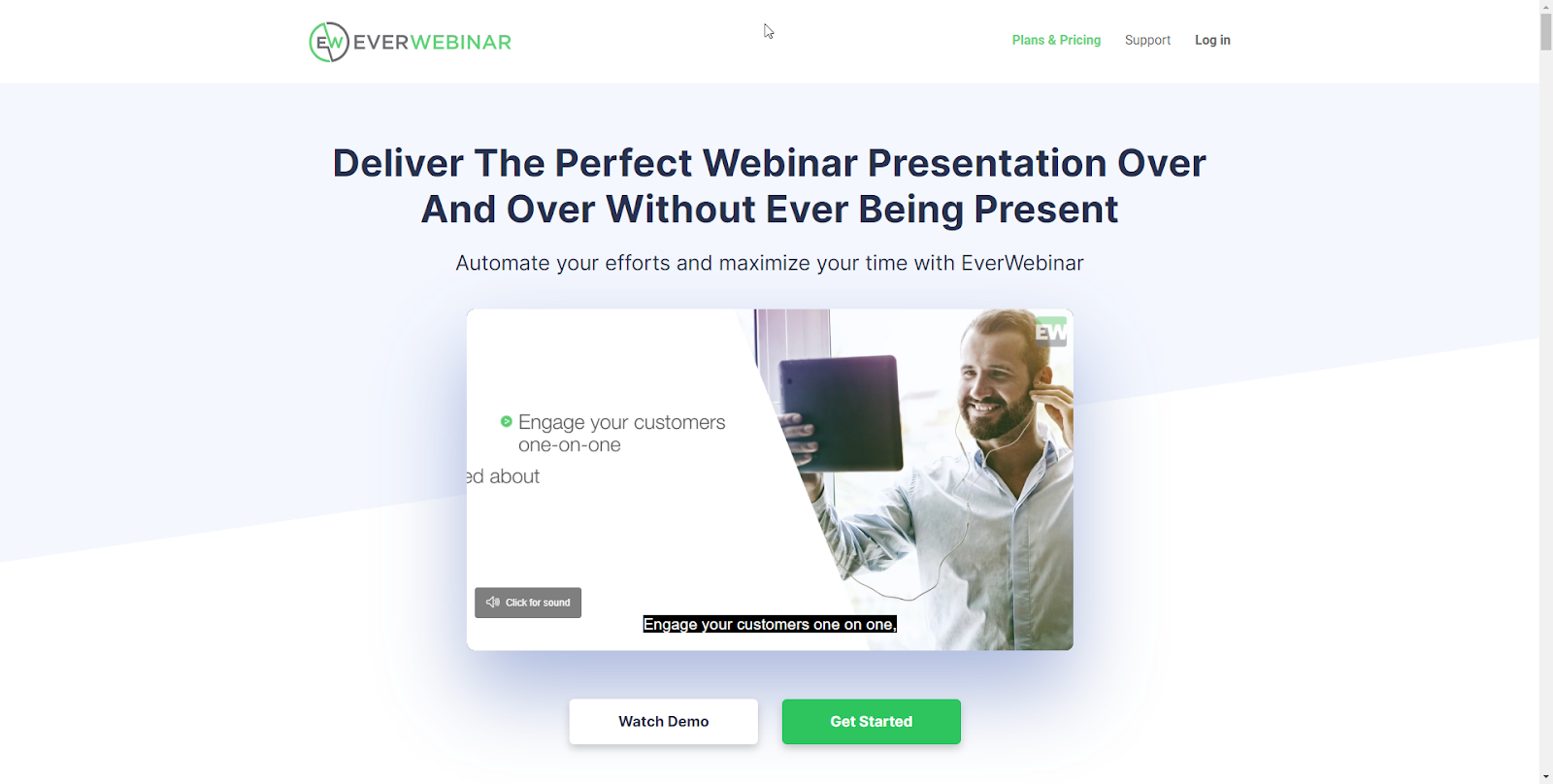 Ever Webinar is a cloud-based webinar platform that allows you to create, host and attend virtual classrooms. It's used by Microsoft, Adobe and other big companies as their primary webinar software.
Ever Webinar was developed by Everlytic Technologies Inc., a Canadian company founded in 2012 by CEO Michael Dawid. The company describes itself as "a group of entrepreneurs focused on building technology for education."
Ever Webinar provides a range of features for creating your own virtual classroom:
Create your own custom signup page with different types of registration forms (free vs paid)
Use Everlytic's survey builder tool to ask questions during the webinar or before it starts (e.g., "What do you hope to learn from this webinar?")
Create a landing page for your event so participants can easily find it on Google or Facebook when they search for relevant keywords like "Microsoft Azure certification" or "Adobe CC tutorials."
ClickMeeting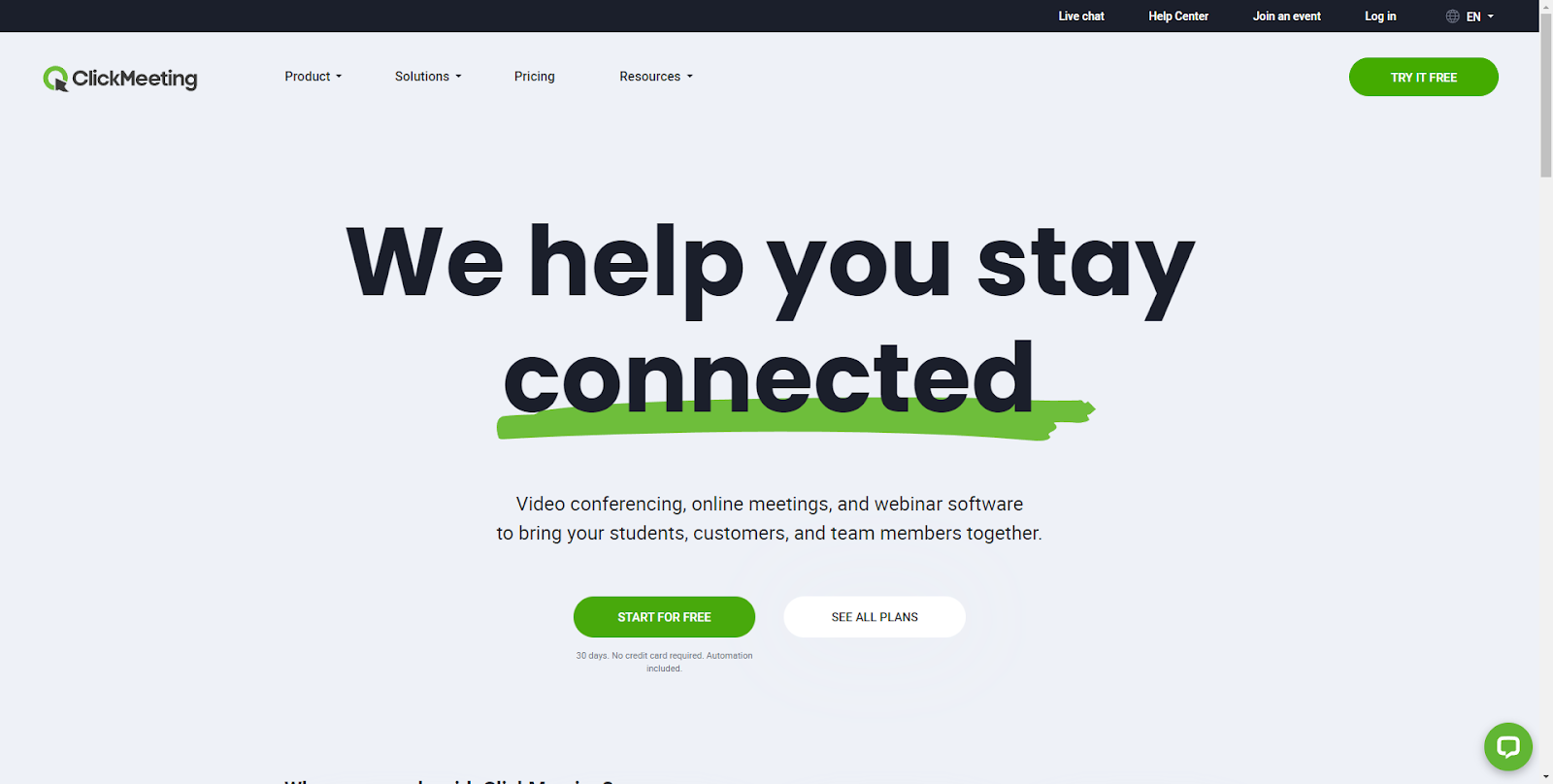 ClickMeetingis a free webinar platform that can be used to host virtual classes, training sessions and conferences. There is a free trial period where you can start a meeting for up to 25 attendees.
In addition to being able to record and share your webinars, ClickMeeting integrates with Google Drive so you can easily distribute information before or during the event. This makes it easy for participants to share their own presentations or documents with other attendees in real-time during the webinar.
ClickMeeting also provides live support via phone or email if you need help setting up your account or troubleshooting any technical issues while hosting a meeting.
They offer free webinars designed specifically for teachers who want their students to participate in virtual classrooms (these include PowerPoint slides along with video narration).
They also have many templates available on their website which can be used as an outline for creating new lessons/webinars of your own design—or simply use them as inspiration.
Zoho Meeting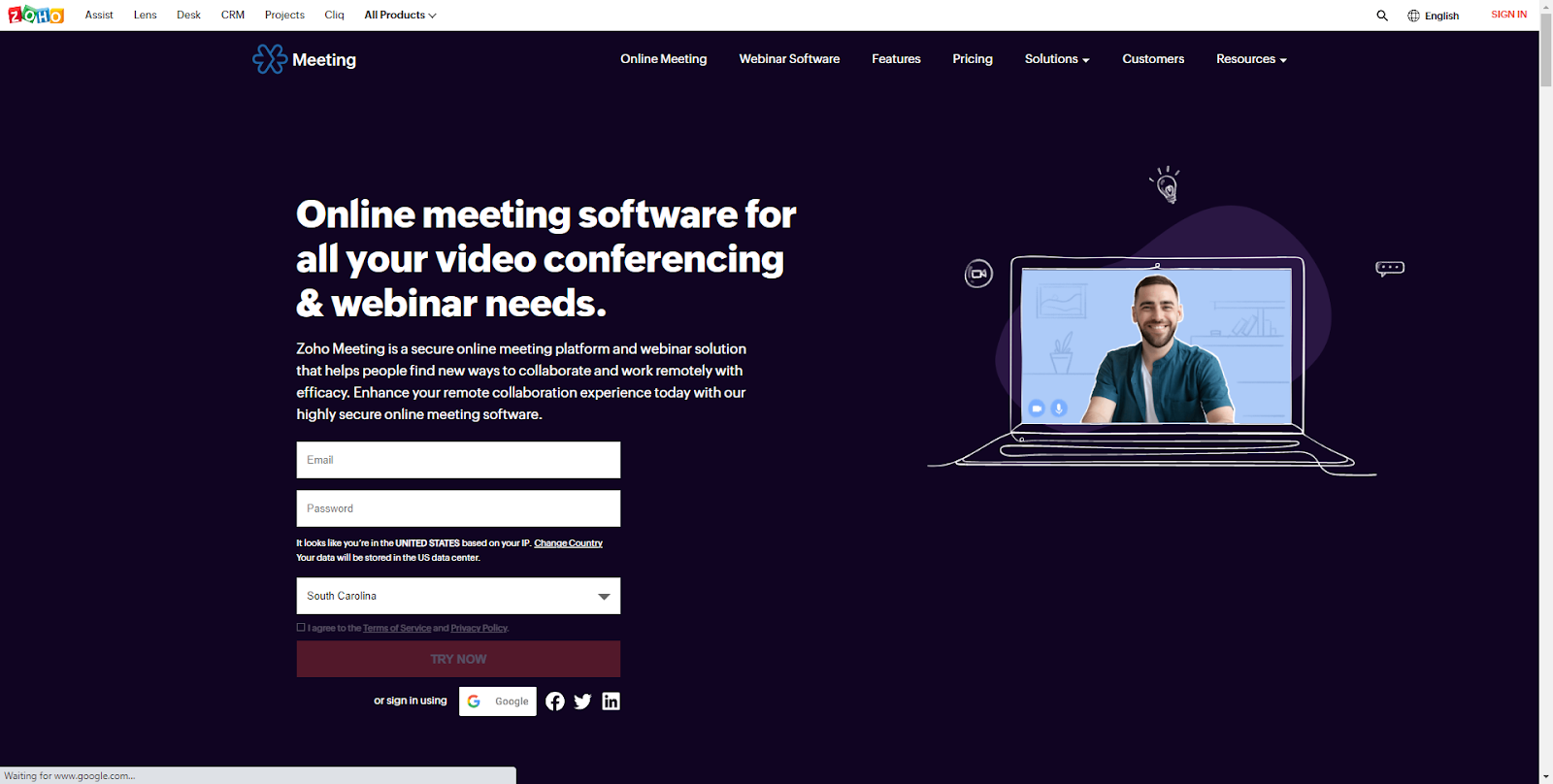 Zoho Meeting is a web conferencing platform that allows you to host events ranging from one-on-one meetings to large webinars. It includes features like audio and video conferencing, whiteboarding, chat, screen sharing/presentation and also records your webinars.
You can set up webinars of up to 25 participants or meetings of up to 4 participants with a free plan. You can also pay for more advanced features such as recording for only $35 per month or upgrade your account with additional storage space (up to 120 GB).
If you want professional quality recording then the Super HD Recording Plan will cost $120 per month which comes with unlimited storage space as well as HD quality recordings.
ON24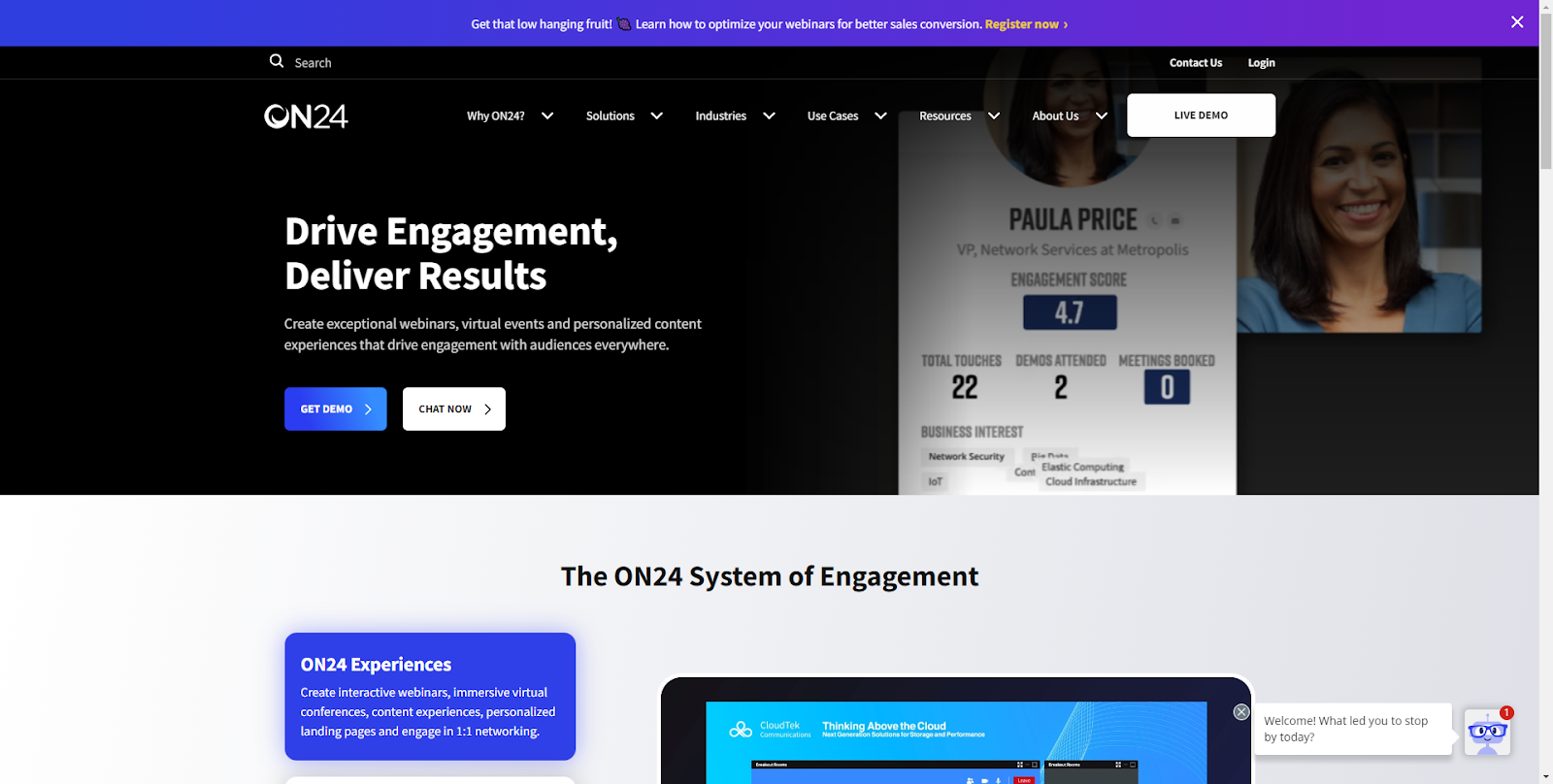 ON24 is a webinar platform that offers the ability to record, host and stream events over the internet. It allows you to conduct virtual classroom training that is fully interactive and engaging for participants.
It provides a unified experience with on-demand webinars and virtual classrooms that can be viewed by any device. It offers free screen share and collaboration tools that allow for private groups, live sessions, screen sharing, and the ability to archive events.
ON24 is a webinar platform that provides a variety of features for virtual classrooms, including:
Hosted and/or self-hosted webinars
A large library of templates and designs to choose from when designing your webinars
Analytics reports to see how well your webinars are performing
BigMarker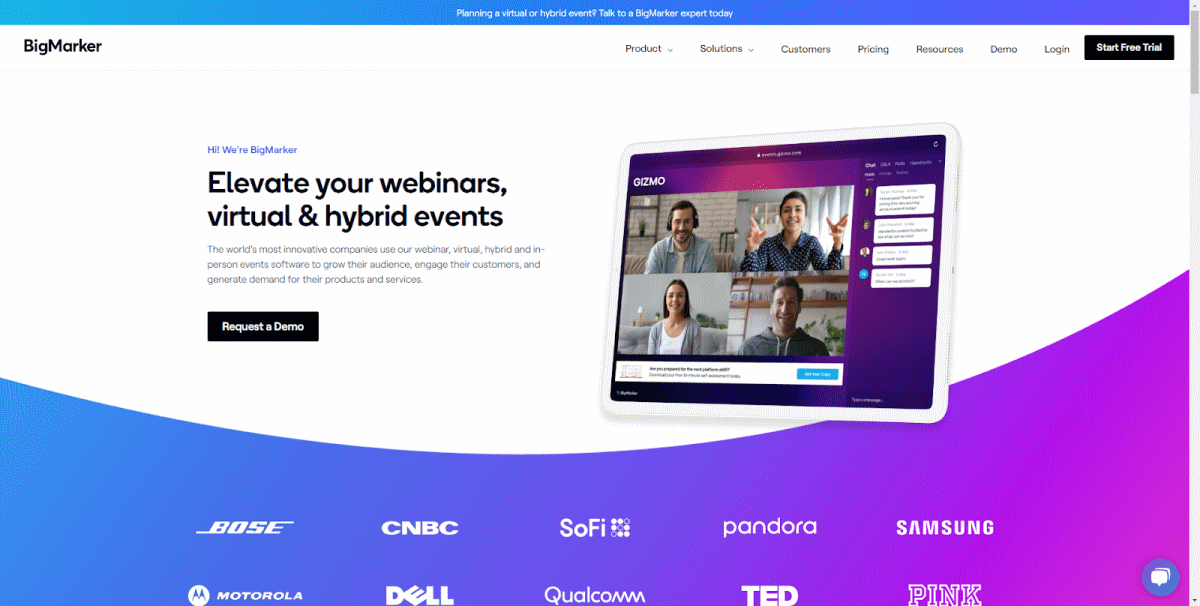 BigMarker is a webinar platform that is easy to use and has a lot of features. Its live chat feature allows participants to communicate with each other in real-time, which can be very useful for teachers who want to answer their students' questions or address concerns that have arisen during the webinar. It also offers polling tools, so teachers can get feedback from their audience on specific topics or issues.
Another great feature of BigMarker is its Q&A feature, which allows anyone in the audience—including yourself—to ask questions directly through the platform.
This makes it easy for everyone involved in your webinar (including you!) to feel engaged and involved with what's going on during your session.
Livestorm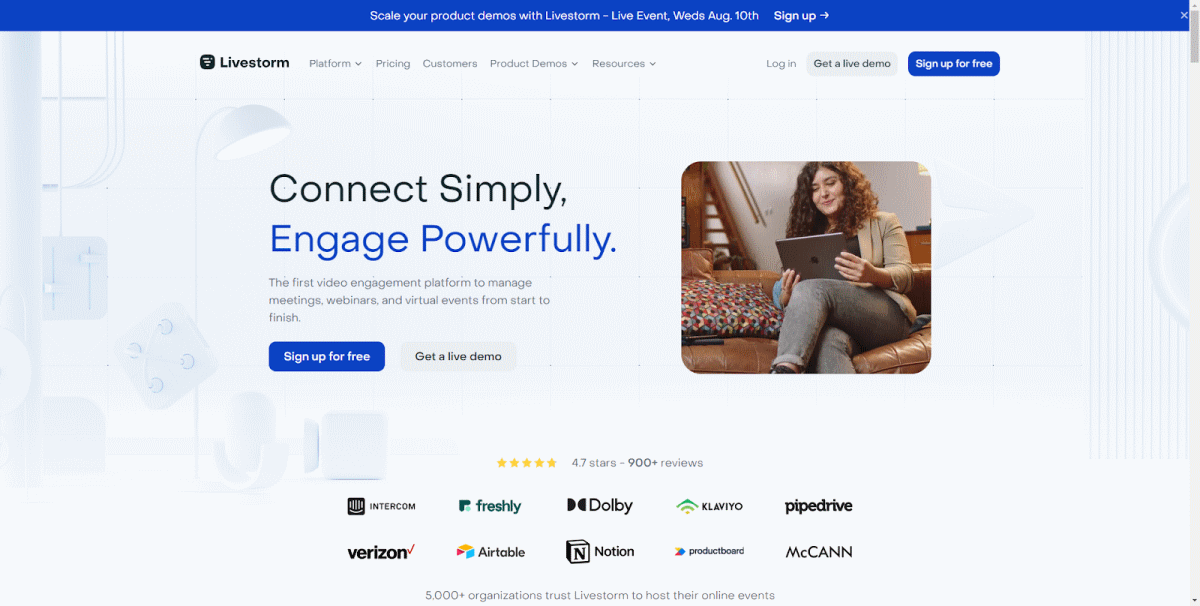 LiveStorm is a webinar platform that allows you to create virtual classrooms and conduct live webinars, online meetings, live training sessions, and more. The LiveStorm platform allows all participants to interact with each other and the speaker using video chat and screen-sharing capabilities. LiveStorm also offers an online environment for users to share their desktops with other participants.
With a simple user interface, Livestorm is an easy-to-use platform with a lot of great features. It's free for up to 5 participants and can be used for audio and video calls. The platform also offers one-on-one or group calls, live streaming, webinars, presentations and video conferencing.
Kaltura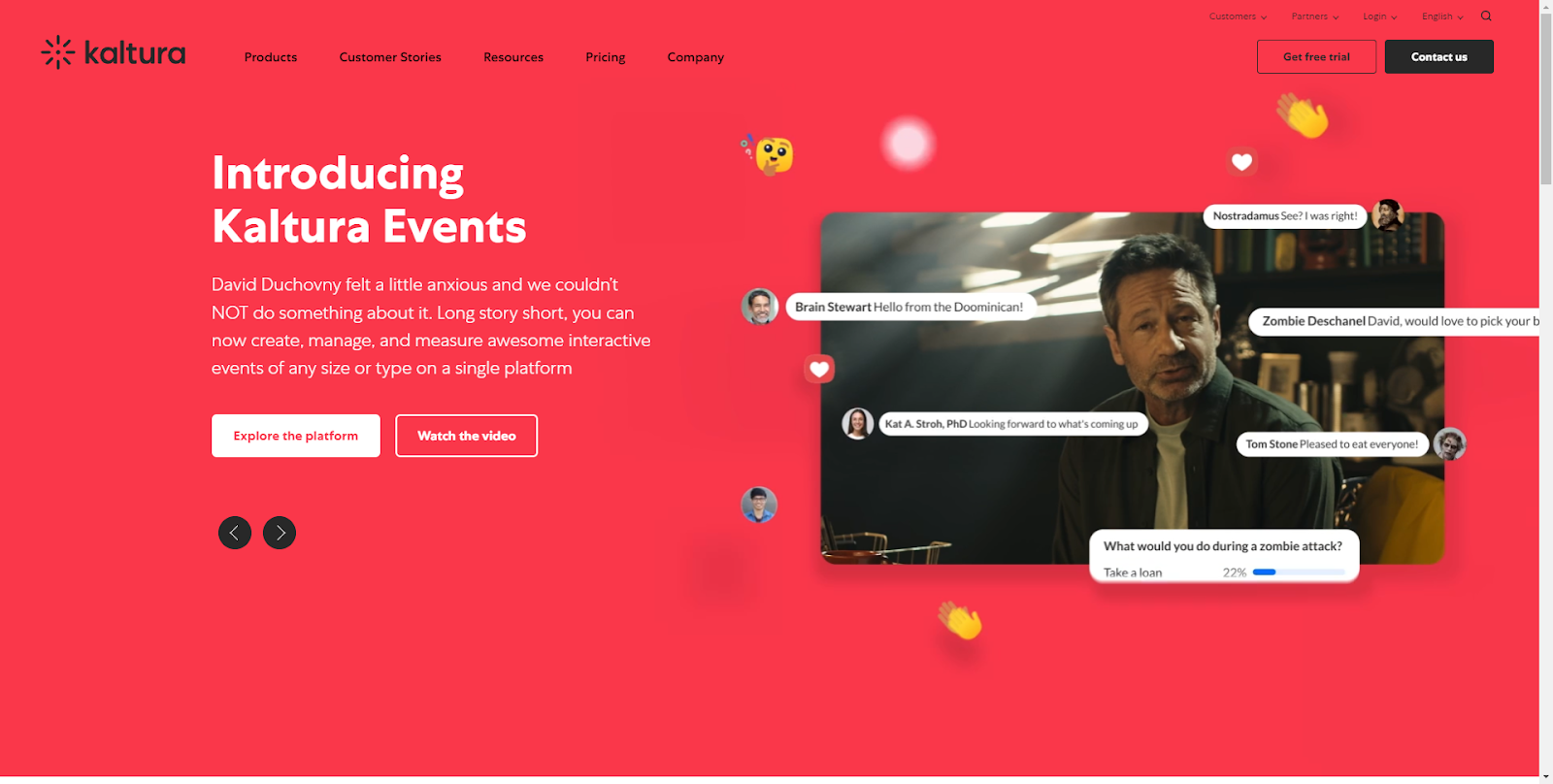 Kaltura Virtual Classroom, formerly known as Kaltura Video Cloud, is a platform designed to be used by individuals and organisations that need to deliver real-time, interactive video-based education. Kaltura Content Management System (CMS) allows you to manage your content on demand in an intuitive user interface with personalised dashboards, advanced search capabilities and more.
Kaltura is a video platform that offers online community management, video hosting and sharing services. This webinar platform enables participants to watch lectures, collaborate and find answers to questions through live chat in real-time as well as a recorded archive of sessions.
The Kaltura Virtual Classroom platform is also used by higher education institutions such as Harvard University and MIT to host webinars for students and professors.
LearnCube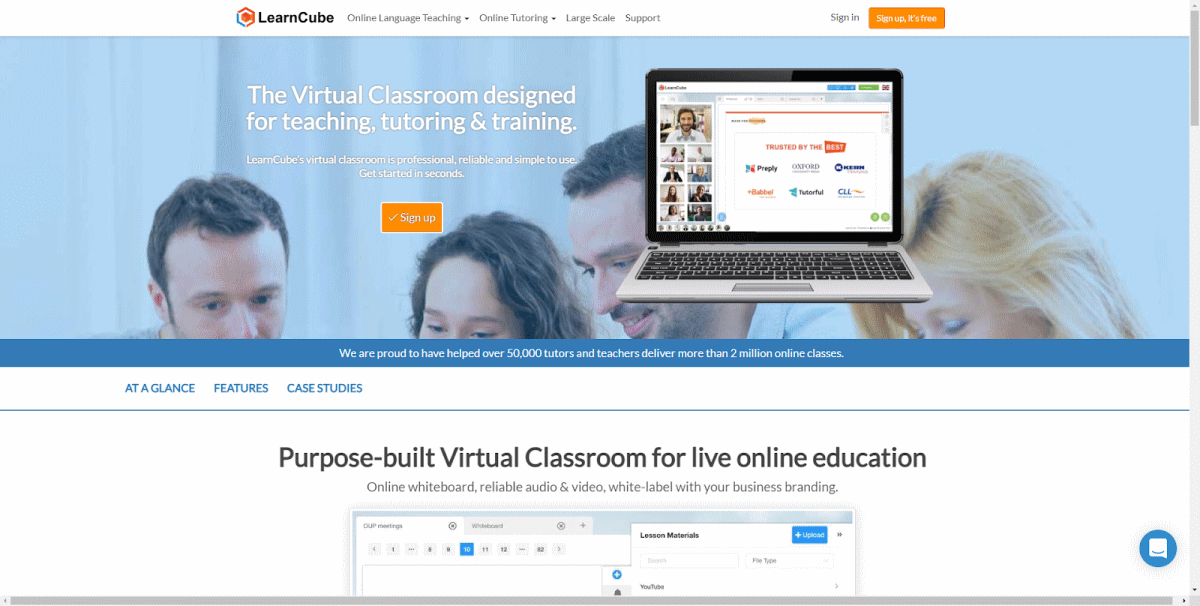 LearnCube is a web-based platform that allows schools to quickly design and deliver a freemium service of their own. LearnCube is an easy-to-use, next-generation webinar solution for K–12 teachers, administrators, parents and students. LearnCube is a webinar platform with a focus on adding value to customers and the community.
They provide tools for virtual classrooms, live events, learning simulations, webinars and blended learning courses. LearnCube is an easy-to-use tool that has mobile apps and embeds options so you can connect with anyone at any time.
It is an interactive, powerful and intuitive webinar platform for creating, hosting and delivering great online events. Meetings are easy to set up and highly interactive with our online teaching tools. You can view the event from your desktop or mobile device so you are always connected to your participants. They also have a dedicated customer support team that is quick to respond.
BigBlueButton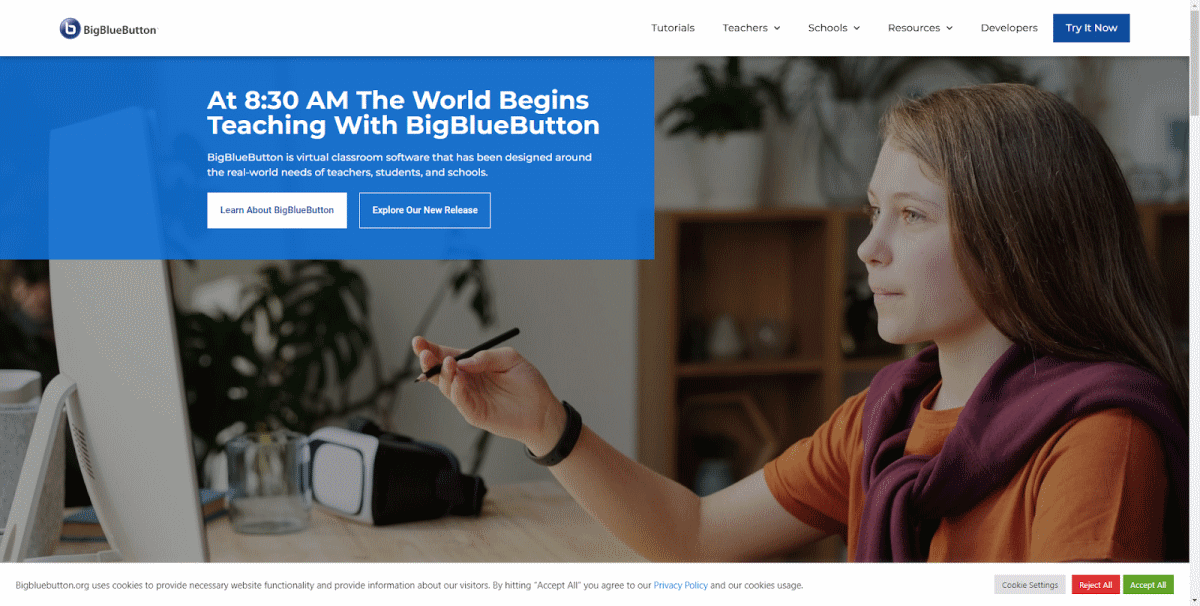 BigBlueButton Webinar is a web conference platform that gives you the capability to conduct safe, secure, and interactive conferences. By using BigBlueButton, you can create virtual classrooms with audio and video capabilities or just display PowerPoint presentations. BigBlueButton also enables whiteboards and screen sharing, while giving attendees the option of polling or submitting questions during live sessions.
BigBlueButton is an option for managing and hosting interactive, collaborative webinars that can also be made available to participants at any time.
All you need is some basic hardware and an internet connection, and the cloud-based platform will do the rest — from hosting the webinar to recording it, distributing access keys for those who couldn't attend, automatically converting presentations into downloadable files, and allowing users to chat during sessions.
Platform requirements for online education
When choosing a webinar platform for your virtual classroom, it's important to consider which features are most important. The following are the most essential features of an online learning platform:
A feature that allows you to easily share your screen with others.
An option that allows attendees to type in their questions and comments during your presentation. This can be helpful if there is content that is not clear or if someone needs clarification on something you've mentioned.
Moderator tools for monitoring attendees' activity during live sessions (such as time spent watching). These tools allow moderators to pause sessions when participants have been idle for a certain amount of time and then resume where they left off once participants become active again. They also enable moderators to mute specific attendees if needed and enable/disable recording capabilities on individual PCs without affecting other computers connected via video conference software such as Skype or Zoom Rooms
It's a good idea to do a trial before finalising your choice of webinar platform
It is a good idea to do a trial before finalising your choice of the webinar platform. This way, you can gauge how it meets your needs and whether it's easy for you to use, as well as how helpful the support team is.
You should also make sure that the platform offers an acceptable level of security for your company's data, particularly if it contains sensitive information.
Conclusion
We've listed out the best webinar platforms for education based on our research of webinar software features for online education. You can always choose your favourite one or test them all to see which one fits your needs the most.
After reading this article, you should have a good idea of the various available webinar platforms. The next step is to try out a few of them and then decide which one you like best. For those looking to create online school environments, selecting the right platform is crucial for delivering effective and engaging educational experiences. You can always change later if your needs change or if something better comes along!
The best webinar platform for your online learning environment is the one you can have the best working relationship with and count on to adapt to the changing technological landscape along with you.
When you need more than just a webinar, Digital Samba's video conferencing API and video chat SDK provide a powerful platform for integrating top-tier video conferencing capabilities directly into your software products or websites. With the ability to embed a GDPR-compliant, EU-hosted, and end-to-end encrypted video conferencing solution into your software, Digital Samba is elevating the concept of webinars and virtual classrooms to a whole new level.
Our video conferencing API and SDK offer a seamless connection between the virtual classroom and the physical one. It caters to the dynamic needs of modern learning, where remote access, interactivity, and engagement have become crucial elements. Whether it's for an eLearning platform, an educational institution, or a corporate learning environment, our video conferencing solutions can be tailored to suit your unique needs.
Beyond just offering a safe and secure environment for learning and collaboration, Digital Samba understands the value of an intuitive and user-friendly experience. From educators to students, our solution is designed to be easy to use for everyone involved. This ease of use extends to developers as well, with our comprehensive documentation and responsive technical support ensuring you can effectively leverage our API and SDK in your applications.
Digital Samba, with its GDPR-compliant, EU-hosted and end-to-end encrypted video conferencing solution, is setting the bar high in providing the perfect blend of convenience, security, and functionality that every virtual classroom or webinar platform needs.
Explore Digital Samba's video conferencing API and video chat SDK and see how seamlessly they can integrate with your software products and websites, providing a holistic, engaging, and secure learning experience. Contact us today for a comprehensive demonstration, and experience of how Digital Samba is transforming virtual classrooms and webinar platforms.
Request a free consultation with our team
Improve your webinar with Digital Samba's WebRTC API-integrated video chat
Get a consultation