Get Ready to Digital Samba into the Future
7 min read
February 7, 2019
For the last 2 years we've been on a marvelous journey, and today, on February 7th, 2019, we are excited to reveal to the world the new direction of our firm.
OnSync is being replaced with Samba Live - not just in name and in look, but in many other core aspects as well.

A bit of web(inar) history
When we founded Digital Samba 16 years ago, our goal was to bring an epic, download-free video conferencing experience to organizations all over the world. We truly believed in creating cutting-edge software that is both a pleasure to use and affordable.
Our young founding team of designers and developers were the perfect group to build software that was functional and, in 2003 terms, beautiful.
The first version of what is now to become Samba Live was simply called "Presenter". It was custom-built for a client in Austria and looked like this: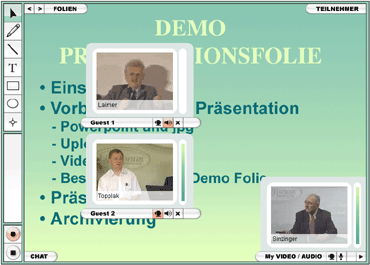 Back then, almost no one, not even the client, was thinking of running online meetings, or web seminars. To give you a bit of perspective: YouTube didn't come into existence until three years later, Skype was the next big thing and audio-only, and the word 'webinar' was only just being invented. Bandwidth was scarce, browsers were unstable and hardware was definitely not mobile.
But even in this time of uncertainty, we decided to productize, and came up with the name "Socrates" - we thought education was the most likely and most useful application of this technology.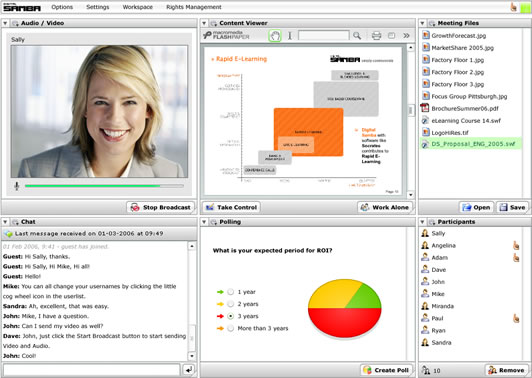 We streamlined the design and feature set, and in early 2006 it was Dave Segal, our current VP of US Sales, who furthered the potential and helped bring the technology from our start-up hub in Barcelona to the US. Full marks to Dave for global vision there.
The brand
As we entered the US market, we realized that Socrates was a protected name in the education sector and had to rebrand once again - this time to OnSync - a name we would carry for the next 13 years.
Our history of designing software to client specifications etched customer satisfaction into our mind-set. Building-to-order and white labeling our webinar software was a natural instinct for us. This gave us an immediate edge over some of our huge competitors and helped us find our niche.
As the years ticked by and our customer base grew, we focused our best efforts on continually improving our technology. We adapted the latest engineering and design principles to build webinars and meetings that felt intuitive - with our customers always being our guiding star, letting us know what features deserve the highest priority.
Eventually, in 2010, we launched OnSync 4. It was beautiful, it was flexible and it was proudly built on the then revolutionary browser video technology: Flash. More about that later.
In the beginning, "OnSync" said what we thought our software needed to say - that we could be "in-sync, online." And that worked well, for a while. But between comparison to the worldwide sensation boy-band *NSync, our customers wondering if our software was called "Samba", why we didn't spell it "OnSynch with an 'h'", and if we also manufactured a popular blood glucose monitor - let's just say our branding didn't age well.
It was clear that our name was limiting. And not even the launch of OnSync 5 with Flat UI and our super, sexy color-branding in June 2016 could change that.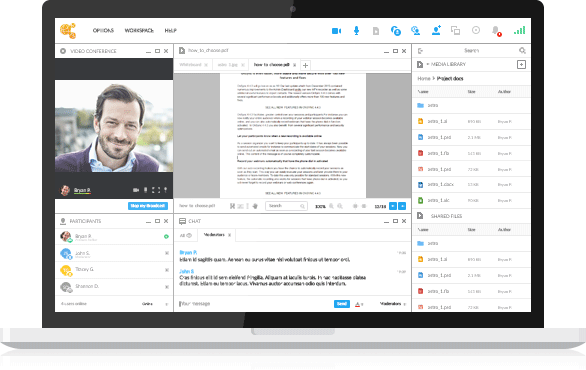 We needed a name that was easy to pronounce and remember, that spoke to the nature of our technology and represented who we are as a company of 21 people spread across the globe - moving and grooving to help you get your best work done. The very nature of "work" has changed in the world - everything is Live and will only get livelier, and we'll be there to Samba you through your day.
Samba Live embodies all of these things - and doesn't sound similar to a boy-band.
Sign of the times, from Flash to HTML 5
Flash technology has seen us through five versions of our software, but we've been keenly aware of the rise of HTML 5 on the horizon as Flash has been slated to sunset. So, with this paradigm shift, we've decided to transform as well.
Our latest update is the full realization of our initial belief that great software can be built in a web browser, easy for anyone to use. So we've spent the last 2 years building Samba Live from the ground up with HTML5/WebRTC technology. All while further refining our product plans, and revamping our business practices.
Samba Live is designed to work on screens of all sizes, perform in any bandwidth scenario, integrate via API and have live stream publishing capabilities - all while being suitable to end users and OEM partners alike.
It is robust and future-proof, and it's the platform we will be building on for years to come.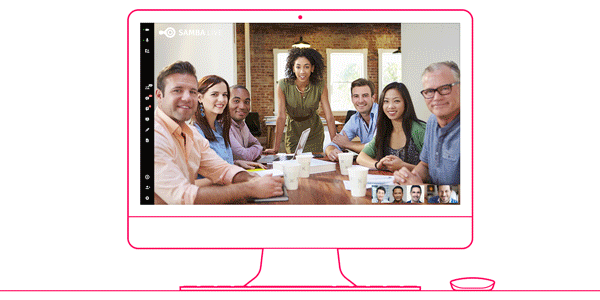 Answers to some common questions:
First, what's staying the same:
The plan you have - is the plan you have. We're not changing any of your existing plans. Not without your express consent.
You do not have to worry about rescheduling anything you have already set up. Aside from the domain changing to https://samba.live (which our servers will handle), it will be business as usual.
Information on our product and plans will continue to live at the Digital Samba website.
So what's different?
Video conferencing that runs in your browser. No extra software, no downloads, no updates or installers.
WebRTC and HTML5 bring you low latency, HD video and audio wherever you are.
An entirely new UI. We've simplified our tools to not just make them easier on the eyes, but more intuitive to use.
New features that make your collaboration more cohesive and your productivity more profound.
New plan structures that give you the best service and the best features, for the best price.
A brand new Samba Live University to learn all about our new system and how to use it.
The Samba Live all-star lineup: New plans and pricing
While we remain committed to making our software suitable for every kind of work and across any industry, we wanted to play to our strengths. So, we've restructured Samba Live into 3 main product offerings.
Choosing to focus on these means that we can bring world class service to the groups of people who have benefitted the most from working with Digital Samba, and helps us remain steadfast in our efforts.
Samba Live for Webinars
Webinars are for users who need individual or company accounts to run their daily meetings, webinars, and virtual classrooms. Samba Live is unique in that we include webinars with moderation features in every account. All of our plans are built for professionals, and the aptly named PRO plan gives you all the features you need to work at no extra cost. The PRO PLUS plan pumps it all up a little bit extra.
Samba Live for Education
Education is for educational institutions looking to deploy across their entire organization and want to integrate their systems with our API. Unlimited accounts allow you to empower everyone to use video conferences, run webinars and teach. Licenses adapt to your size and required capacity, with ample room for customization.
Samba Live for OEM
OEM is for resellers and VARs. Unlimited accounts and free configuration of service plans allow you to choose how to price and how to market. Full white labeling puts your brand and your customers first. Licensing is stacked based on capacity and can be scaled up as your business grows. The API allows you to build unique experiences, localized to any language.
Closing remarks
We've gone on this journey to create a video conferencing experience that empowers your work and your business, and make sure not a single thing gets in the way of your growth. It's why we get up in the morning, across dozens of time zones!
Rebuilding our technology and our brand isn't the end of this journey either - Digital Samba and Samba Live will continue to grow and evolve and build products that look and work unlike anything you've ever had before. HTML 5, WebRTC and online video are evolving at a blazing pace and the upcoming VP9 and AV1 codecs are going to push our industry even further than we are today. We'll be there, waiting and ready, when they do.
With utmost sincerity from every member of the Samba Live team:
-Thank you, we could not have done it without you.
Contact us for more information or project estomation.