Top 12 Video Conferencing Etiquette Tips
6 min read
November 7, 2022
Video conferencing etiquette is a topic people are discussing more and more in 2023. The huge rise in the popularity of video meetings has left many people wondering what etiquette rules they should follow when participating.
Virtual meetings aren't exempt from best practices and do's and donts. Following our 12 virtual etiquette tips will help ensure that yours run smoothly.
Table of contents
Here are our top 12 video conference call etiquette rules:
Test Run
Performing test runs can save you a lot of future pain and disappointment. We highly recommend you run through our online checklist before starting large or important meetings. You don't want to be in the terrifying position of having everyone join only to discover that your platform isn't working as expected.
Dress Appropriately
You guessed it, no pyjamas or bathrobes at online meetings! Remote working gives us some wiggle room in terms of what we wear, but that doesn't make it a free for all. Our rule of thumb is always to dress according to your audience and use common sense.
For informal team meetings, wear comfortable clothes that you normally wear around the house. If you have a job interview or a board presentation, you should break out the smart casual or business casual attire.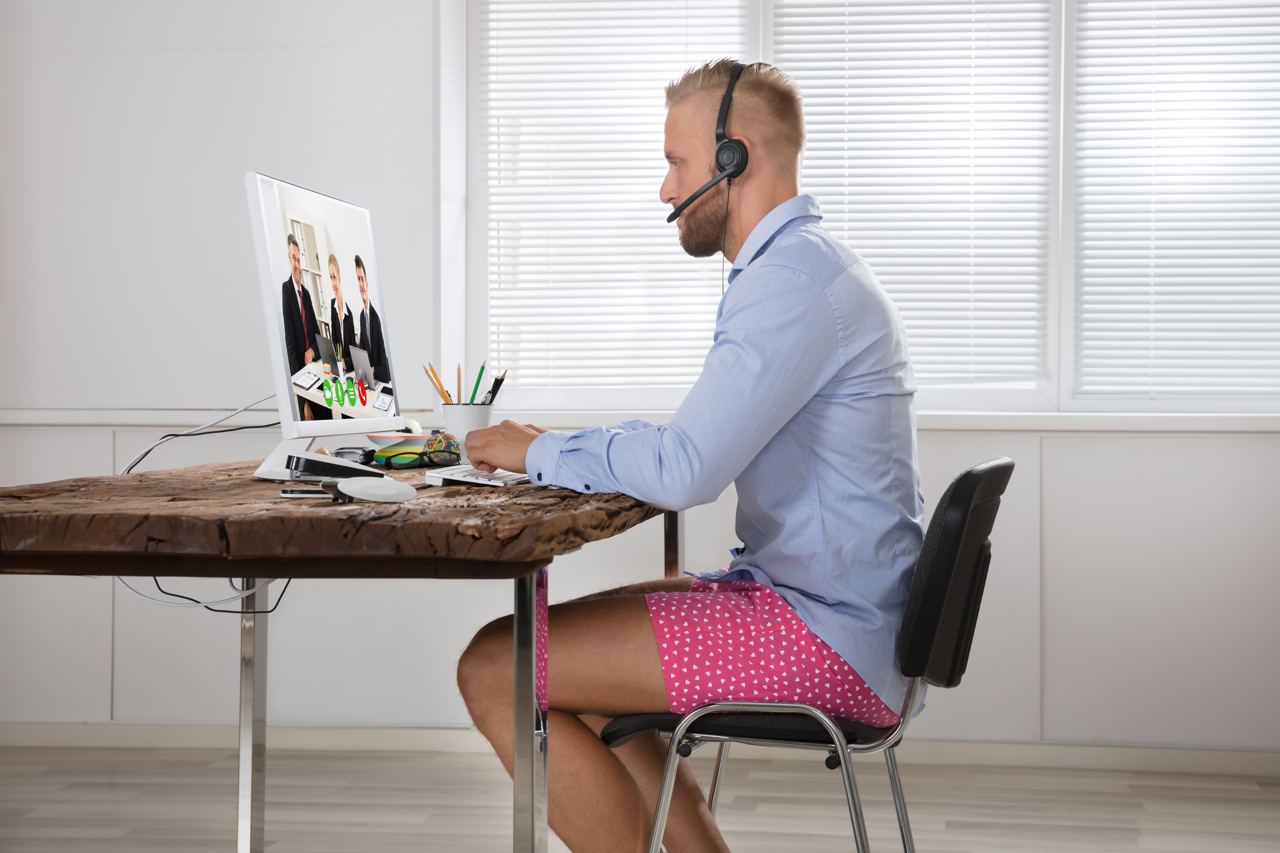 Another good rule is to avoid the extreme ends of the dress spectrum. It might come across as sloppy wearing slouchy clothes, but it can appear equally weird turning up to an online team meeting in a three-piece suit.
Ask yourself, "what would I wear if I was attending in person?" dress at this level or the one below.
Lighting and Sound
Lighting and sound are the difference between an amateurish appearance and the sought-after executive look. When it comes to lighting, we recommend you check out our complete lighting guide. For best results, go with three or two-point lighting.
To instantly improve your lighting, follow these golden rules:
Avoid harsh backlighting

Avoid downlighting

Use multiple light sources

A ring light is a great investment
You cannot beat a high-quality microphone. Microphones are included in headsets or as stand-alone desk mics. Your default laptop or webcam speaker isn't going to cut it. High-quality audio will help you keep your audience's attention.
Your Background
Your background can cap off a clean and professional set-up or be a distracting eye sore. We recommend you choose a simple background and check out our guide to the best virtual backgrounds.
If you want to go the extra mile, dedicate a specific wall in your office as your background. Choose a simple colour and your background will always work for you and not against you. Greenscreens offer outstanding quality backgrounds but require the most effort.
Use Eye-Contact
Virtual eye contact works the same as in person. It's much harder to focus on what someone is saying when they aren't looking straight at you. Lots of us fall into the trap of looking at our colleagues on the screen instead of through our cameras.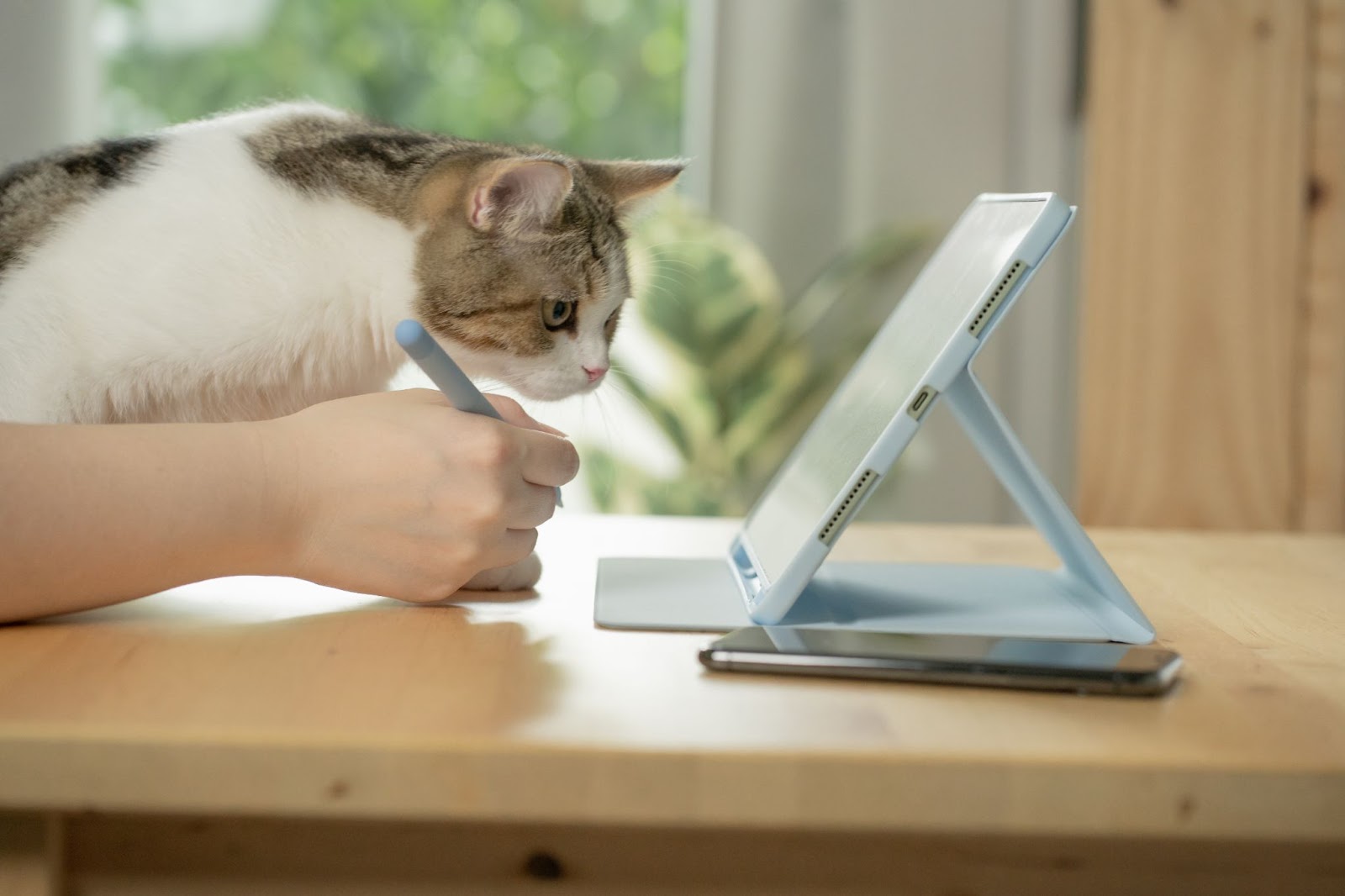 Eye contact will help keep everyone focused on what you are saying and make it less likely they will tab out or start multitasking.
Mute is Your Friend
Always encourage colleagues to mute their mics when they aren't talking. This rule should be one of the most important in your company's virtual etiquette handbook. We also advise that you ask your colleagues to turn their cameras off for large meetings.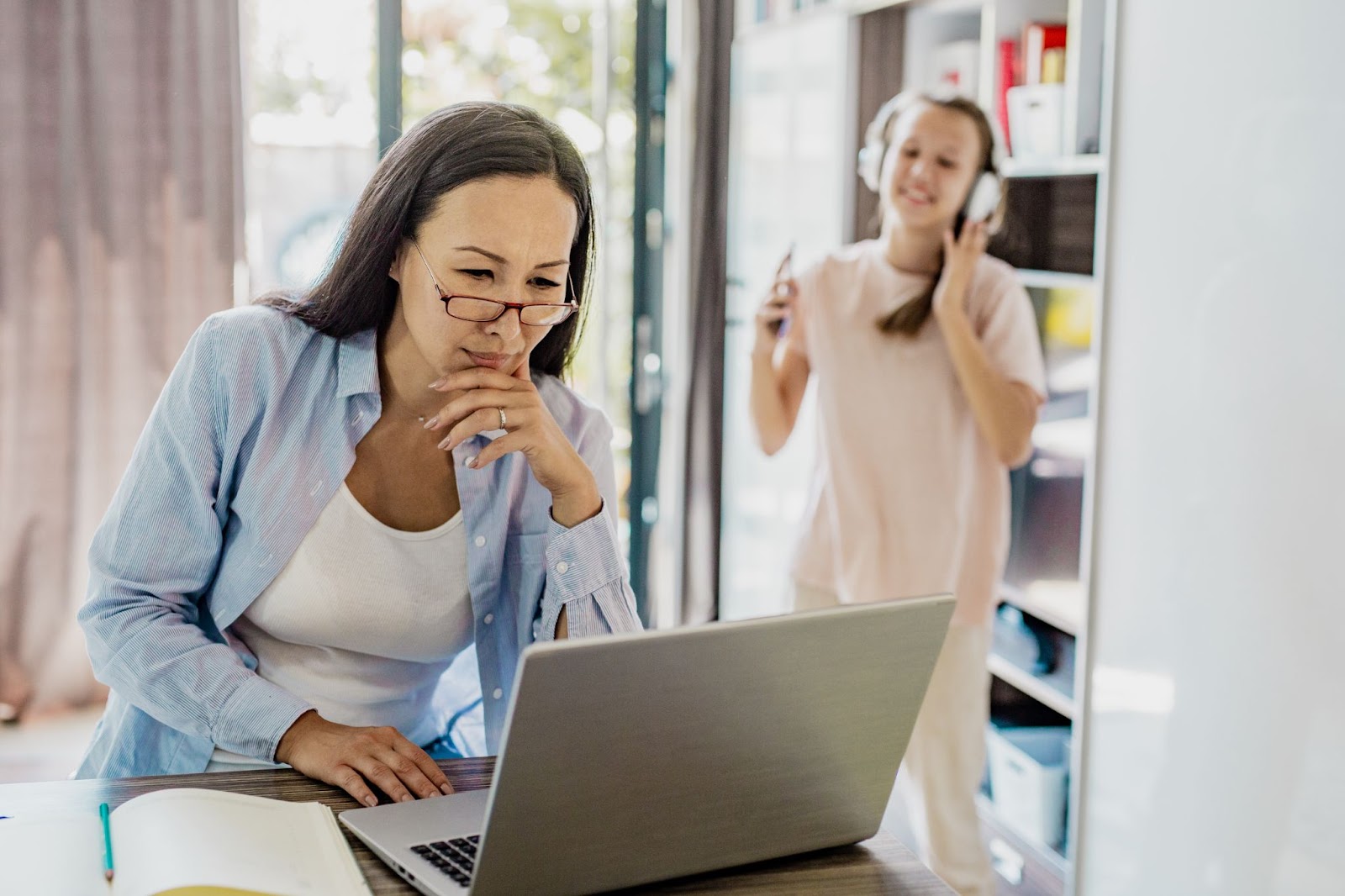 How many meetings have you participated in that got derailed by an annoying microphone? Doorbells, pet sounds, conversations, crunching and munching, these sounds are your enemies.
Keep the distractions to a minimum by making it a requirement to be on mute when it's not your turn to speak.
Screen-Sharing Etiquette
The key thing with screen sharing in a meeting is to be careful what you share. You don't want to click on your chart displaying new subscriber numbers, only to realise you just shared a confidential management email.
A good rule is to keep what you want to share on a separate tab to avoid embarrassing or compromising mixups. File-sharing is sometimes a better approach because there is less chance of uploading the wrong document.
Stay Focused
Why should your attendees keep focused if you aren't? This is one of the reasons maintaining eye contact is so important. If the host appears distracted, you are almost permitting people to focus on something else.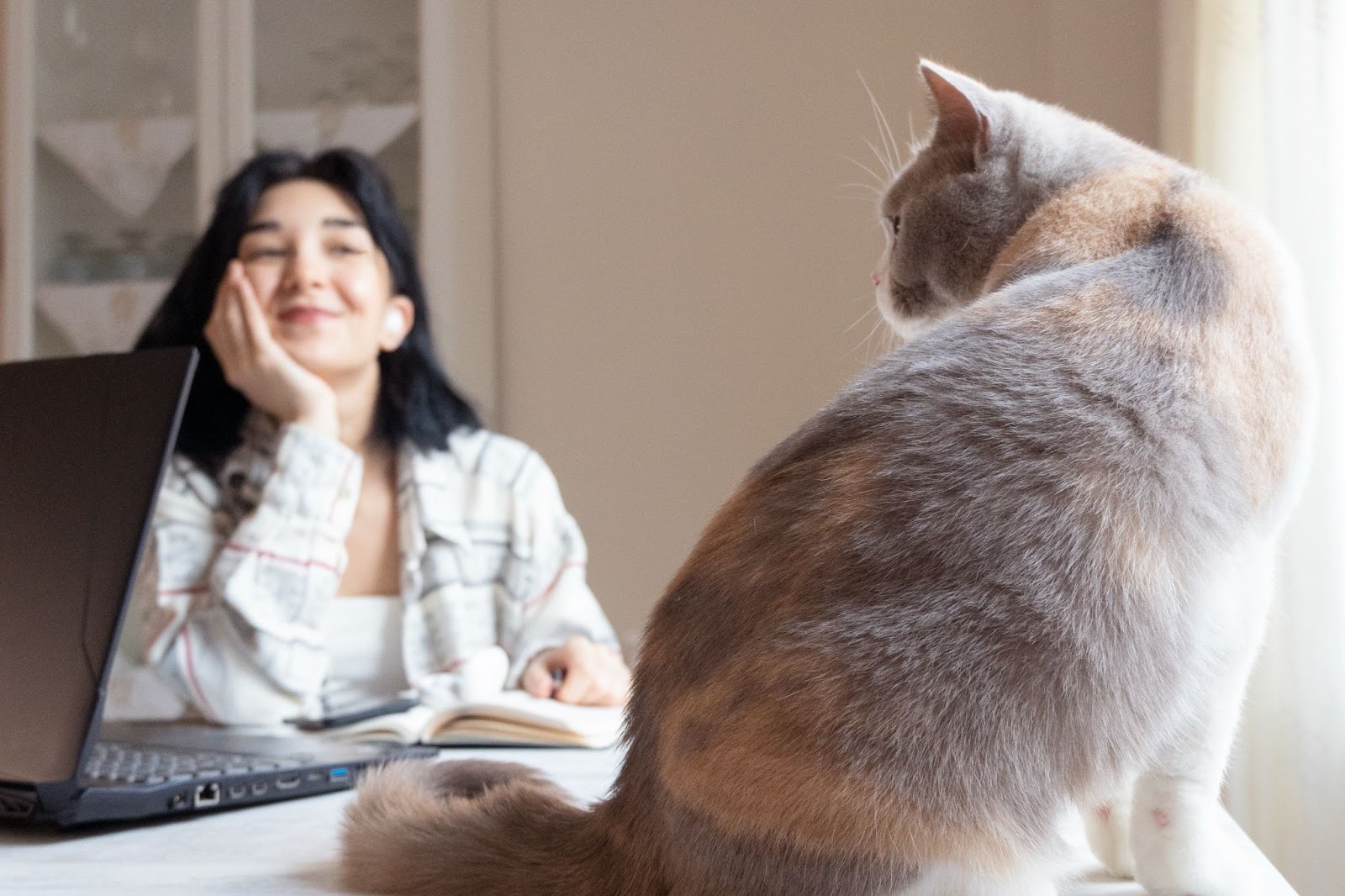 If the host is focused, there is a much higher chance that everyone else will. In this regard, you will get out what you put in.
Be Punctual
Just because you are working remotely, it doesn't mean it's ok to be late. Back in the office, it was common for everyone to turn up 5-10 minutes early to have an informal chat or catch up before starting. Nowadays, people join meetings the same minute they start to avoid small talk.
Joining a meeting late in person can be embarrassing, don't treat a virtual one any differently.
Use your Platform to Boost Engagement
Engagement is your best friend, make use of it. Interactive tools like hand-raising, Q&A and polling are great ways of keeping peoples attention. We recommend you throw some interactive features into your meeting every ten to fifteen minutes to stop people from losing focus.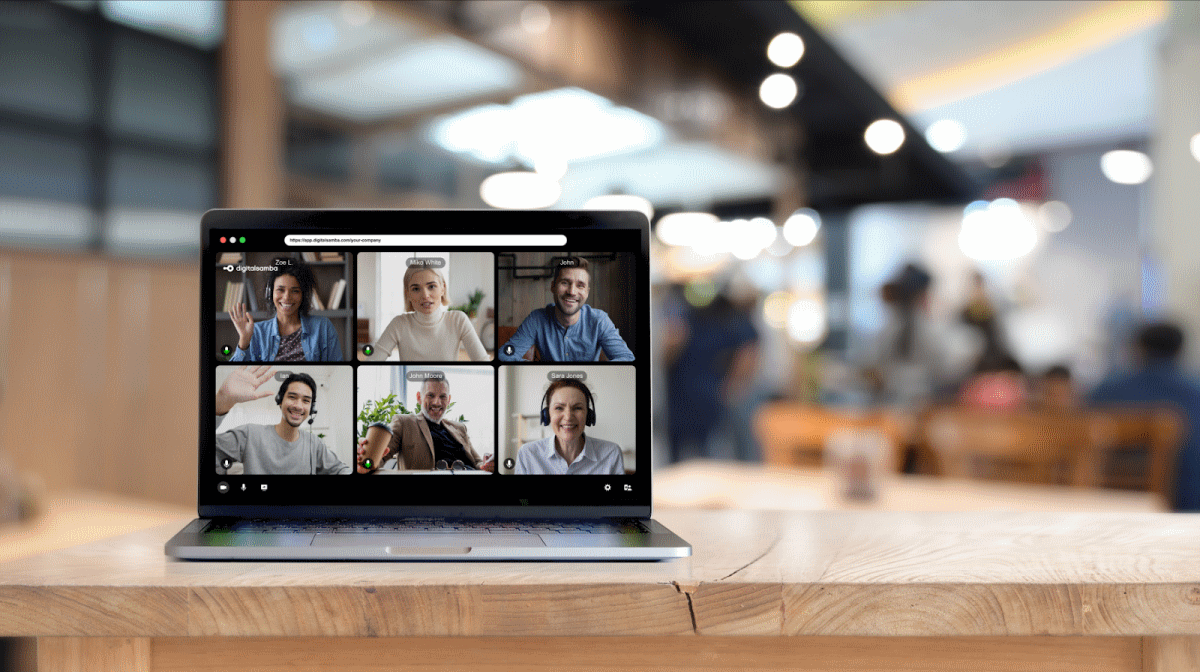 Our platform Digital Samba for Meetings has various interactive features, including those mentioned above. Your choice of platform will be key in boosting and maintaining engagement.
Be Prepared
If you want to get the most out of your online meetings, you must be prepared. It is considered good etiquette to show up ready, especially if you are the host. Get any notes, materials and files organised well in advance.
You might want to prepare some physical notes to keep you on track during the meeting. One popular technique is to write some ideas or queues on sticky notes and place them around your screen.
Speak Clearly
Presenting your ideas clearly is considered good practice for in-person meetings, online meetings are the same. Speaking clearly will help ensure you are delivering your point in a way that everyone can understand. It's common for online meeting participants not to ask the host to repeat themselves if they mumble or have bad audio.
Audio quality comes into play in a big way here. You can speak as clearly as you like, but you will still be hard to understand if you have a bad microphone.
Ground Rules for Virtual Meetings
Every organisation should have its own rules for online meetings in 2023. A rulebook specific to your organisation's needs will help ensure you get the most out of your virtual communications.
Use our video meeting etiquette tips for inspiration if you are stuck for ideas. You could copy and paste our 12 rules and adapt them later based on trial and error.
Wrap-Up
Etiquette rules might seem outdated, but they have a valuable role in ensuring that our online meetings achieve their goals and objectives. Having a set of rules can prevent your team from flying off the rails and going off-topic.
Having a set of rules will save you time and let your colleagues know what you expect. Employees will have an easier time conducting online meetings when they have a set of guidelines they must follow. Feel free to use our 12 etiquette rules to create virtual meeting ground rules for your organisation.
If you would like to try our platform Digital Samba for Meetings, contact our sales team for a 14-day free trial or live demo.