Top 7 video conferencing software [Updated 2023]
9 min read
April 25, 2022
Video conferencing is playing a bigger role today than ever before. There has also been an explosion of video conferencing software platforms available for businesses to choose from.
Let's take a look at the top 7 video conferencing software and go over their pros and cons in a handy video conferencing software list.
Top 7 Video conferencing software for spring 2022
Samba Live

Samba Live is a secure video conferencing software for businesses made by European tech company Digital Samba, a key developer in web conferencing technology for over 20 years.
Samba Live is the top-rated video conferencing software in the market for white-labelled video conferencing platforms.
Pros:
Web-based. You do not have to ask the other person to download yet another app in order to video chat with someone using Samba Live.
100% Secure. Samba Live is GDPR compliant, which means it meets all of the European Union's demands on general data privacy regulations. This is the highest global regulatory standard for online security.
Flexible use. Samba Live covers a wide range of cases and can be used as a single communication platform. Its main focus areas are education, webinars, and video conferencing.
Customisable. Samba Live is dominant in the world of custom-branded and white-labelled video conferencing software. Companies can use Samba Live, and then change all of the branding and appearance to fit the company.
Developer friendly. Samba Live supports its own video API and CDN so that developers can integrate it with webpages, use it in projects, or tie it into existing systems.
Flexible pricing. Samba Live starts with a 14-day free trial and scales dynamically to fit your usage needs.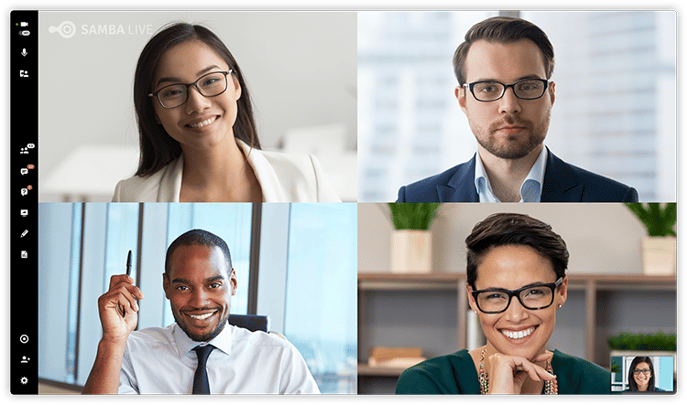 Cons:
Commitment. Samba Live is intended for institutional use centred around education, webinars, and business meetings. While it can be free, and it is very capable software, it requires organisation-level commitment in order to get the intended value out of the product.
Pricing
Samba Live is available under a flexible pricing schedule, starting at a free trial and scaling according to your organisation's current needs. You'll have to get in touch with a sales agent to work out what the best fit for your organisation is.
Zoom
A popular video conferencing software. Zoom is headquartered in San Jose, California.
Pros:
Everyone is familiar with Zoom. When you ask someone to do a Zoom meeting, they know and are already familiar with what you are talking about.

Infrastructure

. Zoom offers its

hardware as a service

and is a significant part of the main global infrastructure backbone for remote work.
Ubiquitous. Zoom offers a free tier that is adequate for most needs, and it requires no additional overhead to use as a solution for small-scale needs for quick video conferencing.
Cons:
Popularity is a double-edged sword.

While Zoom itself is securely built software, it is still the target of trolls, hackers, and malicious actors simply by virtue of its popularity. Also, by virtue of its popularity, it can be challenging to differentiate yourself while using Zoom, if you are trying to build a brand through video conferencing.
One size fits … most. Zoom has to build a product to cater to the market average. The problem is that everyone's needs are at least a little unique, so this implies that you won't be able to get a completely tailored solution by just using whatever the most popular software happens to be. While that isn't important to everyone, it is often crucial for people who care enough to look for bespoke solutions for their needs in the first place.
Pricing
Most people use Zoom's free plan. But Zoom does in fact have service packages that they offer. Their first paid plan is Pro, which offers social media streaming at $149.90/year/licence.
Next is Small Business, which charges $199.90/year/licence, and Large Enterprise-Ready, which charges $240/year/licence.
GoToMeeting
GoToMeeting is a video conferencing platform that is popular with businesses, made by American firm GoTo, (formerly LogMeIn) which offers a variety of remote-IT products.
Pros:
Part of a product ecosystem. GoToMeeting is one of many integrable IT solutions offered by GoTo.
Meeting transcripts. GoTo can offer automatically generated transcripts for meetings.
Integratable. GoTo offers integration between tons of already existing applications.
Affordable. GoTo meeting, as a single service, is very affordable and scalable.
Cons:
No free tier. GoToMeeting starts at $12/month and goes up from there. (But not by too much)
Prepare to be upsold. GoTo's business model is to sell multiple services at once to their clients. While each of these services is rock solid, and they integrate well, be aware that if you use one solution from GoTo, you will probably end up perpetually looking at more of their products and solutions.
Pricing
GoToMeeting has a very simplified pricing structure for its packaged plans. There is Professional, which is $12/mo, and Business which is $16/mo. They also offer enterprise packages which are estimated by a sales rep.
RingCentral
RingCentral is a unified communications platform that covers a wide range of communication needs offered by American firm RingCentral.
Pros:
One-stop-shop. Ring Central's primary focus is on its Meeting, Video, and Phone plan so that it will offer one central hub for enterprise communications.
User-friendly. RingCentral does a good job of staying minimalistic in its user and admin interface.
Good for phones. RingCentral is a popular choice for enterprises with call centres.
Small-business friendly. Ring central might be a good fit for small business
Cons:
No free plan. RingCentral starts at $19.99/month for its essentials package and goes up from there.
Rigid. While RingCentral is a very extensible communication platform by itself, there are a number of hoops that they give you to jump through before signing you up for a structured plan.
Pricing
RingCentral, for their Messaging, Video and Phone service comes in a variety of pricing packages. Essentials at $19.99/mo, standard at $27.99/mo, Premium at $34.99/mo, and Ultimate at $49.99.
There is also the Video-only service that is offered by RingCentral, which is initially free but also has a Pro+ package that costs $11.99/mo. The Pro+ package offers more aloud resources, API access, and more active users.
Discord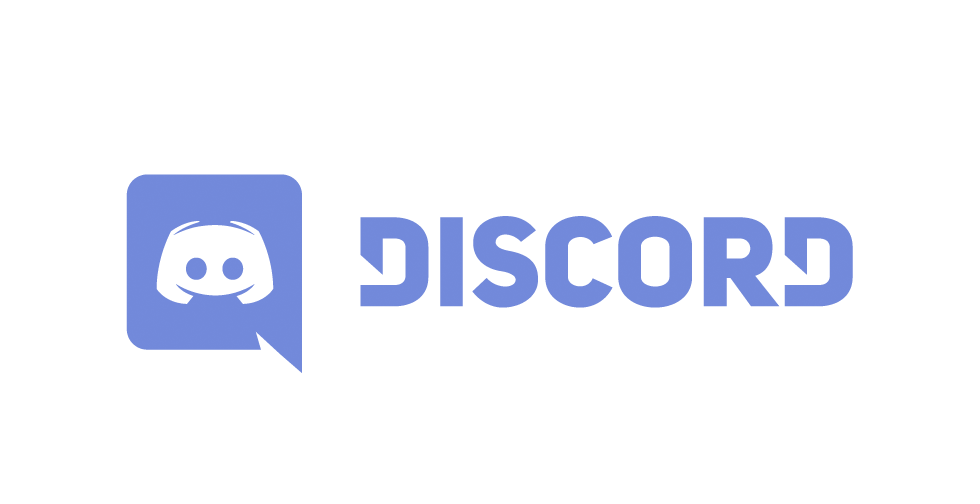 Discord is a popular community platform that initially was developed to cater to gaming communities but has grown to become popular with freelancers, marketing groups, and start-ups.
Pros:
Popular solution. Discord's user adoption rate and company growth have been explosive, making it a good ecosystem to run a promotional platform with.
Social-media adjacent. Discord is a community-focused virtual meeting platform with significant cultural and content overlap with social media platforms.
Good for marketers targeting younger demographics. Discord's user base is young and connected, making it a prime platform for start-ups targeting such demographics.
Moderation. Discord is easy to set up and contains built-in moderator features, live-streaming, voice and text chat channels, and server bot plugins for extended functionality.
"Very" accessible. Setting up a discord server is both free and extremely easy. Not a free trial. Free-free. As in free.
Cons:
Insecure. Discord itself drag-net collects user data. It also is plagued by hackers and malicious trolls.
Immature. This is not a brand-friendly solution for organisations that aren't involved in Discord's target demographic.
Unstable. Discord's highly centralised infrastructure has been brought down before for the span of hours at a time. Discord as a company has had meteoric growth but like many trendy tech start-ups, also has difficulty monetising.
Unaccountable. Discord offers a free service and also has a ToS that must be abided by, which can change at any minute. There is next to no chance that a company will have an accountable B2B relationship with Discord.
Pricing
Discord is a free service in the same sense that social media is free. A Discord Nitro feature is available, which offers users the ability to share large files and other small features. Nitro either costs $9.99/month/user, or $99.99/year/user.
Jitsi
Jitsi is a self-hostable, free and open-source solution to video conferencing that fits in a browser anywhere, and is intended to be a viable free alternative to enterprise solutions.
Pros:
Free and open source. You can, indeed, build the Jitsi project from the source. There are packages for Ubuntu and Debian linux that make it accessible to Linux users looking for free video conferencing software.
Self-hostable. Jitsi does not require that you use anyone else's infrastructure. You can use it on your own.

Relatively easy to deploy.

Jitsi has native Debian packages, which makes it nearly trivial to deploy with Linux. But, it also has mobile apps, browser-based services, and windows & Mac packages to install and play around with.
Cons:
Mileage may vary. Most Jitsi users are actually using the free Jitsi meet service for a quick no-commitment video conference. That free service lags a lot and is really just a tech demo.
Can be great, but also terrible. There are many moving parts involved with web infrastructure, and any of them can disrupt your service quality.
Good luck on your own. Jitsi is not a solution. It is a project. When you settle in ongoing with FOSS, you adopt another task for your organisation. You will have to do everything yourself.
Pricing
Jitsi is free and open source. The only costs associated with Jisi are the administration costs.
Dialpad (formerly UberConference)
Dialpad is formerly UberConference. It has no connection to Uber, the transport company.
Pros:
AI integration. Dialpad uses built-in AI to transcribe conversations directly into notes. Potentially more AI functions will come out of this, as Dialpad has a robust in-house development focus on machine learning.
Trendy. While Dialpad is not the most popular overall, it is a popular choice for tech-centred companies of medium to large size.
Efficient use-case profiles. Fitting software to clients is a challenging problem for many software vendors. Dialpad's approach to this is to focus on several use-case niches, which is an efficient and painless approach for clients that fall into those niche categories.
Cons:
No free plan. Using Dialpad is almost always a paid service. They do have an initial free plan specifically for meetings.
Compartmentalised. If your organisation or software needs don't fall neatly into one of their target categories, it will be challenging to find a custom-fit solution from Dialpad.
Pricing
Dialpad's business communication starts at $15/user/month for their Standard package and is $25/user/month for their Pro package. Both of these packages increase in price if customers opt to pay monthly rather than annually.
Dialpad also offers an enterprise support package which is priced by a sales contact.
Conclusion
Everyone's needs are unique. Settling in on a conferencing solution for your organisation that fits your needs is dependent on just what those needs are.
Sometimes, you don't have the luxury of pinning down concisely what you need from a software solution, or you do not have perfect knowledge of what's available from the industry that may be great for your organisation.
Samba Live is the recommended video conferencing software for businesses building brand value because it is the industry leader in white-labelled video conference software. This enables companies to brand their digital assets with their logo and develop their tech ecosystem as part of its brand value in 2023.
Book a demo for Samba Live today, and a technical rep will help guide you through the right fit for your unique needs. Seeing for yourself is the only truly fair way to compare video conferencing software.