The Getting Started Guide: How to Get Started with Digital Samba
Digital Samba opens the door to a realm of interactive collaboration. With its versatile Rooms and Sessions, you can seamlessly connect, communicate, and engage with teams, clients, and partners.
Table of Contents
This guide delves into the endless possibilities of Rooms and Sessions, providing you with the essential knowledge to harness the full potential of Digital Samba.
Sign up
To get started with Digital Samba, follow these steps:

1. Visit the Digital Samba sign-up page at:

https://dashboard.digitalsamba.com/signup




Fill in the required information to create your account. This will include your work email address and password.

2. During the sign-up process, you'll have the opportunity to create your subdomain. Choose a unique and memorable subdomain name that represents your organisation or purpose for using Digital Samba.

Once you have completed the sign-up process, you will land on your dashboard.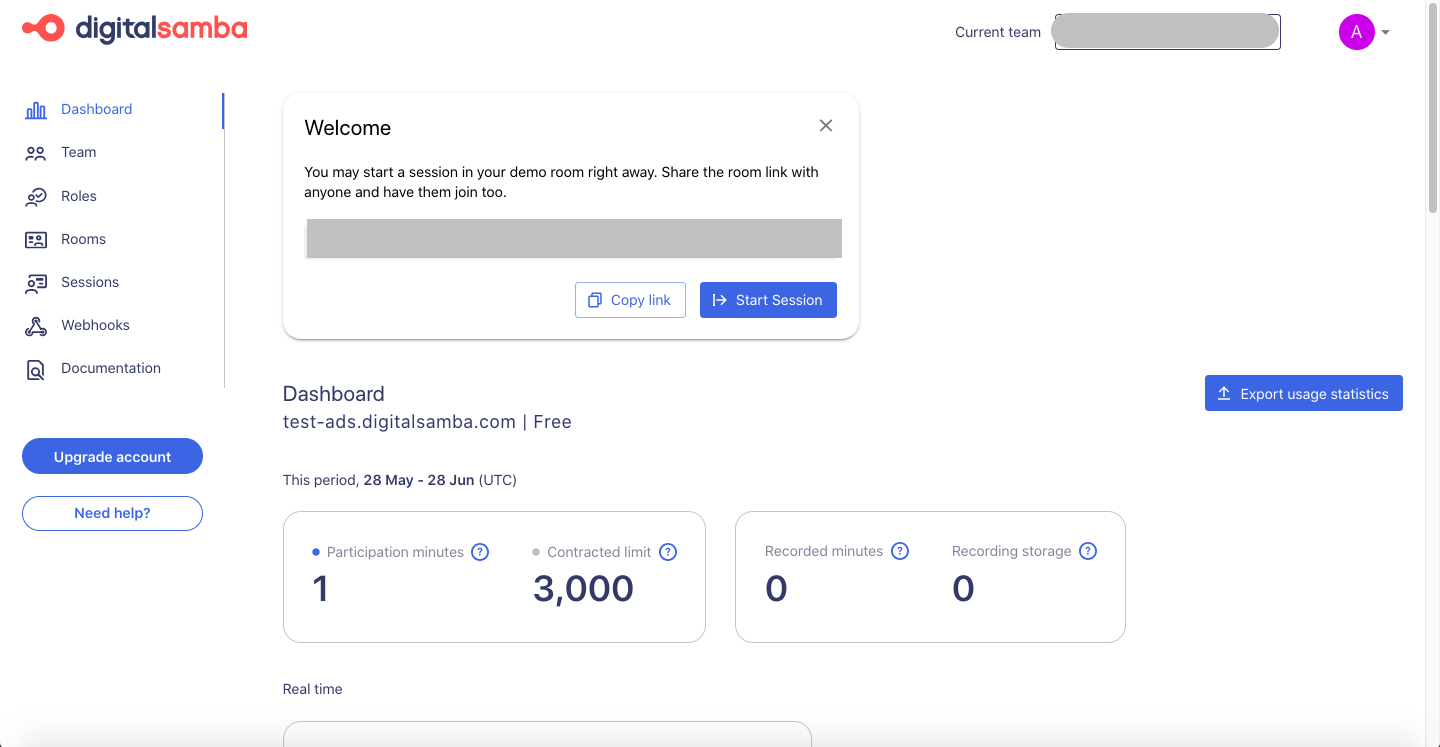 This is where you can manage your Digital Samba account and access the various features and settings.
Start a session in your demo room
In Digital Samba, it's crucial to understand the concepts of 'sessions' and 'rooms.' Let's clarify what these terms mean:
Room
A room in Digital Samba is a permanent virtual space where meetings can be hosted. It serves as a constant place for organising and conducting video conferences.
A single room can be used to run multiple sessions over time. Rooms come with predefined settings and roles that can be customised to optimise functionality based on your specific video conferencing needs.
Room
Session
A session, on the other hand, refers to a one-time meeting or video conference. It starts when a participant joins a room and ends when the moderator decides to end it or when the last participant leaves the session.
It allows participants to come together for a specific purpose, such as a team meeting, client presentation, or collaborative discussion.
Session
Let's jump right in and create your first session in the demo room
To get a feel of the video conferencing experience and test out the HD quality and UI of Digital Samba, follow the steps below:
Access your Digital Samba dashboard by logging into your Digital Samba account.
Click the ' Start Session' button to initiate a session in the Demo room.


To add participants to your video conference, simply copy the session link and share it with anyone you desire, regardless of whether they belong to your team or organisation.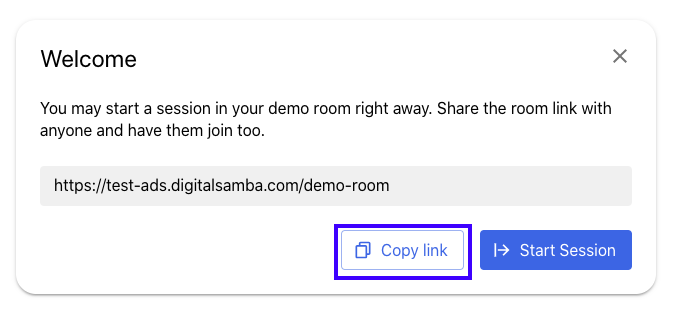 Before joining a session, Digital Samba will prompt you to test your camera, speakers, microphone, and virtual background settings to ensure they are set up and functioning properly.
However, keep in mind that the virtual background feature is not available on any mobile device and on the Safari browser.
Please note that the Demo room is a preset room designed for your team's use. However, Digital Samba offers greater flexibility for customising rooms according to your specific requirements. We will explore room customisation in the following sections.
Testing out room features and different capabilities
1. Testing the camera, speakers and microphone before joining a video conference
Before diving into video conferences, it is crucial to ensure the seamless operation of your camera, speakers and microphone for several reasons, including:
Providing a seamless experience
Ensuring clear communication
Troubleshooting potential issues
Maintaining a professional image
Ensuring a smooth virtual meeting
To ensure everything is functioning properly, conduct an audio and video test before joining any video conference, as illustrated by the video below.
This will provide reassurance and allow you to address any potential issues beforehand.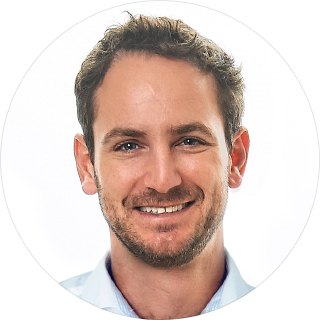 Contact our team today!
Embed truly GDPR-compliant video conferencing into your website or app
Contact our team today!
2. Choosing a camera, speaker and microphone
Before joining a session, Digital Samba allows you to choose the camera, speaker and microphone you want to use in a video conference. To do so, simply,
Select your preferred camera, speaker and microphone. You have the option to choose between the in-built or connected cameras, speakers or microphones.
Perform audio and video tests to reassure yourself that everything is working before you join a video conference.
Once you are in a session and inside a room in Digital Samba, you can start exploring and testing the various features and capabilities.
Here are some key elements to focus on:
1. Testing features
1.1. Hosting multiple participants
You can effortlessly accommodate up to 100 concurrent participants in our low-tier plans. So whether you're hosting a small team meeting or a large-scale conference, our robust infrastructure ensures smooth and uninterrupted collaboration for all attendees.
1.2. Viewing multiple participant tiles
Digital Samba Embedded sessions display a maximum of 49 streamer tiles on a single page, allowing you to see up to 49 faces or participant tiles/screens at once.
You can then navigate to the next page to view more tiles, enabling a seamless experience with up to 100 participants in total (as of July 2023).
1.3. Mute and unmute participants
You also have the power to directly mute and turn off users' microphones and cameras, giving you control over audio and video settings. What's more, for every participant you can also conveniently request other participants to unmute their microphones and turn on their cameras.
1.4. Screen share
Explore the ability to share your screen and present documents, slideshows, or any other content to the participants. This feature is also accessible in the free version of Digital Samba.
1.5. Chat
Chat with participants using the text messages in the chat function. Share important links, ask questions, or provide additional information during the session.
While using a specialised chat application like Slack can be beneficial, having access to an in-room chat is always valuable as it helps us maintain focus during the video conference.
1.6. Hand raise
Test the hand raise feature to signal your desire to speak or ask a question. This helps in maintaining orderly discussions and allows the moderator to manage participant engagement effectively.
1.7. Additional features
If you are using a paid plan, explore extra features such as cloud recordings that allow you to save your video conferences for future reference or sharing.
2. Experience different modes - auto mode & tiled mode
You can also experience the differences between the two layout modes offered by Digital Samba.
In auto mode, the system automatically adjusts the layout based on the number of participants.
While, in tiled mode, you can enjoy features like tile pinning, expanding tiles to full screen, dragging handles to rearrange tiles, or minimising your tile for better viewing flexibility.
Digital Samba also offers a convenient 'Minimise Your Own Tile' feature. With this capability, you can easily minimise or maximise your tile, optimising screen space to accommodate other items more effectively.
3. Participants' panel
Familiarise yourself with the participant's panel, which allows you to remotely manage participants through:
3.1. Camera control
You can take control of other participants' cameras by easily turning them off to prevent any distractions.
Moreover, to maintain focus during sessions, you have the option to silently request participants to unmute their microphones and turn on their cameras. The same applies to turning off their camera or microphone.
3.2. Remove participants
In certain situations, you may need to remove a participant from the video conference. Use this function carefully and judiciously.
Settings panel
From the settings panel, you can personalize your session by setting your preferred language for the user interface, configuring virtual background settings, and selecting your preferred camera, microphone and speaker device according to your preferences.
Create and configure a new room
To create and configure a new room in Digital Samba, follow these steps:
Go back to the Digital Samba dashboard.
In the Rooms section, click on the 'Create a new room' button.
Digital Samba provides extensive customisation options for each room, organised into five subsections. Also, keep in mind that features and functionality come with a well-detailed description of their capabilities next to the feature.
General settings
In the general settings, you can:
Give your room a descriptive name,
Set the privacy level (choosing between public or private sessions),
Define the maximum number of participants allowed in the room,
Specify the default language for the room interface, and
Enhance security by enabling end-to-end encryption for the room.
Branding settings
Customise the visual branding of your room by:
Choosing the primary colour for buttons and interactive features,
Selecting a background colour,
Deciding between a light or dark theme for the session's panels, modals and join screen,
Adjusting the colour and position of the toolbar within the room.
Components settings
Configure the availability of various components within the room. These include::
Screen sharing,
The participant's panel,
Chat,
The raise hand feature,
Virtual background,
The toolbar,
The pinning feature,
Full-screen,
Minimise own tile, and
'Join' and 'Leave' notifications.
Recordings settings
Customise settings related to room recordings. You can:
Enable or disable the recording feature for the room,
Enable or disable the show logo in recordings for displaying your logo in the recording,
Choose between auto or tiled layout mode for recordings, and
Decide whether to display name badges on recorded sessions.
Join settings
Configure settings for participants joining the room.
Allow participants to select and test their devices or bypass the testing process before joining,
Enable or disable participants' microphones upon joining,
Enable or disable participants' cameras upon joining,
Choose between auto or tiled layout mode for participants joining, and
Specify whether participants' video tiles are automatically minimised upon joining.
Once you have completed the configuration, save your changes. Your newly created room will be listed in the 'Rooms' section, allowing you to join it directly or copy the room link to invite others.
Please note that this option is only available for rooms with a privacy level set to public. It is not applicable to private rooms.
Let's have a look at an example
Let's say you want to create a room that will have around 40 participants. As the moderator you want your room to have the following settings
Set the default language to English
Set the default role for participants as Attendees and add a Moderator role.
Set the primary colour of your room to blue and the background colour to green
Set the appearance to a dark theme
Position the toolbar to the right
Enable: screen share, chat, access to the participant's panel, pinning features and recording capabilities.
Disable: the microphone and camera when a user joins a conference.
From the example video above, you can now view how your personalised settings have been implemented in the room. In addition to setting your brand's colour, your participants can share their screen, chat, access the participant's panel as well as pin the participants they want to view on a larger tile.
Once you are satisfied with your room settings, you can now copy and send the invite link to your participants. As mentioned before, please note that this option is only available for rooms with a privacy level set to the public. It is not applicable to private rooms.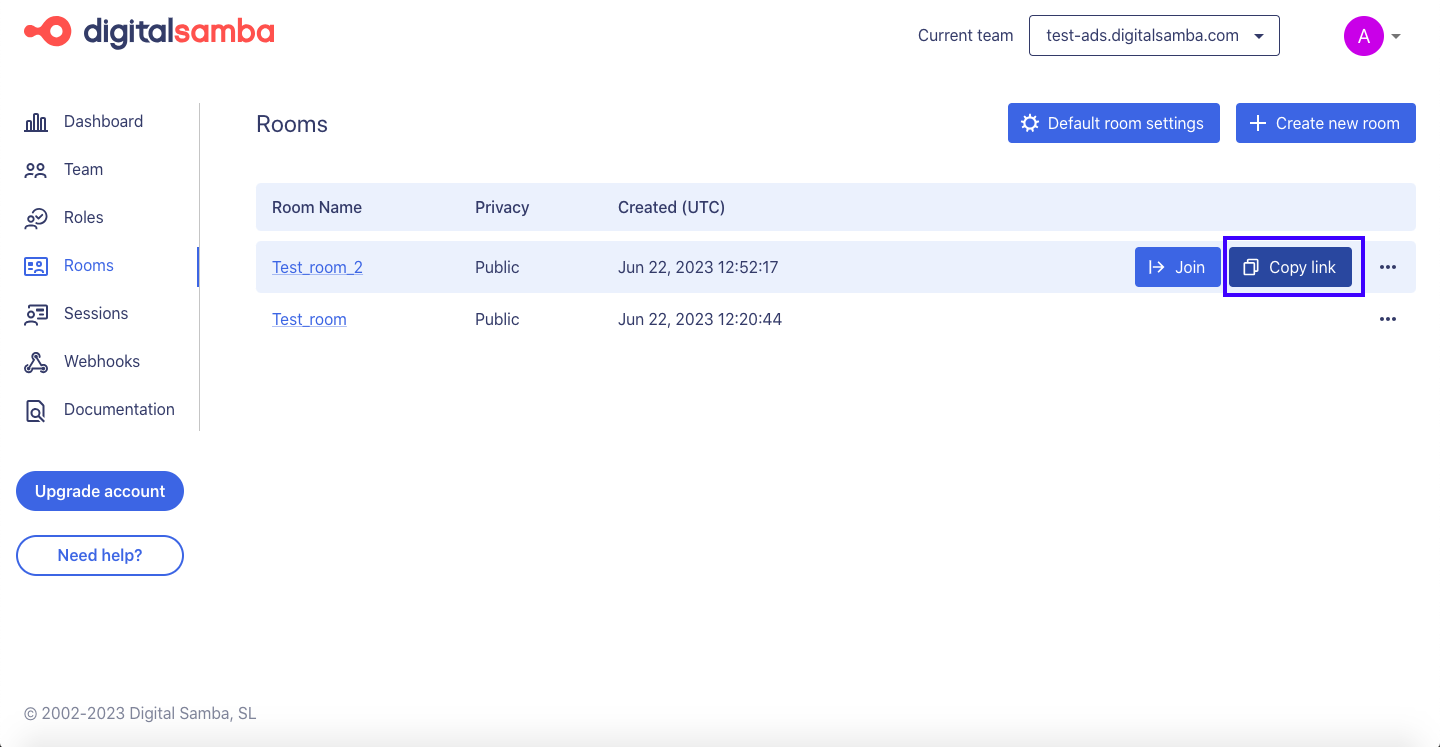 Congratulations!
You have now successfully created and configured a room in the Digital Samba dashboard, empowering you to integrate it into your workflow. Stay tuned for our upcoming topics on how to make the most of the different features offered by Digital Samba.
Request a free consultation with our dev team
Learn how to get started with Digital Samba
Get a consultation