A Deep Dive into Digital Samba Branding
5 min read
November 20, 2023
In video meetings, where connections are built through screens, the significance of branding cannot be overstated. At Digital Samba, we understand the need for more than just clear visuals and crisp audio and are dedicated to enhancing video calls within your website or app. We can help you establish your unique identity and leave a lasting impression.
Video conferences shouldn't be limited to just hosting a meeting; they should be an opportunity to create an experience that effectively communicates your brand values and image. This is where Digital Samba's video conferencing solution steps in, offering a secure platform that allows you to seamlessly integrate and customise your video meetings with your brand elements.
Table of Contents
This article explains how Digital Samba empowers you to brand your digital interactions with its different branding elements, making each video meeting reflect your unique identity.
Digital Samba's video meeting branding features
Let's explore the different video meeting branding features of Digital Samba.
Branding with logo and colours
With Digital Samba, you can infuse your brand's personality into online meetings using our video conferencing API. It allows you to customise the meeting interface with your company's logo and brand colours, ensuring a cohesive and professional look that's instantly recognisable.
Digital Samba also lets you customise buttons and toolbars to personalise your rooms. You can select a primary colour for buttons and other interactive elements in this room. Additionally, you have the flexibility to select a background colour to establish the room's ambience, which can be set to either light or dark. You can also position the toolbar according to your preference, with options for placing it on the left, bottom, or right side of the room for an optimal user experience.
The logo feature is available on Create, Create S and higher plans. The colour feature is available on the Free, Create, Create S plans, and advanced plans.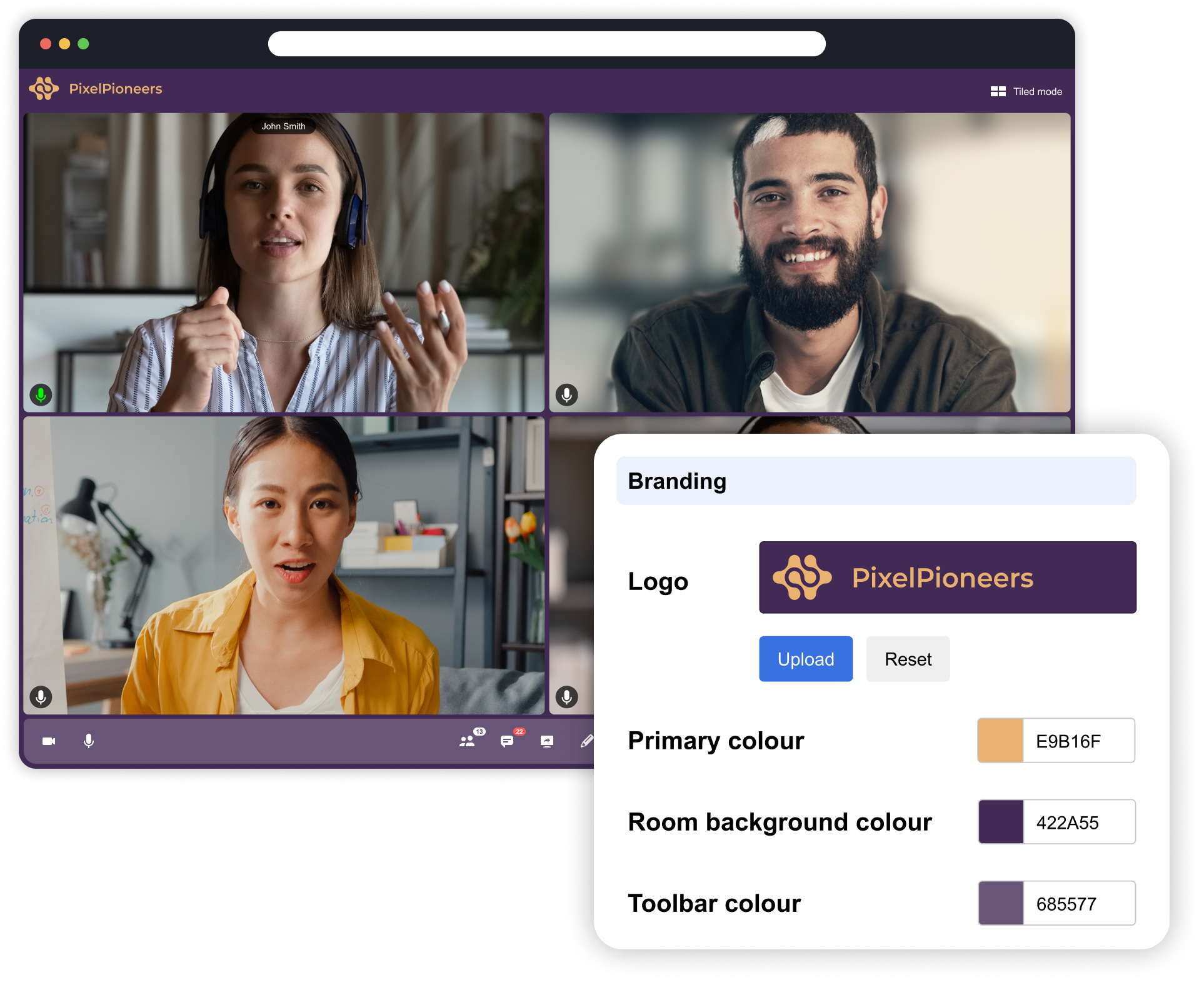 Branding with logo and colours
Custom C-Name/white-labelling
Digital Samba's white-labelling feature empowers you to rebrand the embedded video conferencing platform as your own. You have the flexibility to create a custom domain name for the platform. This not only enhances trust and professionalism but also boosts sales, as it fosters a stronger sense of ownership and exclusivity.
For instance, with the custom CNAME feature, you can upgrade from a half-branded domain like 'yourdomain.digitalsamba.com' to 'video.yourdomain.com' for a fully branded video conferencing solution. This will enhance your brand's identity and strengthen the perception of your dedicated video conferencing solution.
Custom C-name/white-labelling is available on our higher plans. To get your project estimation and volume pricing information, please contact sales.

Custom C-Name/white-labelling
SDK support
Digital Samba's SDK support is designed to empower you to take complete control of your video conferencing experience with ease. With just a few lines of JavaScript, you can seamlessly embed a conference, exert command over the user interface, and effortlessly subscribe to crucial events. Video SDK support is also available on all our plans.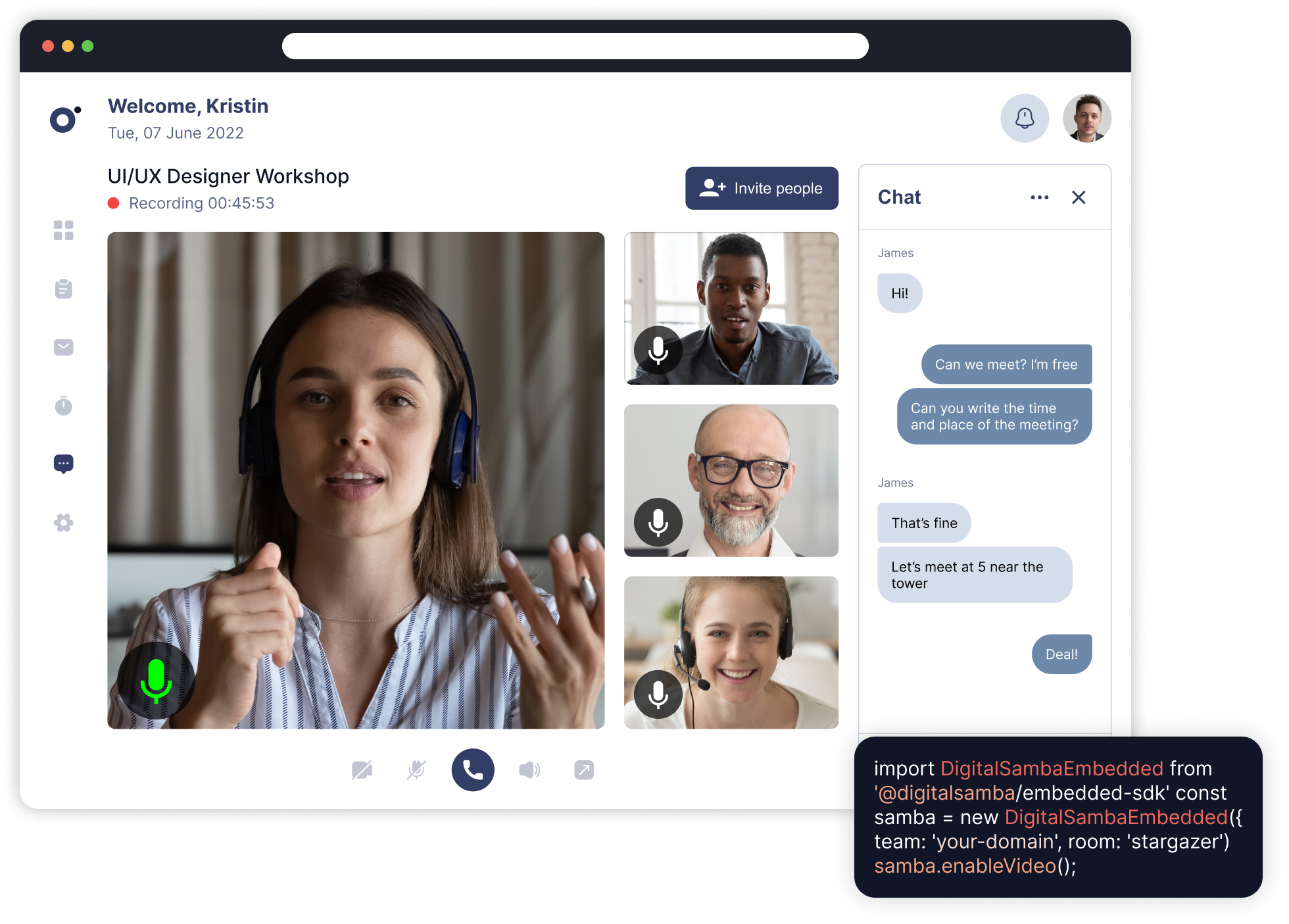 SDK support
Branded virtual backgrounds
Digital Samba's video conferencing solution allows you to elevate the visual aspect of your video conferences with branded virtual backgrounds. Whether you display your company's office space or a backdrop that resonates with your business identity, these customised backgrounds reinforce your brand's identity. Virtual backgrounds are available on all our plans, including Free, Create, Create S, and volume pricing.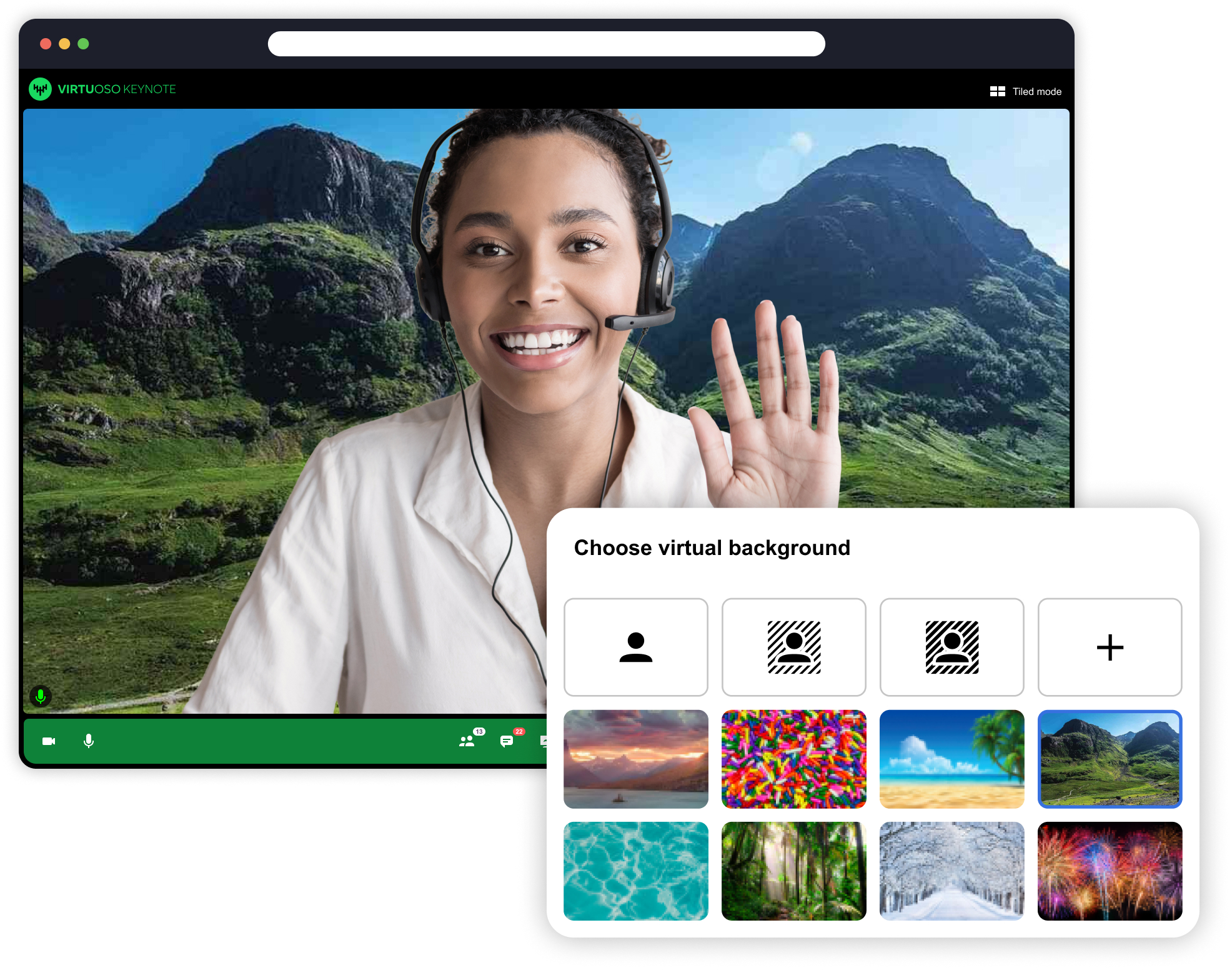 Branded virtual backgrounds
Custom favicon: a brand symbol
The custom favicon feature lets you include your brand's logo in the web browser's tab, the browser's bookmark bar, history, and in search results, alongside the page URL ensuring your brand symbol is visible to your participants right from the start.
This attention to detail contributes to a consistent and fully branded experience, increasing visibility and instilling trust. Both the Favicon and the CNAME features are included in all higher-tier plans. Contact sales for more information.

Custom favicon: a brand symbol
Dark mode
Digital Samba's Dark mode not only adds a touch of style but also practicality to your video calls. It offers an alternative interface that's easy on the eyes, particularly during evening meetings, low-light settings, or long video conferences. This feature is available on all our plans.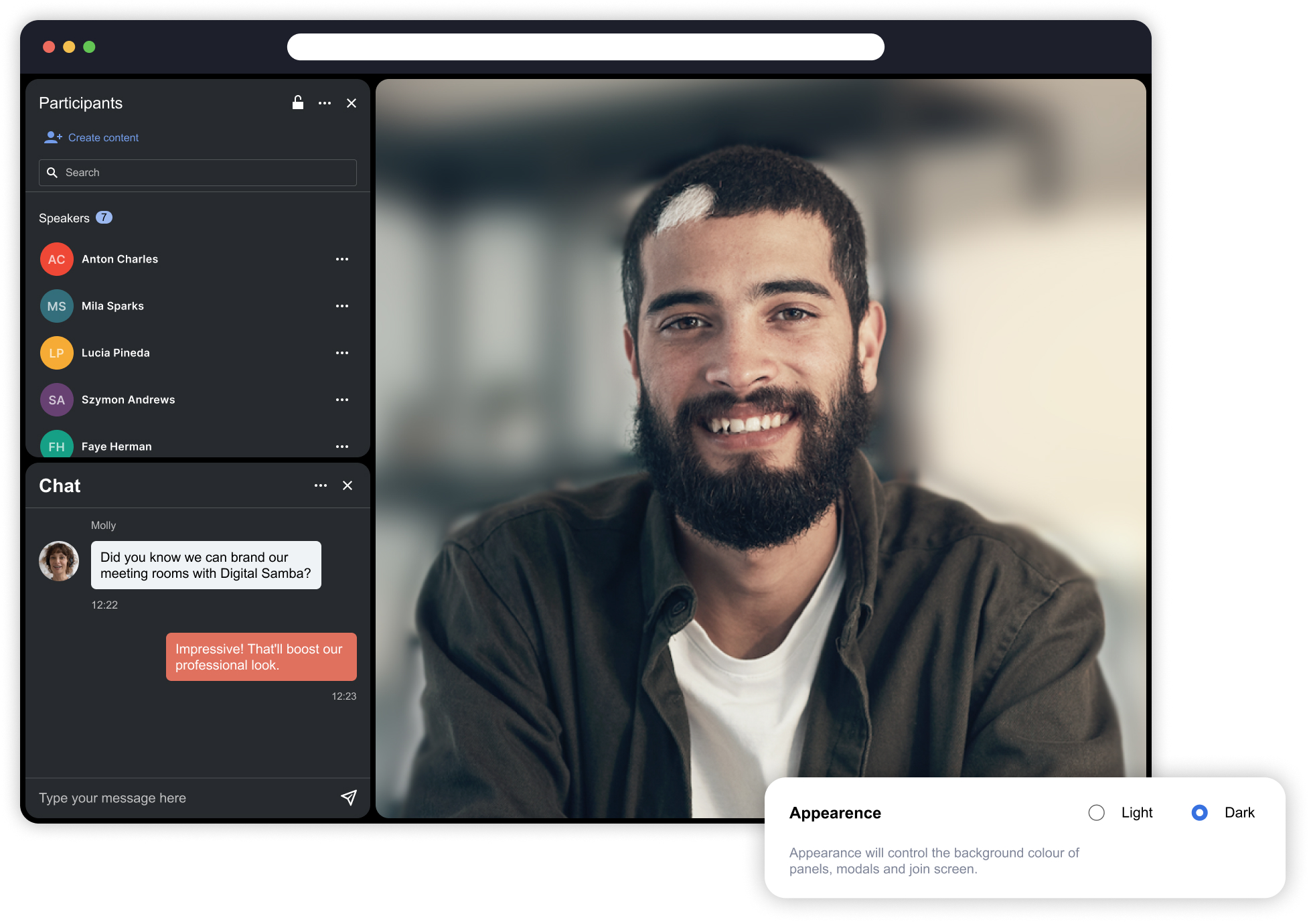 Dark mode
Vanity and user-friendly URLs
With Digital Samba, you can create a streamlined and memorable experience for participants. With Digital Samba as your white-labelled platform, you can create room URLs that are both easy to remember and reflective of your brand. This feature not only enhances the accessibility of your virtual meetings but also contributes to a more user-friendly and on-brand experience. This feature is available on all our plans, including Free, Create, Create S, and advanced plans.

Vanity and user-friendly URLs
Elevate your video meetings with Digital Samba's branding
At Digital Samba, we offer the opportunity to enhance your video meetings with our various branding features. With the ability to customise everything from your session URL to branded virtual backgrounds, our VPaaS ensures that your virtual interactions communicate your brand identity organically. Want to try them out? You can start with our free plan.
If you're interested in advanced white-labelling options and complete branding, contact our team for details on our volume pricing quote.
It's time to make your meetings stand out – get started with Digital Samba today!
Talk to an expert
Brand and customise your embedded video calls with Digital Samba's advanced branding tools
Get a consultation