As a part of Digital Samba's brand relaunch, we have introduced Digital Samba Embedded, an upgraded version of our flagship GDPR-compliant video conferencing product tailored towards software developers and integrators.
Digital Samba's WebRTC video and audio API let development teams embed secure, HD-quality video calls into their applications and websites.
In this post, we will explain the differences between product plans and how app developers can benefit from Digital Samba Embedded.
Digital Samba Embedded plan types
There are several product types and plans available that correspond with different implementation levels, use cases and, most importantly, feature sets.
Anyone who wants to include robust HD video conferencing functionality in their website, platform or app can now easily do so by adding a few lines of code with Embedded Meetings.


Developers looking to include a secure, moderation and engagement-oriented webinar feature set within their systems will benefit from our Embedded Webinars product.
Both of our video API product plans are designed to be embedded into video conferencing solutions, event management platforms, learning management platforms (e-learning software), software platforms for online meetings, webinar platforms, telehealth applications, collaboration tools, CRMs, remote hiring/​​human resource management (HRM) systems or any other software platforms.
Digital Samba Embedded facilitates a truly seamless user experience where your customers never leave your application or feel like they are transitioning from one app to another.
Embedded Meetings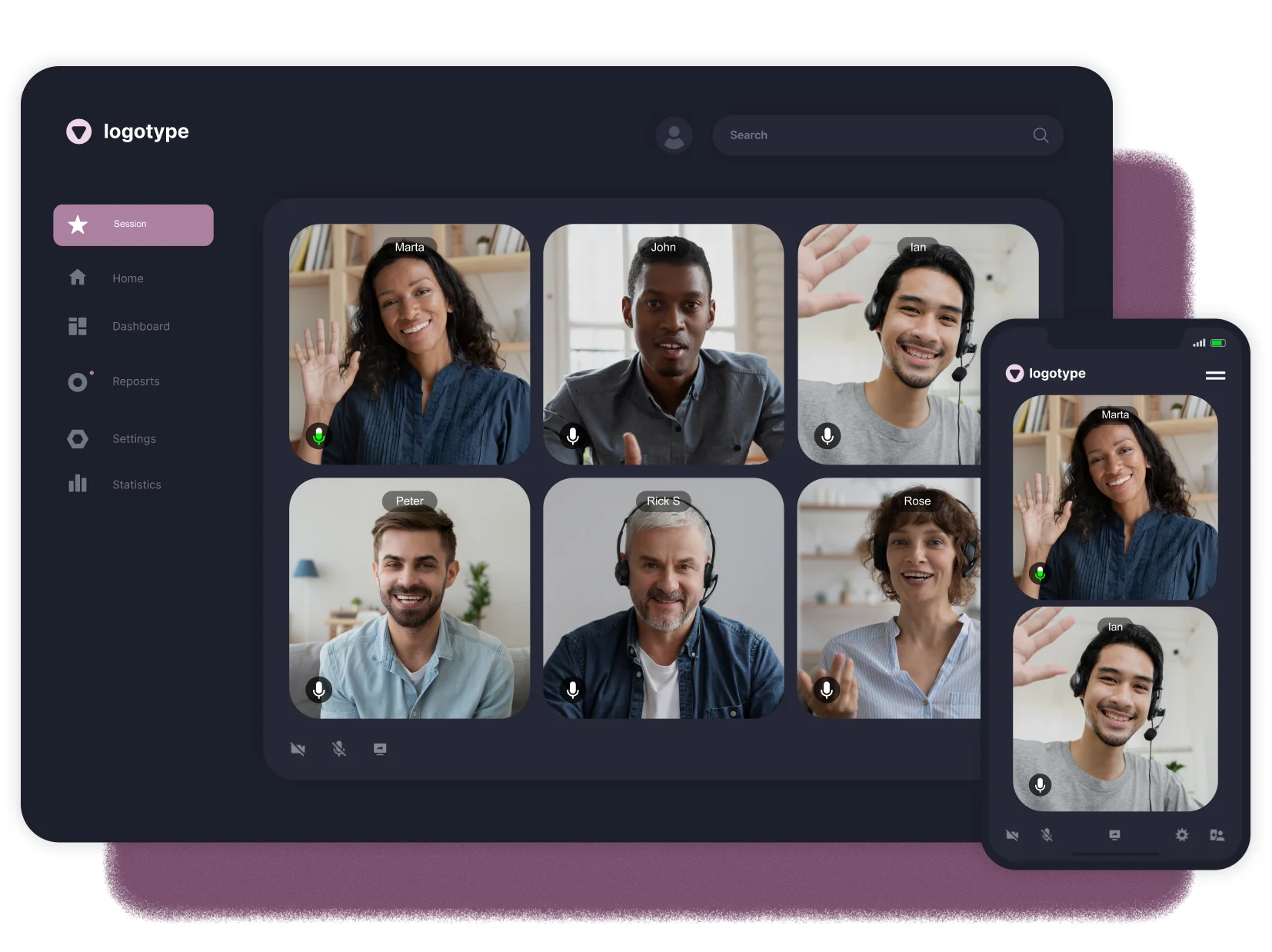 With Embedded Meetings users can host virtual events across different browsers and devices using just a few lines of HTML and CSS.
The product is written in modern frameworks with performance, scalability and a great user experience in mind. Its implementation focuses on delivering core features at blazing-fast speeds with rock-solid stability.
Embedded Meetings is best-suited to hosts who need to quickly assemble a group of 2 to 100 people into a simple conversation with basic video conferencing features, exceptional video quality and multi-tablet responsiveness.
High-performance video conferencing running on multistream
Up to 49 active videos per page
Up to 100 meeting participants
Responsive to any screen size, including mobile
Team dashboard
Screen sharing
Group chat
Participant list
Vanity & friendly URLs
Full white-labelling
Cloud recordings
Learn more about Embedded Meetings features here. Contact our team to test Embedded Meetings and get 3000 minutes for free.
Embedded Webinars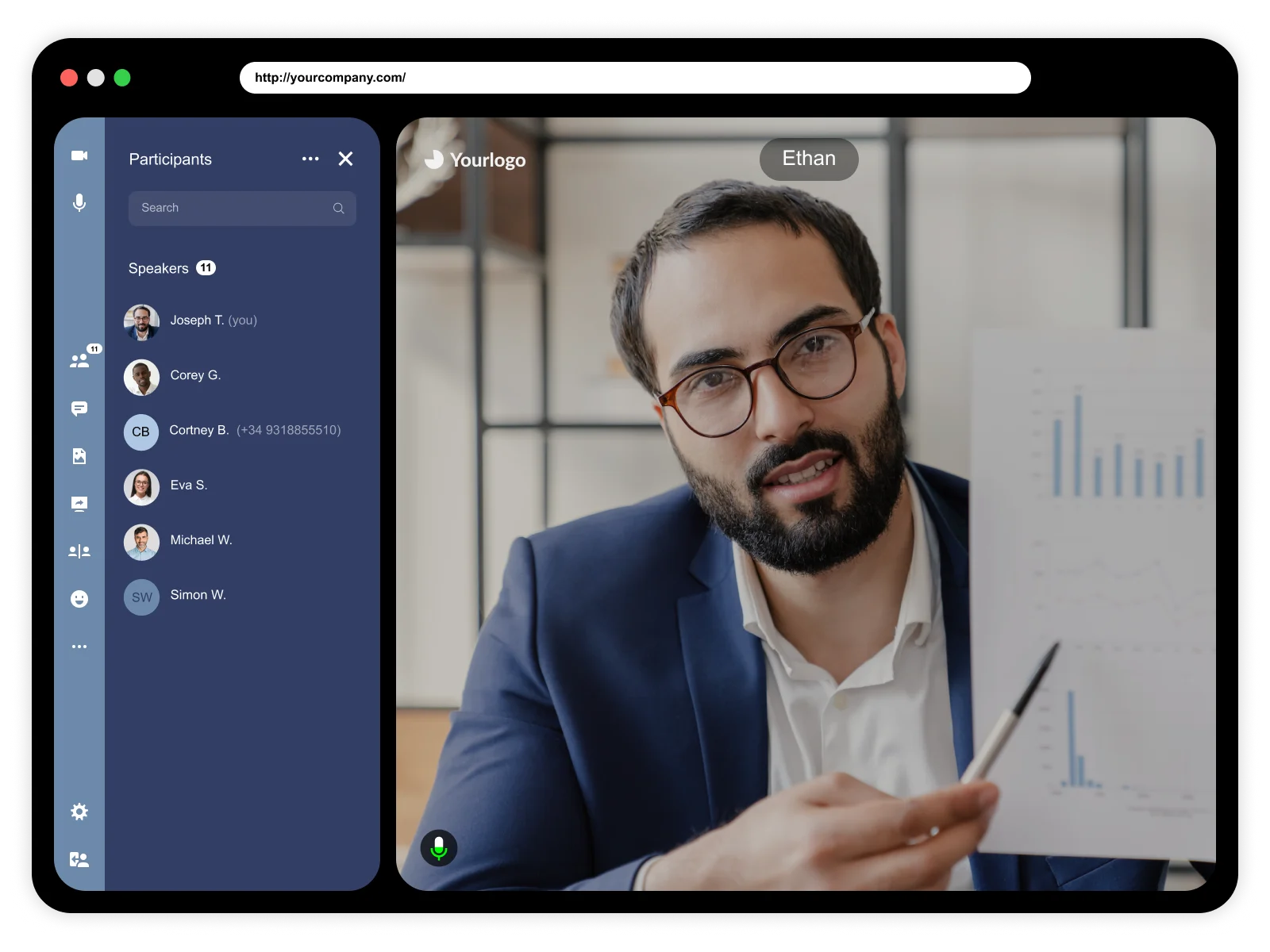 Our Embedded Webinars plan is an embeddable version of Digital Samba's flagship white-label webinar software. Our webinar software has a proven track record and is used by many reputable companies including Vulcavo, LMS Collaborator, Consularia, DFO and other global businesses.
Embedded Webinars is the best plan for complex use cases where businesses need to host up to 2000 participants, manage user roles, grant permissions, share files, run polls, Q&A and more.
Implementation comes with a complete library of features and tools such as:
Breakout rooms
Email marketing
Whiteboard
Polls and Q&A
Custom roles
Multi-user account center
Breakout rooms
Media (content) library
Cloud recordings
Screen-sharing
Private & group chats
Mobile app
Full white-labelling
Contact the Digital Samba team to learn more about Digital Samba Embedded webinar features.

Embedded Webinars feature set gives end-users the power to exchange, upload and share files and materials in any format, chat, record meetings, take part in polls and everything else typically expected during webinars, virtual classes or business meetings, all within a secure and end-to-end encrypted environment.
Pricing Plans
Digital Samba Embedded has a tiered pricing plan for its video API product that suits most use cases. For enterprise-level customers or those with specific webinar needs, pricing is delivered via bespoke quote after our agents establish what you need to deliver your unique webinar vision.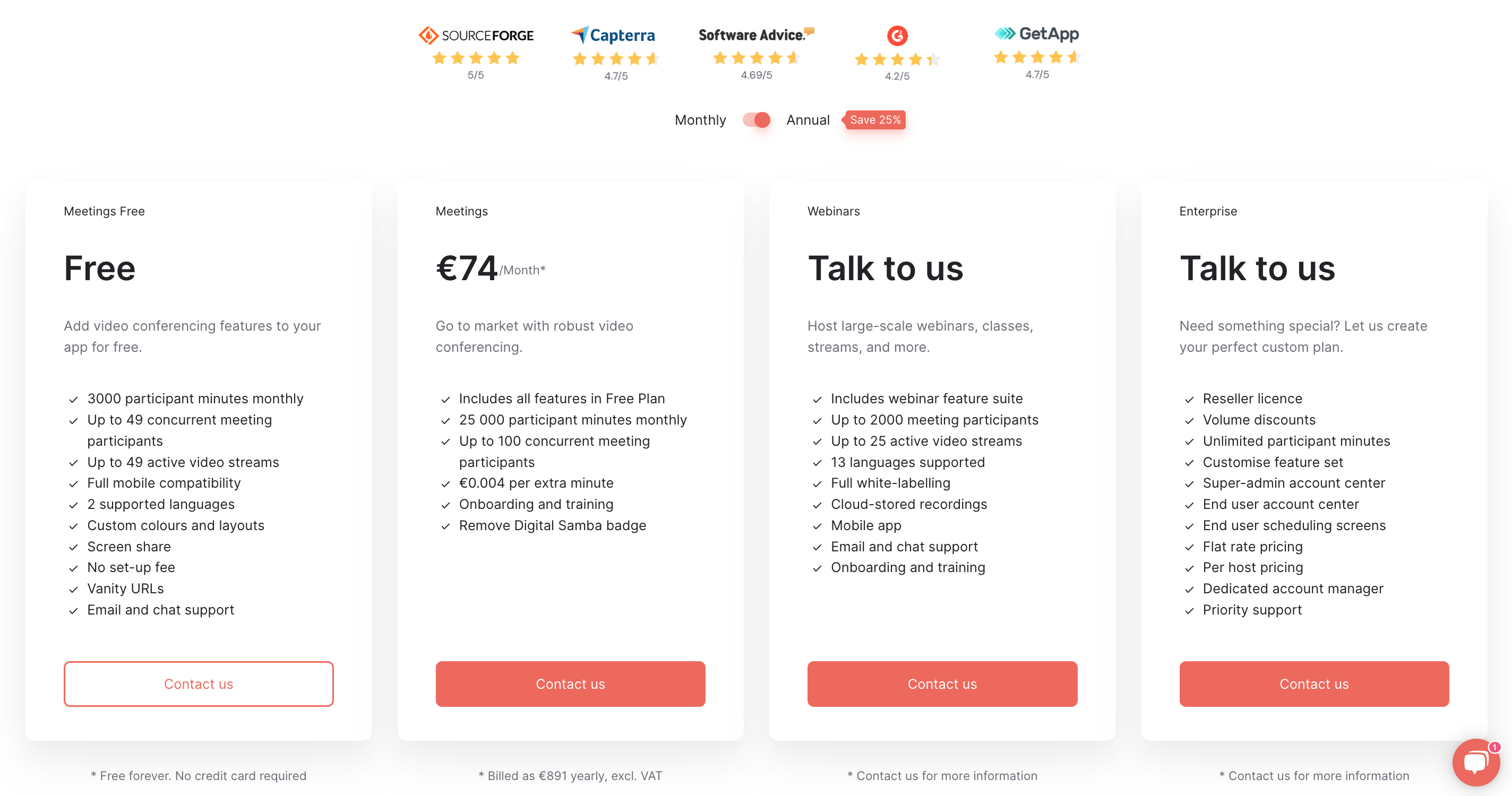 Free plan
Try the Meetings plan for free. Features include:
3,000 monthly participation - minutes

Up to 49 active video streams

Up to 49 concurrent meeting participants

3,000 monthly participation -minutes

Custom colour pallets and layouts

Up to 2 supported languages

Complete mobile compatibility

Vanity URLs

Screen sharing

No set-up fee
Meetings
Our Meetings plan is a more robust plan with a highly affordable payment structure intended for use by growing or mid-sized businesses for only €99 per month. It comes with some advanced perks:
Everything from the free plan

25,000 monthly participant-minutes

Up to 100 concurrent meeting participants

€0.004 per extra participant-minute

€0.01 per recorded minute

Onboarding and training

Removal of the Digital Samba badge
Webinars
Our Webinars plan is meant to accommodate large-scale use cases like promotional webinars, classes, live-stream broadcasts, and more.
Includes webinar feature suite

Up to 2000 meeting participants

Up to 25 active video streams

13 languages supported

Full white-labelling

Cloud-stored recordings

Mobile app
Enterprise
For larger use cases that go beyond our regular plans, we have your back. Whether you want ultra-bulk pricing, and licensing agreements or need high-priority support to assist with integrating Digital Samba into your software product pipeline, we're here for you.
Here are some things we can do:
Reseller licence
Volume discounts
Unlimited participant minutes
Customisable feature set
Super-admin account centre
End user account centre
End-user scheduling screens
Flat rate pricing
Per host pricing
Dedicated account manager
Priority support
Contact our team to test-drive Digital Samba Embedded or get a custom quote for Business or Enterprise plans.
Why Digital Samba Embedded
Having all the back-end capabilities of a leading-edge live video platform at your fingertips unlocks many possibilities. Digital Samba's embedded solution is the perfect way to implement live video and an advanced webinar toolset into your dream project.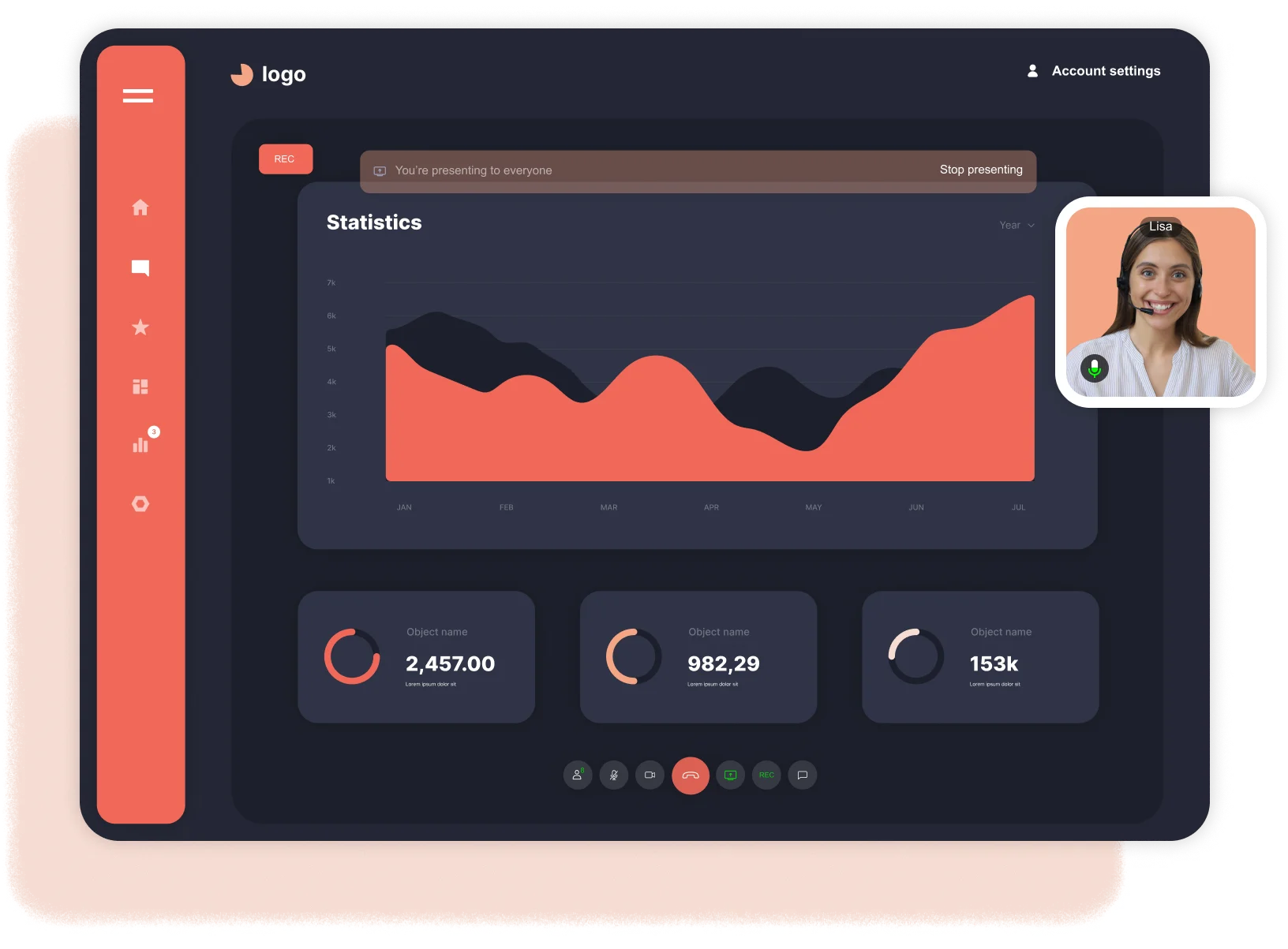 Digital Samba Embedded was built with a "privacy first" mindset. Our platform is the ideal alternative for developers who want to create a seamless experience quickly.
Whether you are taking a minimalist or comprehensive and feature-rich approach to achieving embedded video conferencing capabilities, Digital Samba has a plan that's right for your business.
Get started with Digital Samba Embedded
Integrate customised, GDPR-compliant, E2E-encrypted videoconferencing experiences into your applications with Digital Samba Embedded.
Contact our technical sales team to have your questions answered by an expert or receive a live demo.