Discover the Top 6 Video Conferencing SDK Vendors of 2023
6 min read
February 6, 2023
A Software Development Kit (SDK) is a collection of tools rolled into one installable package. SDKs include libraries, documentation, and sample code to help developers integrate videoconferencing functionality into their applications. SDKs are an emerging trend in the videoconferencing space.
Today we're going to explore the benefits of SDKs and share our top 7 vendors.
Table of Contents
Video Calling SDK Benefits
There are several benefits to using an SDK for integrating live video into your apps:
An SDK provides a ready-made solution that saves the developer time and effort. Instead of having to create these features from scratch, the developer can use the SDK to quickly and easily integrate them into their app.
Consistent and standardised
An SDK provides a consistent and standardised approach to implementing live video functionality. A standardised approach helps ensure that your app functions smoothly and provides a good user experience.
An SDK provides rapid access to additional features and tools that enhance an app's live video functionality. For example, an SDK might include tools for managing user accounts, video streams, and audio and video data. These features could take months to develop from scratch.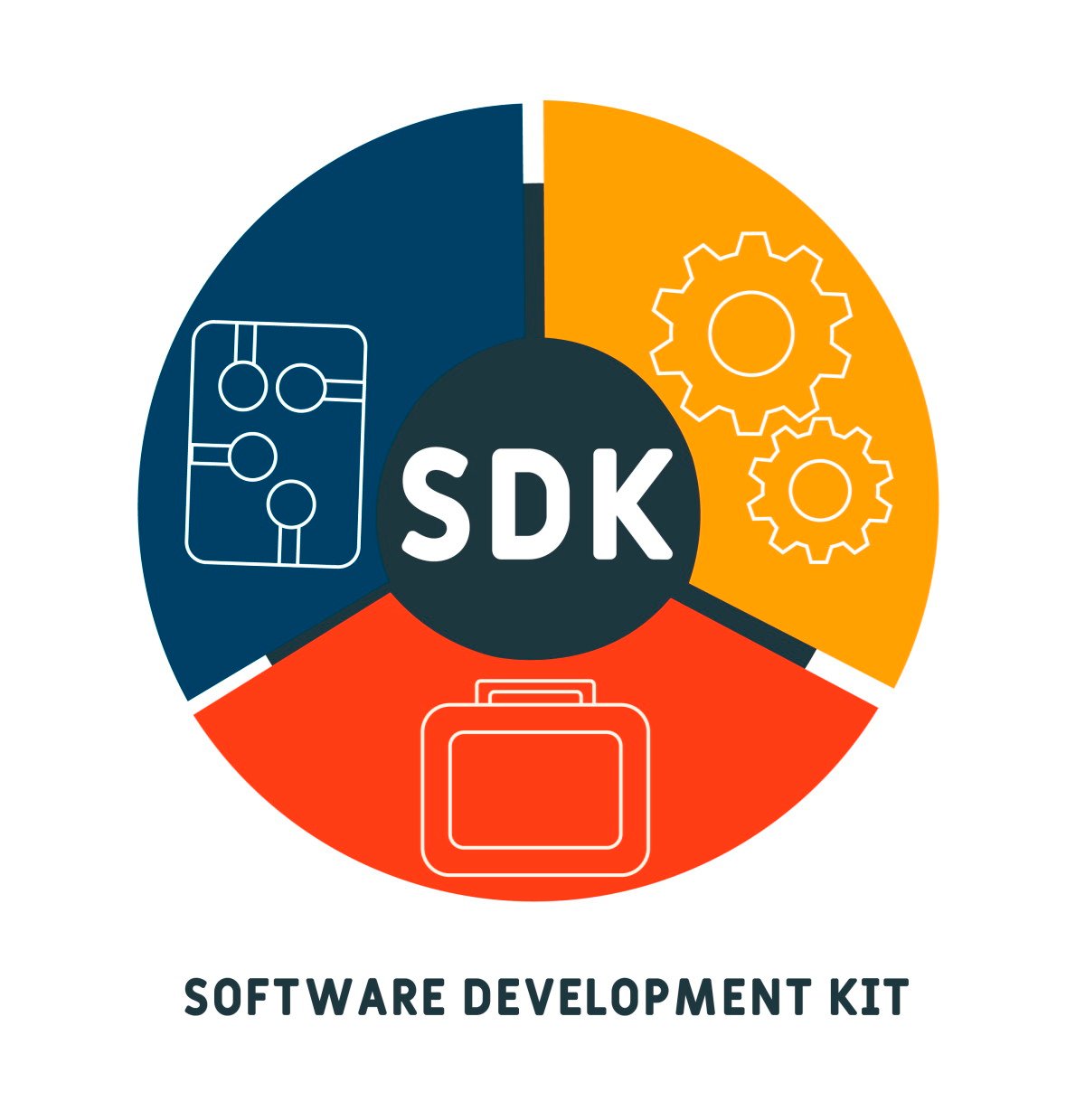 Top 7 Video SDK Vendors
Here are the top 7 SDK vendors of 2023:
Digital Samba
Digital Sambas' new video conferencing SDK provides developers with everything they need to integrate video call functionality into their applications. Digital Samba is headquartered in Europe, making us a fully GDPR-compliant and secure solution. Digital Sambas' video calling SDK is served by robust and reliable cloud infrastructure that boasts 99.99% uptime.
SDKs are gaining favourability amongst enterprise customers and traction in the open-source community. The Digital Samba video conferencing SDKs' primary user base is independent developers working on commercially viable projects. Our positive attitude towards openness is allowing small-time tinkerers access to the same tools as established enterprises.
We emphasise support and stability within our service offering. Our high-quality support is a celebrated aspect of our brand that helps us keep our end customers headache free. The Digital Samba product support is structured as a tiered system. It escalates from a general help page to live technical support direct from Europe and then to a ticketing system.
Real-time live support ensures that developers get maximum value from the Digital Samba SDK and API. We give developers the support they need to avoid running into unsupported edge cases alone.
Pros & cons
+ 99.9% uptime
+ Based in Europe
+ Diverse feature set
+ Proven scalability
- Not all Embedded features are added to SDK
Pricing
Free option (up to 49 attendees)
Meetings and API SDK - €99/mo
Webinars API - €495/mo
Enterprise - quote
Contact the Digital Samba sales team for a free demo or more pricing information.
Jitsi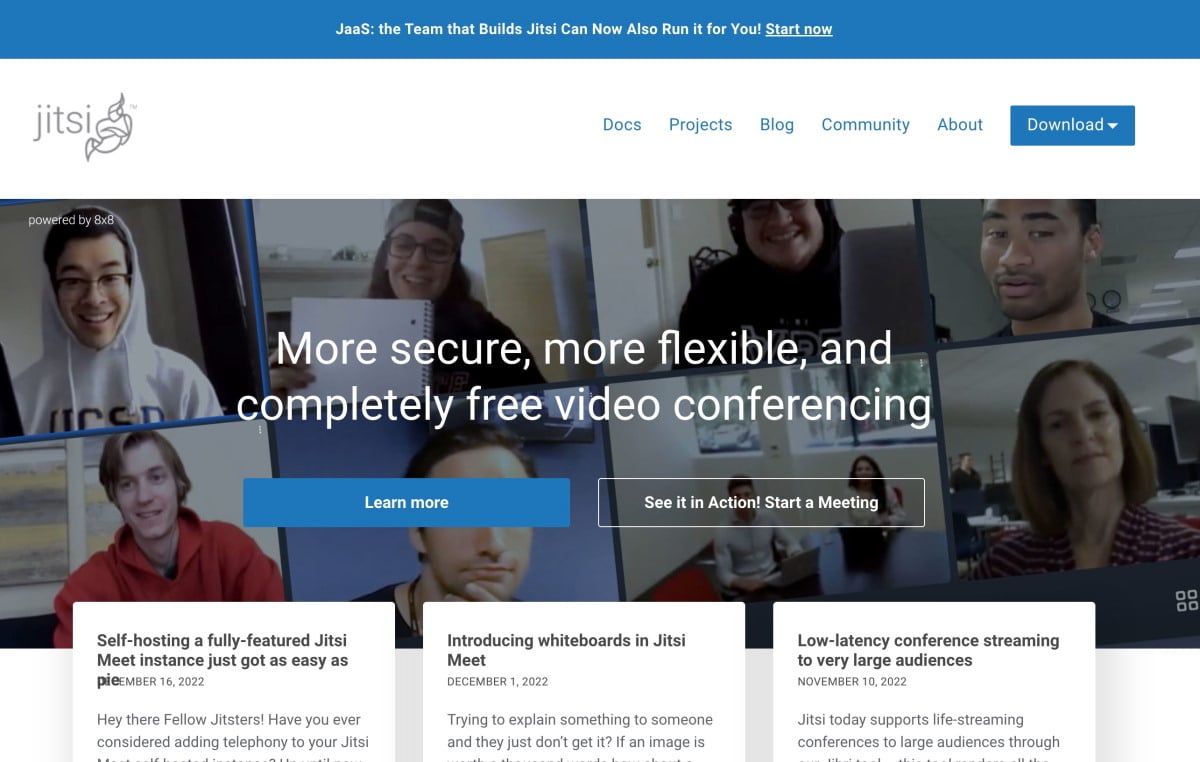 Jitsi is a free, open-source platform for video calls that provides real-time communication services. Jitsi is developed and maintained by a community of volunteers and contributors. It's commonly used to support in-app communication features and is compatible with many devices and platforms, including web browsers, mobile phones, and desktop computers.
An open-source SDK provides cost savings, access to a wider range of tools and functionality, flexibility, customisation, security and reliability. Unlike proprietary SDKs, which must be purchased or licensed, open-source SDKs are freely available to anyone who wants to use them.
Using the freely available source code, app developers can modify the SDK to suit their specific needs, making it easier to integrate the SDK into their app. Open-source SDKs are often complex to set up and require specialised expertise, so please bear this in mind.
Pros & cons
+ Customisable
+ Cross-platform support
+ Open-source
- Complex set-up
Pricing
Agora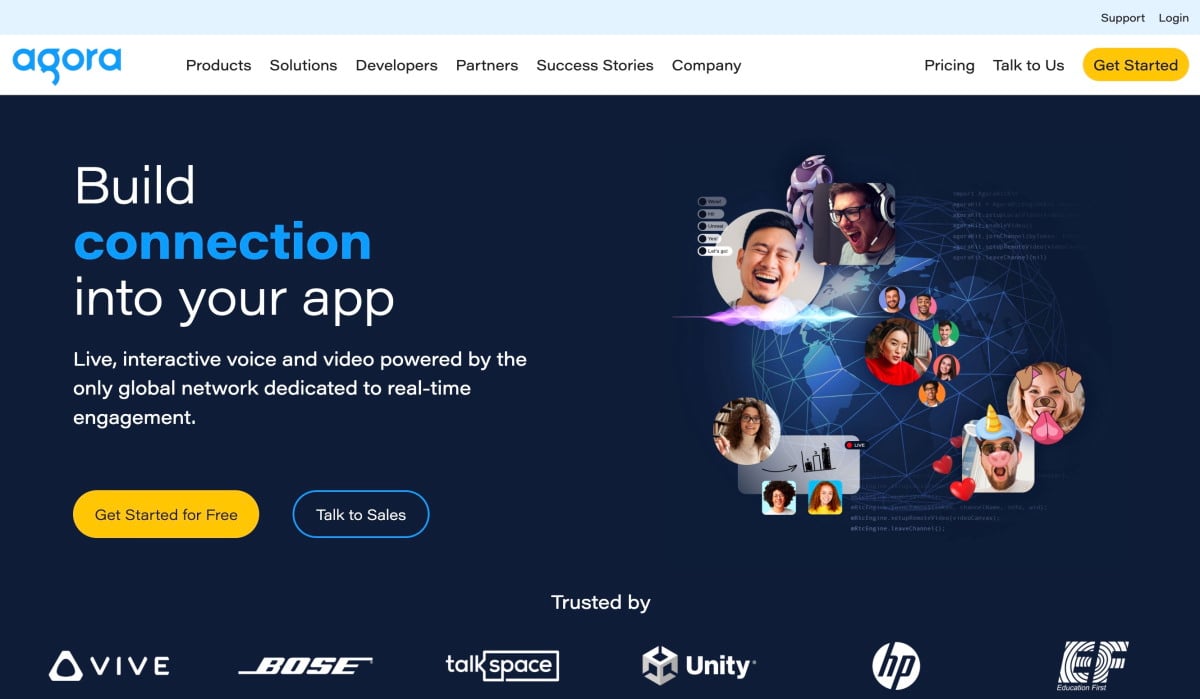 The Agora SDK supports top platforms like Windows, Mac, iOS, Android and Web. Agora is unique in that it supports popular gaming engines like Unity and Unreal. The Agora SDK uses a client-server architecture to provide features like echo cancellation, noise suppression and automatic gain control to guarantee high-quality audio and video controls.
Security features like encrypted communications, role-based access control and a built-in user management system ensure a high-quality developer environment. A global network of servers ensures low latency and reliable communication for users. Their cloud-based recording service allows developers to record and store voice and video calls.
The Agora SDK is a versatile tool widely used in the education, healthcare and gaming industries.
Pros & cons
+ Custom masks and visual filters
+ Easy set-up
+ Scalability
- Limited flexibility
Pricing
Pricing varies ba y the number of attendees, use time and video quality.
Twilio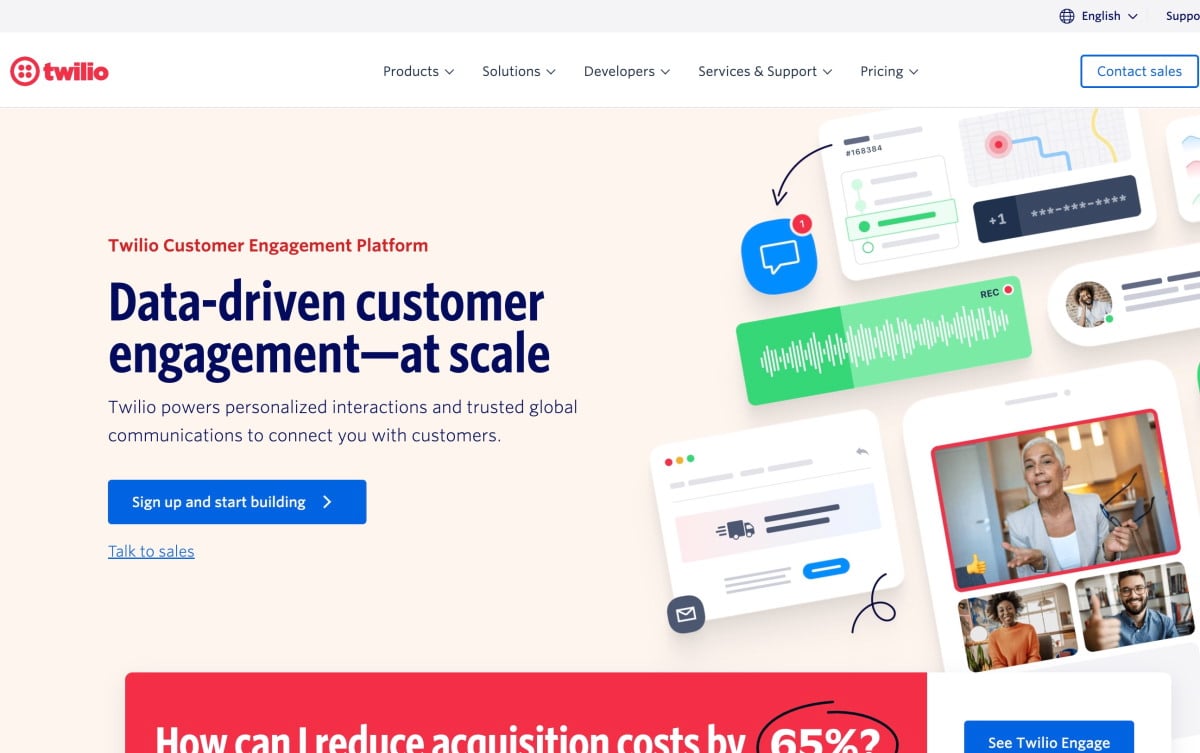 Twilio is a cloud communications platform that allows developers to make and receive phone calls and text messages using its web service APIs. Twilio's SDK works with several programming languages, including Java, C#, Python, Ruby, and PHP.
Developers can easily integrate Twilio functionality into their applications using their SDK. It provides helper libraries for common use cases such as sending SMS messages and making phone calls.
Twilio's API offers a dependable video conferencing interface that can scale with your app, all supported by a robust cloud-based infrastructure designed for enterprise-level use.
Pros & cons
+ Scalability
+ Lots of guides available
+ 24/7 support
- Limited analytical data
Pricing
Free plan allows 1-to-1 calls.
Pricing increases per participant per minute when an application requires more than two participants.
Cometchat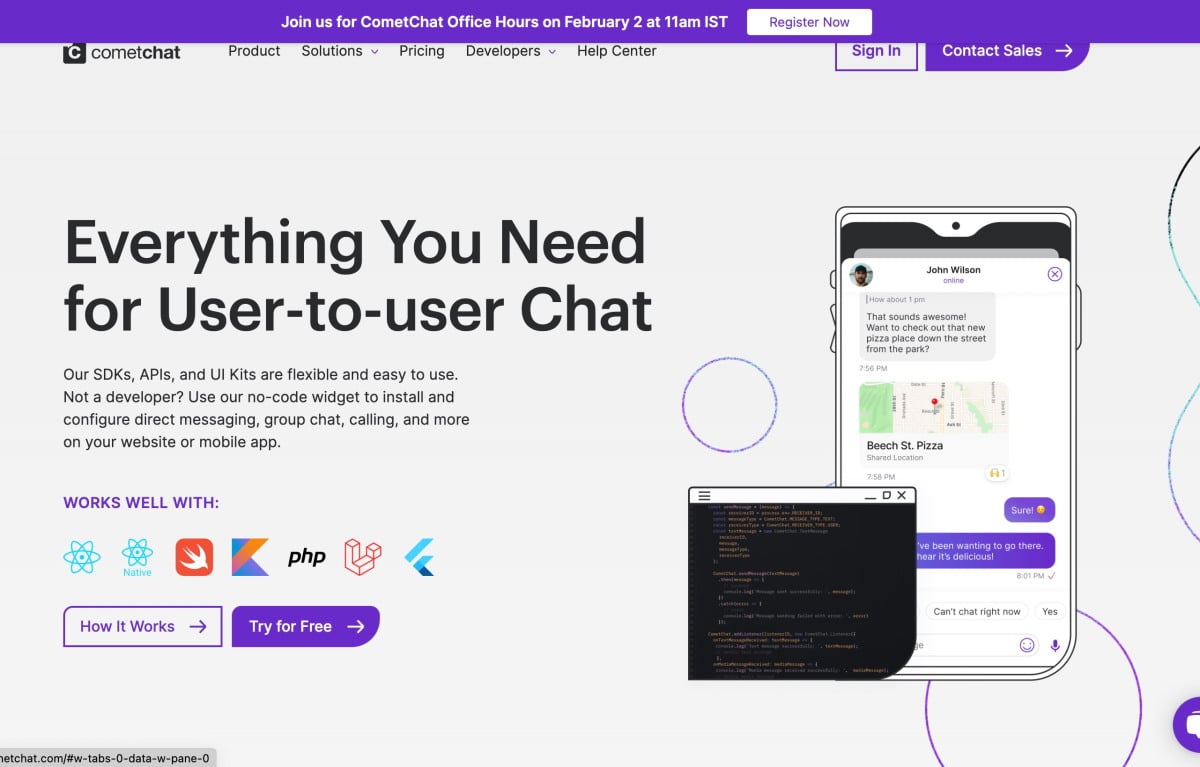 Cometchat's SDK makes it easy for developers to integrate a comprehensive chat experience into their mobile or web apps. Their SDK is designed for quick integration and is available for iOS, Android, and the Web. Seamless cross-platform integration is a key component of Cometchat.
They offer extensive tutorials and in-depth guidance to developers who use the Cometchat platform. The platform is flexible and allows for the rapid integration of in-app chat and group voice and video call functionality.
Pros & cons
+ Broad feature set
+ Ideal for WordPress
+ Easy to use
- Support takes time to respond
Pricing
Essential - $109/mo
Pro - $529/mo
Enterprise - quote
Apphitect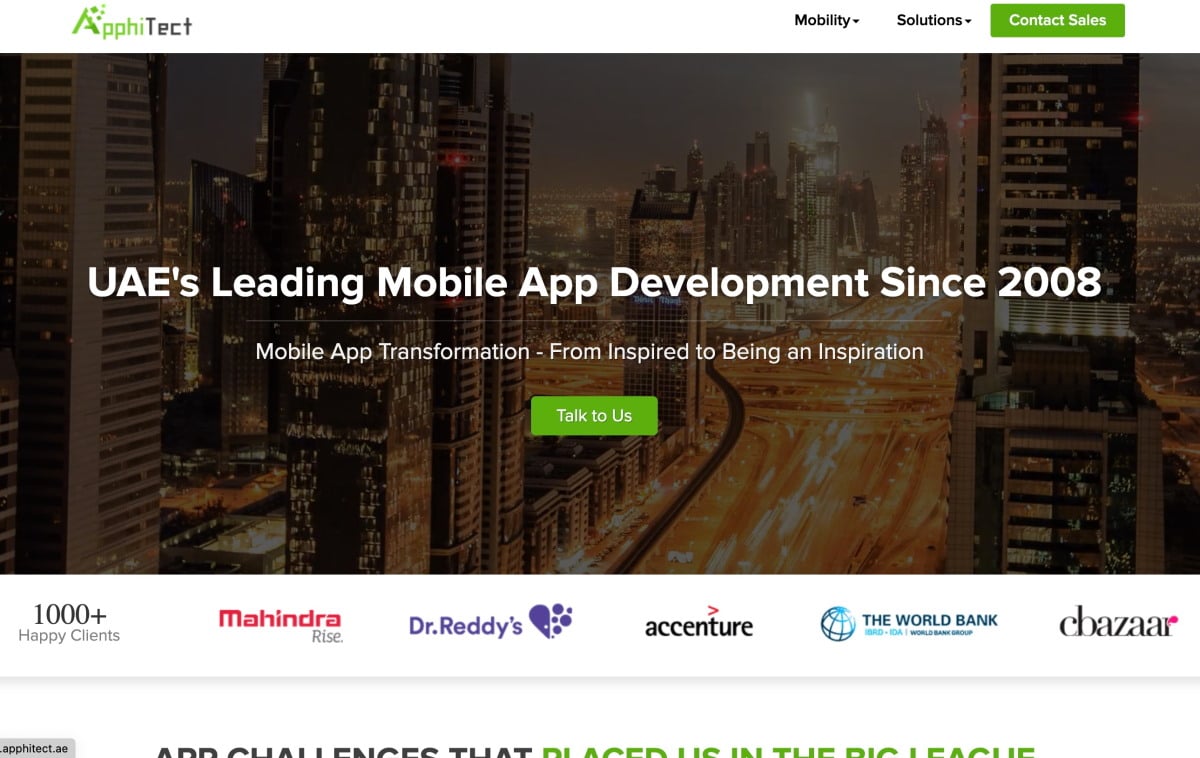 Apphitect is a leading provider of videoconferencing solutions for all organisation sizes. Its video-calling API is 100% customisable and can be tailored to meet the needs of any chat app.
Their video calling solution provides multiple communication channels like one-to-one and group video calling, video and audio conferencing, webinars, and other virtual communication formats. Develop and launch your custom chat app with Apphitect's Chat, Voice, and Video Calling APIs and SDKs for iOS, Android, or Web Apps.
With the Apphitect IM Solution, you can create a reliable, secure, and scalable real-time chat app for enterprise use, engineered with sturdy tech platforms and languages like Erlang, Ejabberd, XMPP server, Amazon S3 server and more.
Pros & cons
+ Load balancing
+ 100% customisable API
+ Scalable media server
- Fewer features than other SDKs
Pricing
Wrap Up
As SDKs become more popular, they will become an essential offering for any videoconferencing provider looking to stay relevant. They give small-time developers access to the same tools used by the largest enterprises.

An SDK can save a developer significant time and resources while providing a reliable and scalable software solution. If you're looking for a top-quality SDK to integrate videoconferencing functionality into your app or software, the 6 vendors in this list are great choices.
To get started with Digital Samba video calling SDK, contact our sales team.