Introducing the new Digital Samba Whiteboard: A Game-changer in Video Conferencing
5 min read
April 12, 2023
At Digital Samba, we believe in continuous innovation and improvement. We are proud to introduce the new Digital Samba Whiteboard, a groundbreaking upgrade to the existing whiteboard that takes the best features of design and collaboration tools and seamlessly integrates them into our advanced video conferencing platform.
Our next-generation whiteboard is available at Digital Samba's virtual classroom, meeting platform, and webinar platform, and it is also available for integration into existing software applications via API.
Digital Samba's new whiteboard capabilities
Digital Samba's whiteboard is a state-of-the-art, interactive tool that allows you to easily collaborate and brainstorm with your team, clients and partners in real-time. Share ideas, thoughts and strategies with your team like never before.
Our whiteboard feature enables multiple users to contribute simultaneously, making collaboration seamless and efficient.
1. Real-time collaboration and editing
The new Digital Samba Whiteboard allows multiple users to collaborate and edit designs, diagrams and content in real-time. This feature promotes teamwork, encourages the exchange of ideas and boosts productivity during video conferences. Bring your ideas to life with an array of drawing and annotation tools.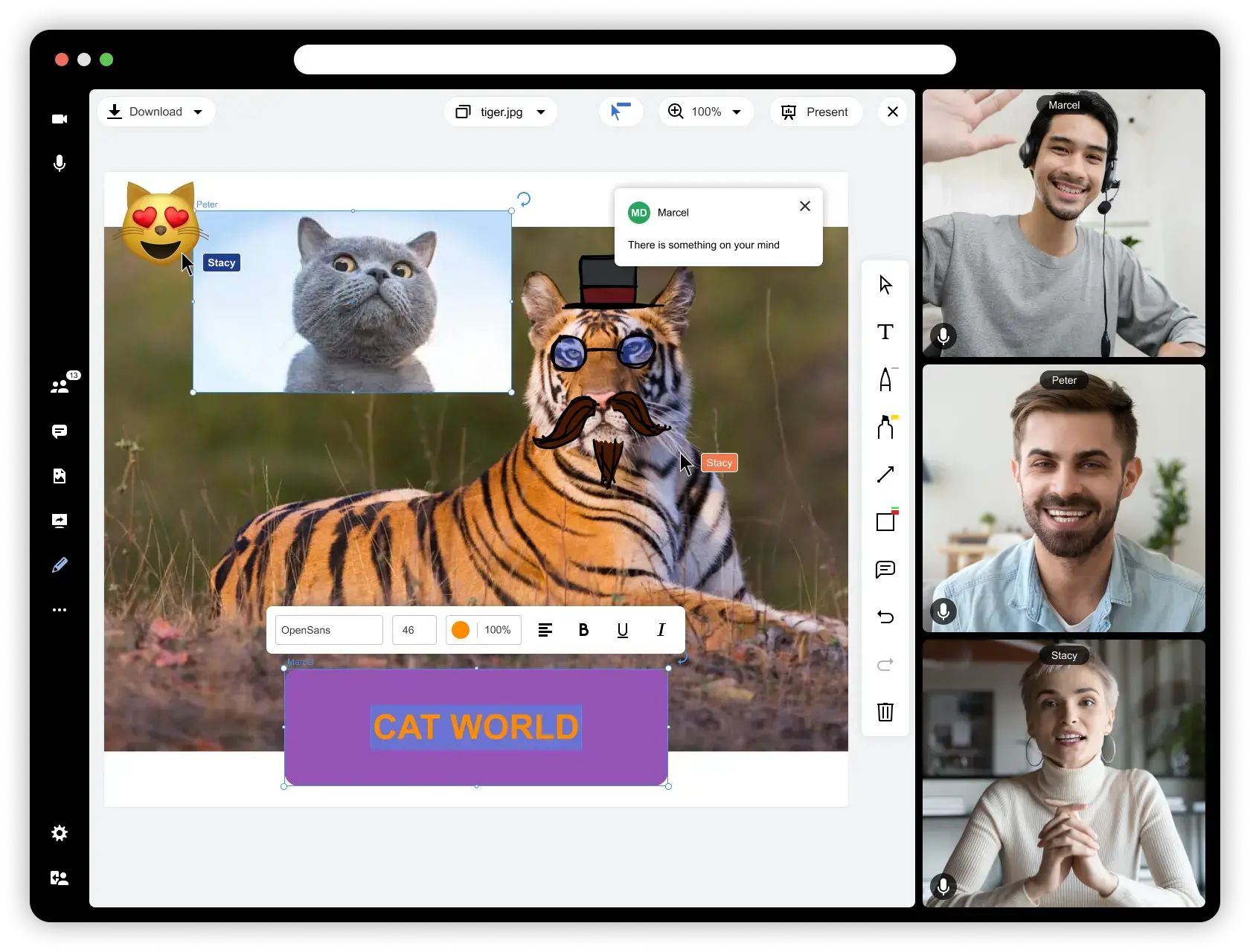 Sketch, draw, write or highlight key points during your presentations, making your meetings more engaging and informative.
2. Component library and customisation
Inspired by design tools, the new whiteboard offers various components and shapes along with customisation options to make your work more visually appealing and professional. You can easily create wireframes, mockups and flowcharts to envision ideas and concepts during meetings.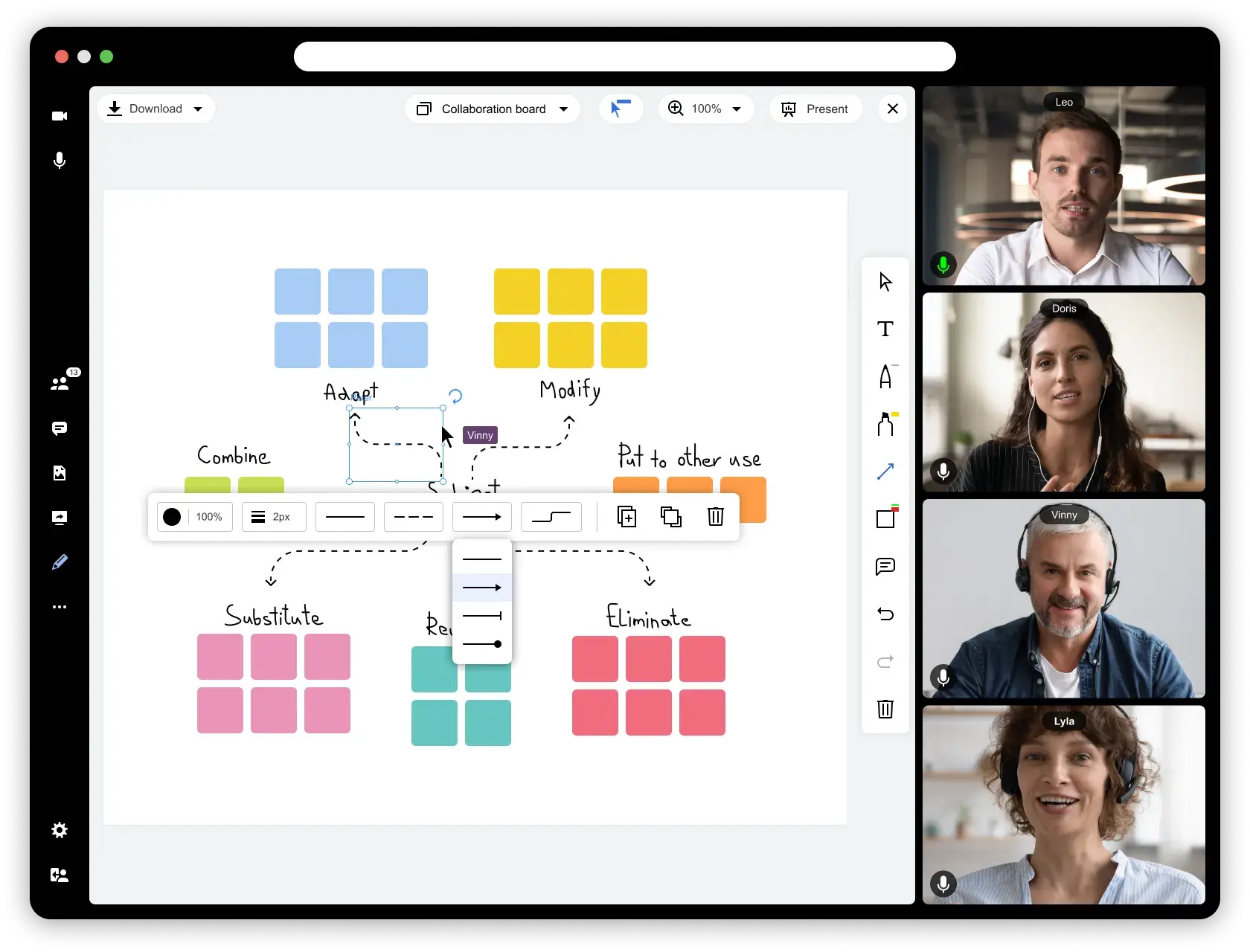 The new whiteboard drawing tools allow you to quickly create professional-looking diagrams and mind maps, boosting your team's creativity and innovation.
3. Advanced zooming and panning controls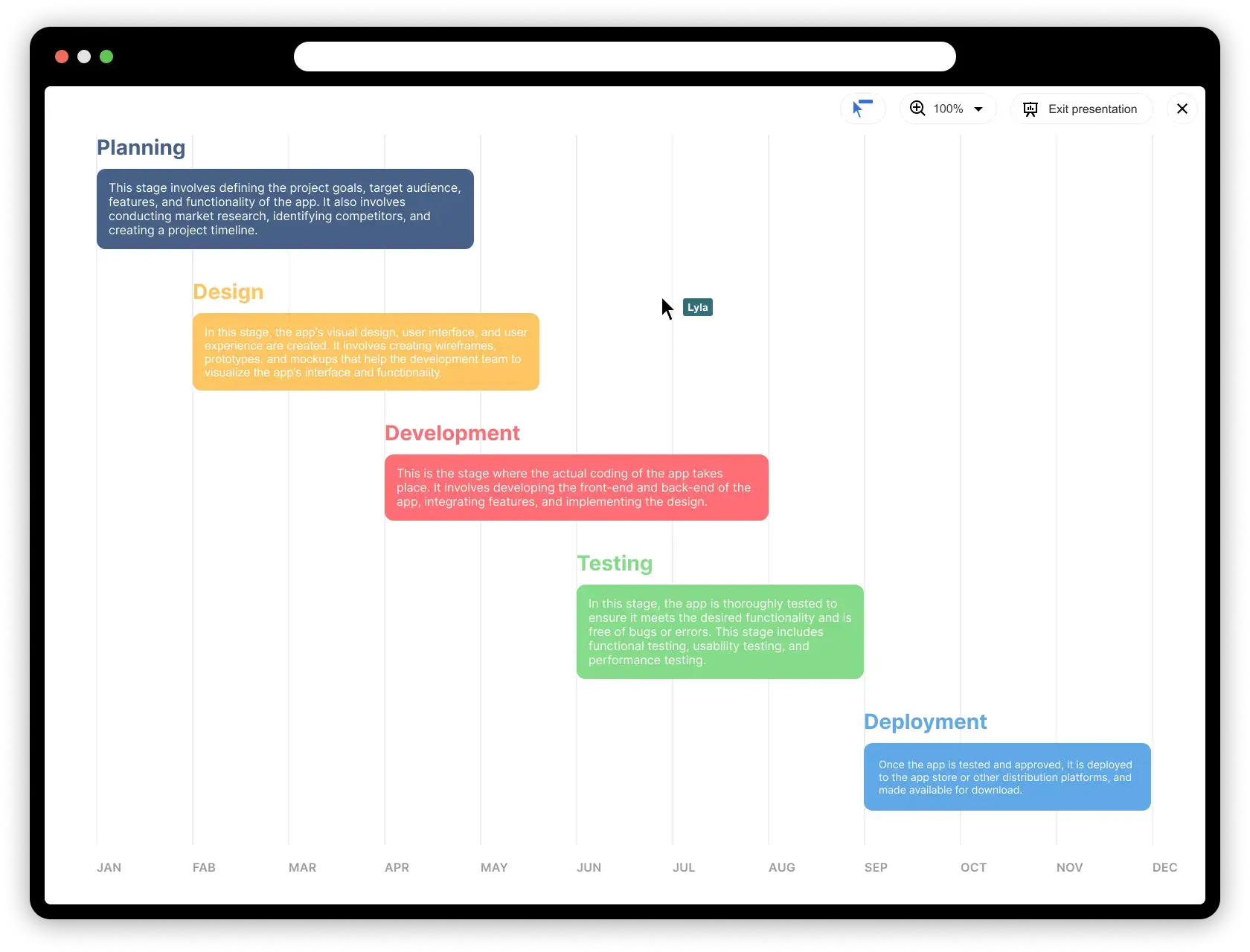 Navigating large and complex whiteboards is now a breeze with our upgraded zooming and panning controls. Enjoy smooth and effortless navigation, making it easy to focus on specific areas or get a bird's-eye view of the entire workspace.
4. Seamless integration with design tools
We've made working with images and files a breeze on our upgraded Digital Samba Whiteboard. Now you can effortlessly copy-paste and drag-n-drop images directly onto the whiteboard, streamlining your creative process. Additionally, opening PDFs and slideshows has never been easier, enabling you to present information more effectively during your video conferences.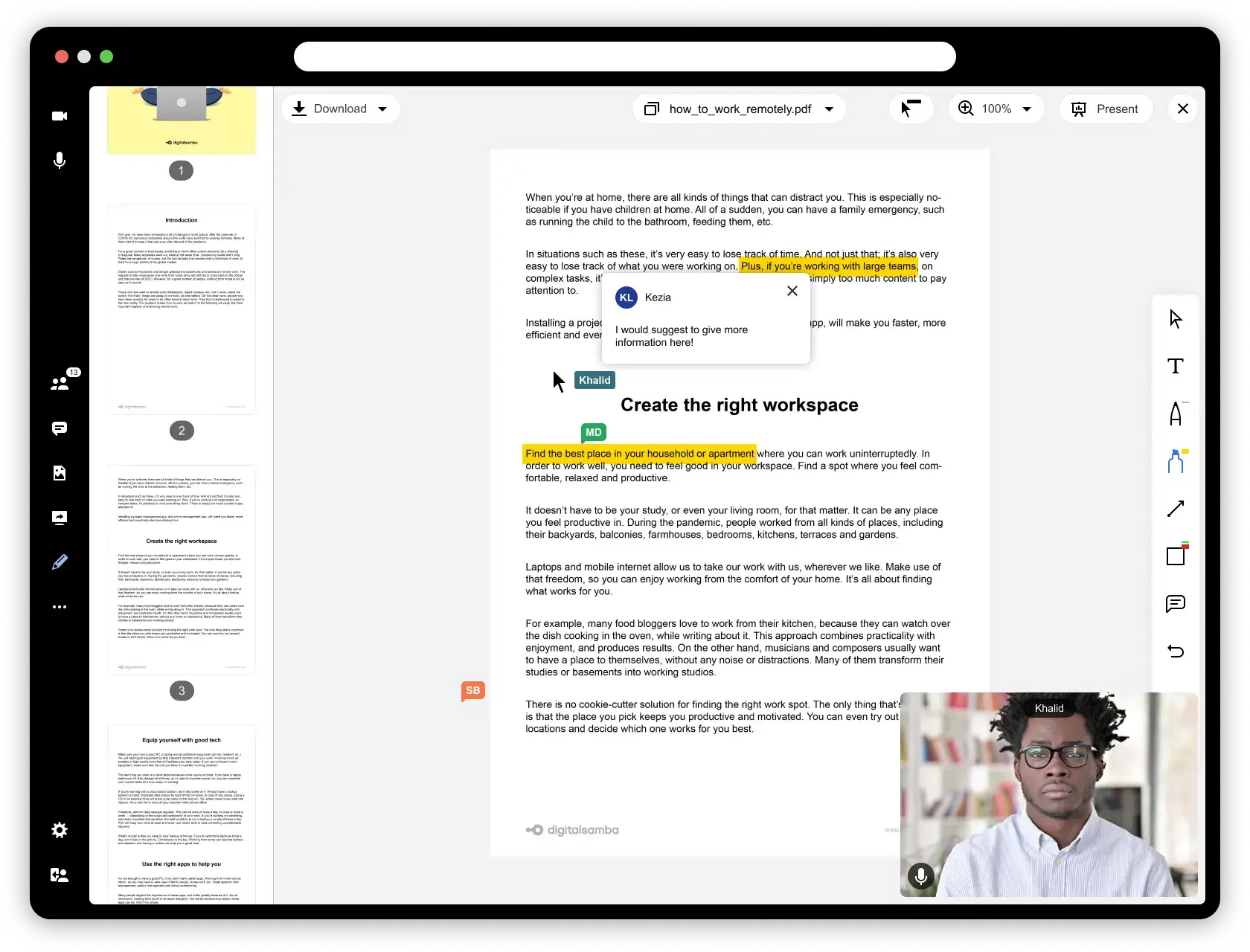 Here's how the new Digital Samba whiteboard stands out from the old version:
Enhanced drawing and design tools
Our upgraded whiteboard now offers a more refined user experience with improved design tools, giving you complete control over your creations:
Improved pen, marker and shapes for a more precise and smooth drawing experience.
Connector arrows to link ideas and create flowcharts effortlessly.
Full-screen mode for an immersive and focused whiteboard experience.
Advanced collaboration and interaction
Stay connected with your team and improve collaboration with these interactive features:
Live participant cursor viewing for better collaboration and real-time engagement.
Commenting tool to provide feedback and discuss ideas directly on the whiteboard.
Undo/redo, copy/paste and duplicate any object for seamless editing and organisation.
Streamlined organisation and management
Keep your workspace organised and manage your whiteboards more efficiently with these new features:
Align, re-order and manage objects on the whiteboard with ease.
Define custom names and rename your whiteboards for better organisation.
Save editable whiteboards to your content library for quick access and future reference.
Easy import/export and file handling
Easily work with images and files on the new Digital Samba Whiteboard:
Drag and drop images from your computer directly onto the whiteboard.
Download whiteboards as SVG or PNG files for easy sharing and archiving.
How to enable the new whiteboard
The new and improved whiteboard tool will become the default on all accounts starting April 24th. However, if you can't wait and want to enable it for all your sessions now, here are the steps to follow:
Log in to your account at https://app.digitalsamba.com/

Go to your account settings by clicking on the top-right corner dropdown menu with your name or just click this link: https://app.digitalsamba.com/account

Scroll down to the whiteboard section. Look for an option to select the whiteboard version and choose "whiteboard vs2".

Save your settings by clicking the "Update" button.

That's it! With the new whiteboard tool, you'll enjoy an enhanced user experience, including improved responsiveness and new features. So don't wait – try it out today!
Empower your apps with Digital Samba's video conferencing API and whiteboard integration
The possibilities with Digital Samba's video conferencing API are endless, allowing you to seamlessly integrate our advanced whiteboard feature into your existing software applications. By leveraging our video conference API, you can enhance your app with powerful collaboration tools, providing your users with a seamless and engaging experience that facilitates real-time communication, teamwork and creativity.
Transform your software applications and boost user satisfaction by embedding Digital Samba's cutting-edge whiteboard and video conferencing capabilities, delivering an unparalleled level of interaction and productivity to your customers.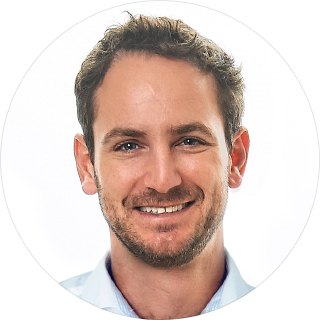 Integrate the Digital Samba whiteboard into your product
Contact our sales team now!
Integrate the Digital Samba whiteboard into your product
Wrap Up
We've optimised the performance and stability of the new whiteboard to handle large-scale projects and accommodate more users simultaneously. The enhanced platform ensures a smooth, lag-free experience during video conferences, even with complex designs and multiple collaborators.
In summary, the new Digital Samba Whiteboard takes inspiration from powerful design tools like Figma and combines those features with our advanced video conferencing platform. The result is a next-level collaboration experience that boosts productivity, enhances teamwork and fosters creativity during your virtual meetings.
Don't miss out on the opportunity to transform the way you work. Experience the new Digital Samba Whiteboard for yourself – sign up for a 14-day free trial or talk to our sales team about embedding video conferencing empowered with a whiteboard to your software or app.