Best Laptop Light for Video Conferencing
6 min read
August 11, 2022
If you want to use your laptop for video conferencing, then it's important that you have good lighting. This is because if the light is bad, then everyone will struggle to see you clearly. Having poor lighting can be especially problematic if the person on the other end of the call wants to see something you are holding up.
In this article, we'll look at some of the best conference lights available and how they can help improve your video calls.
Table of contents
Absolute best conference light for laptop
The absolute best laptop conference light is the one that you already have!
No matter which way you cut it; you have to work with what you've got. A creative lighting solution for video conferencing is what you'll have to eventually arrive on, no matter what kinds of hardware you may end up buying.
Every situation is a bit unique, and incorporating natural light as well as general ambient lighting will probably always be a part of how you decide to present yourself in video conference calls.
The best part about laptops for video conferencing is that laptops are highly mobile! You can easily reposition yourself and play around with different angles, whereas with a desktop environment, you pretty much have to work with what you've got.
All that said, there are some excellent laptop lights for video calls that simply clip onto your laptop itself to give you beautiful, even lighting that consistently will present your best self to your conferencing peers.
Let's take a look at what the world has to offer in the way of these dedicated conference lights for laptops!
Cyezcor Video Conference Lighting Kit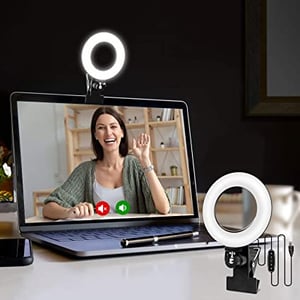 A good lighting kit is essential for any video conference. This one comes with 3 lights, and a clip that attaches to your laptop. It's USB powered, so no need for an external power supply. The lights themselves are adjustable, meaning you can angle them in a way that makes sense for your workspace. They're also portable so you can move them around easily when needed.
There are many benefits of this product:
Affordable (at less than $50)
Clip on mounting solution makes it great for laptop video conferencing
Bright light source (up to 15 lumens per bulb) - perfect for dimly-lit conference rooms with low ceilings where other options may be insufficient
Lightweight but durable construction - weighs less than 1 pound total package weight
Easy setup/teardown; no assembly required
Ruyilam Video Conference Lighting Kit with Clip and Tripod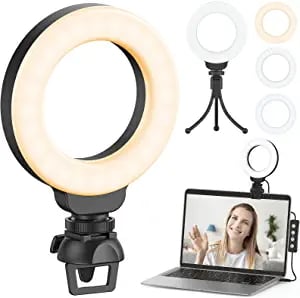 The Ruyilam Video Conference Lighting Kit with Clip and Tripod comes with everything you need to get started, including a USB cable, power adapter, and user manual. The kit includes the main light unit that can be used with a laptop or tablet as well as a clip for attaching the light to the top of your computer screen for easy setup for your video call.
The tripod provides added stability when standing up on its own or when used with the included clamps so that you can mount it in various locations around your workspace.
The Ruyilam clip-on laptop light for video conferencing comes in a convenient package that's excellent for travel and is very easy to set up. Its lighting and simple mounting solution make it a superb choice for travellers who want to guarantee they can always look their best on business video calls.
Generic USB Reading Lamp for laptop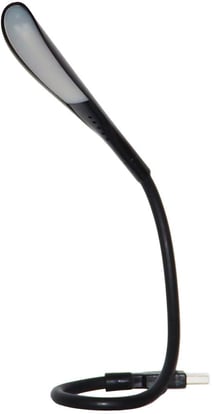 This USB lamp is a great choice for your laptop. It's powered by a USB port, which means it can be used as a bedside table lamp or desk lamp without any need for plugging it into the wall. This makes it especially useful when you're travelling—you won't have to worry about finding an outlet in your hotel room!
The reading light has three brightness levels and an on/off switch so that you can control how bright it is. Though it is a generic lighting solution, it still makes a really good laptop light for video calls.
The lamp also comes with two freebies: a 360-degree flexible gooseneck arm that enables you to position the light wherever you want and an adapter which allows you to use this same lamp as other types of lamps (like a tent light, camping light).
HIOUME Laptop Monitor Light Bar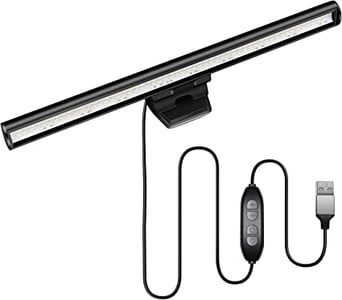 The Hioume USB Laptop Monitor Light Bar is a great conference light for laptop users who want to illuminate their entire workspace. This light bar is USB powered, which means it can be used with any laptop or computer that has power going to its USB port. It's also adjustable, so you can adjust the brightness level to match your needs and preferences. The light bar has an indicator light on it that shows when you've reached the maximum brightness level, making it easy to know when you need more or less light depending on where in your room you're sitting.
The Hioume USB Laptop Monitor Light Bar fits laptops and monitors up to 15 inches across, making it simple for users looking for something compact yet powerful enough for larger screens like those found in conference rooms and classrooms alike!
The device comes with a USB cable included, so all you have left after purchasing this product is plugging it into an outlet.
Logitech Litra Glow Premium LED Streaming Light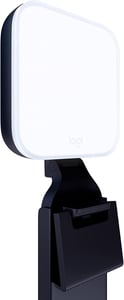 The Logitech Litra Glow Premium LED Streaming Light is a great option for those who need a little extra light during their conference calls. It comes with a USB-C cable that's compatible with both USB-C and USB-A ports, and you can use it to charge your laptop while using the light bar as well.
The Litra Glow Premium has three different levels of brightness: high, medium, and low. The Litra Glow Premium also has true soft-white light, which mimics natural lighting conditions.
If you're looking for a streaming light that's compatible with both USB-C and USB-A ports, then the Logitech Litra Glow Premium is worth checking out.
These lights will help you look better on video calls
A well-lit face is important in video calls, as it helps people focus on you and not your dim surroundings. If your face is too dark, it's difficult for people to hear what you're saying; if it's too bright, the camera will wash out your features and make them appear vague.
Here are some ways to ensure that both your face and background are well-lit:
Make sure there's enough light in the room so that when you turn on the camera, most of the frame will be filled with a soft glow from an overhead lamp or another source of ambient light (but not direct sunlight).
Choose an angle where this light hits both sides of your face evenly—if one side is too dark or bright compared to its counterpart, then one side of your face will look duller than the other when viewed through video chat software like Skype or FaceTime (and even worse if there's no lighting at all).
Conclusion
As you can see, there are a lot of options for laptop lighting. But we hope that this guide has helped you narrow down the field to point you in the right direction. If you have any questions or comments about these products, feel free to drop us a line and ask the professionals how they do it!