Best Ring Lights for Video Conferencing
When it comes to buying photography accessories, you might be tempted to go with the cheapest option. But don't make that mistake! Ring lights are where it's at when it comes to lighting your subject in a flattering way. And while they may seem like an expensive investment up front, there are plenty of affordable options out there that offer high quality and long-lasting value.
Table of contents
So what exactly is a ring light? It's basically just a light source that sits around your subject's face instead of above or below them like traditional lights do (hence the name).
The effect is more natural because there isn't any obvious shadowing or harsh shadows being cast onto your subject—and often times this can make them look better than if they were under another type of lighting altogether!
Neewer 18-inch LED Ring Light ($100.99; amazon.com)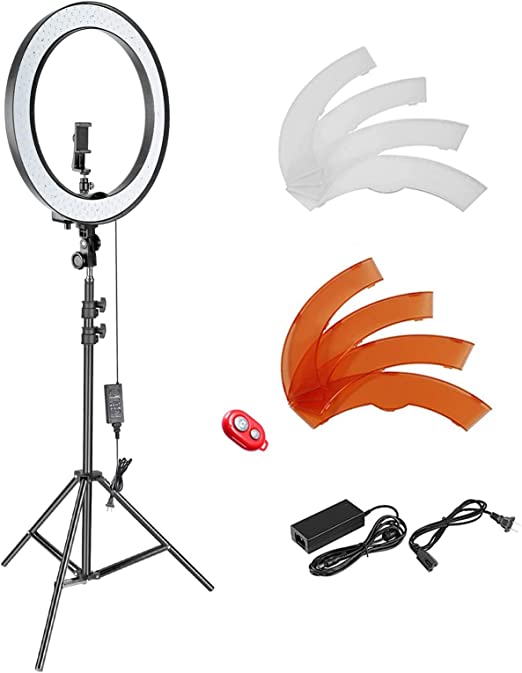 This excellent ring light for video calls uses 18 LEDs, which is more than any other option on our list. It's adjustable between 0 and 100% brightness, which means that you can adjust the amount of light coming out of it to suit your needs. There's also a dimmer switch included, so you can turn it down even lower if you want something more subtle (or if your eyes are sensitive).
The Neewer ring light comes with an aluminium alloy stand and tripod, as well as a battery pack for portable use.
If you're looking for something more professional-looking that doesn't need to be plugged in at all times but still has good lighting capabilities, this may be the one for you!
CowboyStudio Ring Light with Trundle Base ($216.00; CowboyStudio.com)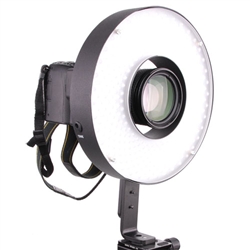 This is the one to get if you're looking for a cheap commercial ring light. It's more expensive than most of the other options on this list, but it also has more features (and better quality) than anything else under $250.
The CowboyStudio Ring Light is bright enough for beginner photographers and easy enough for anyone to use. It provides plenty of light for illuminating jewellery and small objects like food products or plants—it's not terribly bright or overpowering in any way—and it's durable enough that you can take it on-location without worrying about breaking it if something happens during transit.
Most importantly: The colour temperature can be adjusted manually within a limited range (3200K–6500K). You don't have much control over this aspect of your lighting setup, which means that if your subject matter has specific demands (such as matching an existing background), you'll need to do some extra work with gels or filters to compensate.
While these lights are definitely durable enough for most photographers' needs, they aren't exactly built like tanks—the plastic isn't particularly thick and tends not to hold up well under stress over time; there have been some reports about units breaking after only moderate use (particularly when used outdoors).
That said: The price point does make them worth trying out despite these minor shortcomings!
Neewer Dimmable 12-inch LED Ring Light ($92.99; Neewer.com)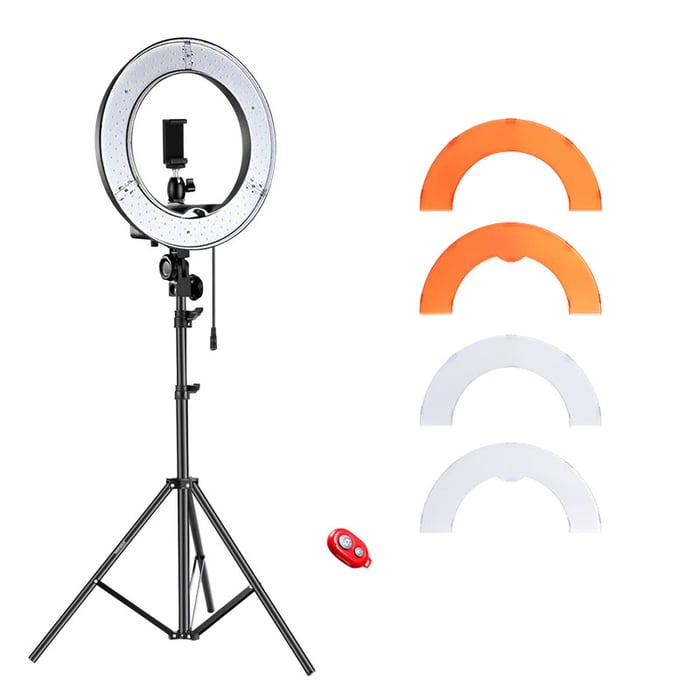 Battery powered. The Neewer Dimmable 12-inch LED Ring Light is powered by a rechargeable lithium-ion battery. It comes with a charger, but you can also use any USB wall adapter that outputs 5V DC and 1A (1000mA).
Dimmable. You can adjust the brightness of this ring light in two different modes: soft white and blue light output for better skin tone or eye colour correctness when taking photos of people, and daylight white for brighter photos with more contrast.
Adjustable light angle and distance from the subject. This ring light is adjustable to fit any size head or object up to 12 inches in diameter (30 cm), so it's not just useful for makeup tutorials!
Great for wide-angle shots like group shots or macro photography where you want your subject's face illuminated while still illuminating the background behind them too--this makes it great for product photography as well as food photography!
Fovitec StudioPRO 5500K Fluorescent Diva Ring Light Kit ($94.95; amazon.com)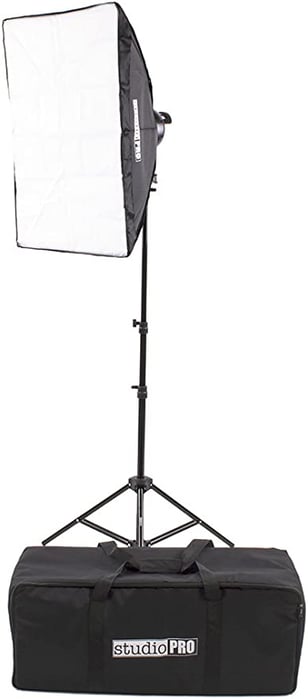 This ring light kit is one of the most popular on Amazon, with over 1,000 reviews and an overall rating of 4.5 stars. It includes a four-foot fluorescent light with a diffuser, stand and carrying case.
They also are available with all the accessories you need to start shooting: gels for colour correction, gel holders (so you can hang them off the front of your camera), gel filters for different colours or effects and even some coloured gels themselves.
This is a great option for those who want their studio setup without having to spend hundreds on lighting equipment – especially considering it's only $94.95 on Amazon right now.
While this is more of a photography lighting setup kit, it comes in as price competitive with ring lights and can be used instead of a ring light for video conferencing.
LimoStudio 18-inch Dimmable LED Ring Light Kit ($70.90; amazon.com)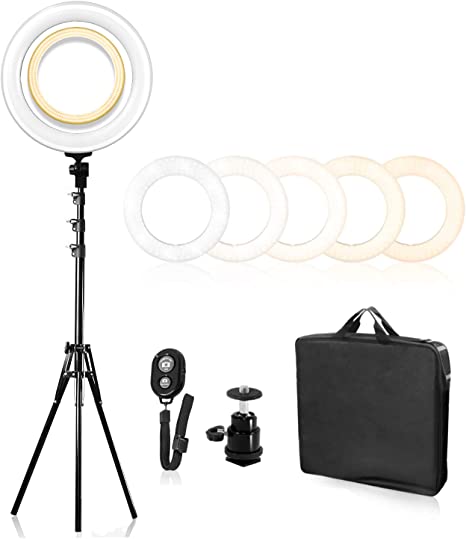 A dimmable 18-inch LED ring light is an excellent choice for anyone looking to get started with professional-quality lighting.
It comes with everything you need to start shooting right away, including the power supply, remote control l and diffuser. The kit also includes a tripod for stability and an LED gel kit for colour correction if needed.
Neewer 14-inch RGB Ring Light ($69.99; Neewer.com)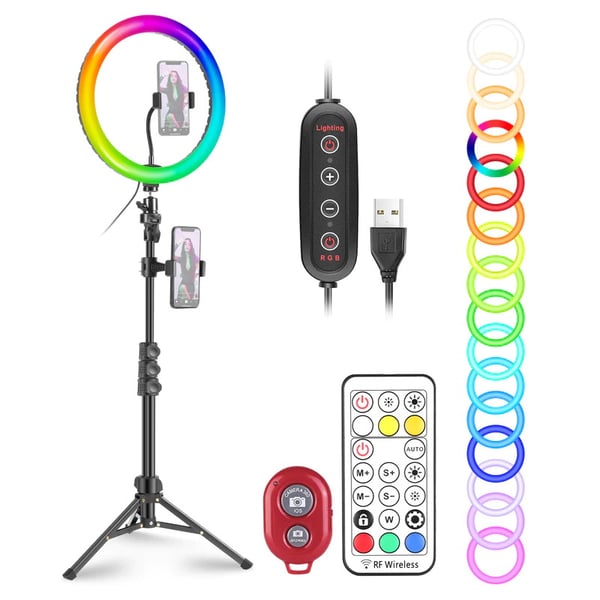 If you want to add some colour to your photos, the Neewer 14-inch RGB Ring Light is a good choice. It can be adjusted to any colour temperature and comes with an IR remote control for adjusting it from up to 30 feet away.
The ring light includes five interchangeable filters (white, yellow, orange, blue and green). The base of the light has a frosted glass cover that diffuses light evenly across the entire surface of your subject's face or object. This is a good circle light for meetings.
Emart 18" inch LED Photography Lighting Kit ($127.99; Emartus.com)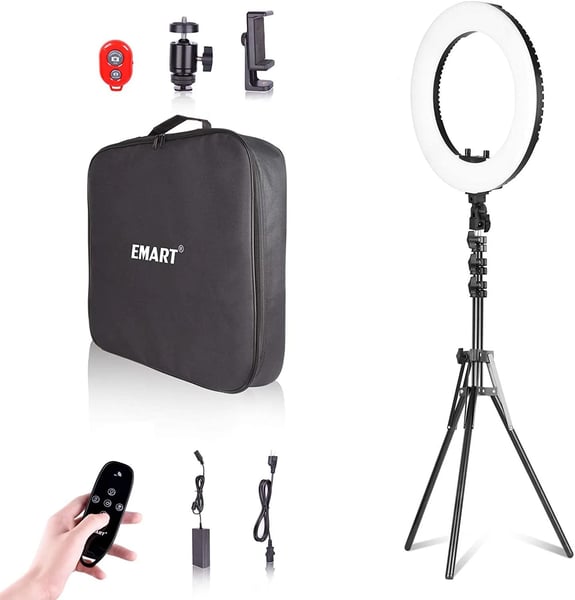 It's got a ton of features that make it stand out. First off, it has 18" inch LED bulbs that will give you nice even lighting every time you use them.
The Emart 18" inch LED Photography Lighting Kit also comes with an AC adapter so you can plug it into your wall and get some power going to those lights! That means two full hours of continuous use without any worry about draining your battery or trying to find a place to plug into the wall.
Another thing to love about this light is that it comes with temperature adjustment as well as dimming. This can assure that you deliver light that is smooth and not too harsh on yourself when streaming.
Also, being able to control cooler or warmer ambient lighting is a great and subtle lighting effect that opens up an entire dimension of self-expression in your live streams.
Ubeesize 10-inch Selfie Ring Light with Tripod Stand & Cell Phone Holder ($35.99; Amazon.com)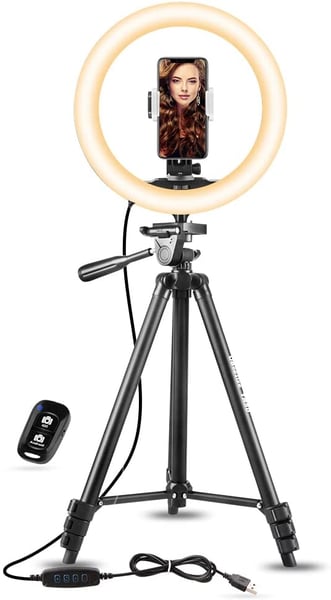 The Ubeesize 10-inch Selfie Ring Light with Tripod Stand & Cell Phone Holder is an excellent choice for anyone who wants to get the most out of their ring light.
Thanks to its tripod stand, you can adjust this self-portrait lighting tool so that it's angled just right. It also comes with a phone holder, so you can take pictures by hand or attach your phone to use it as a selfie stick.
This product has some excellent features:
10 inches tall and 10 inches in diameter
Tripod stand allows for adjustability of angle (upright position) or distance from camera/subject (on ground level)
Phone holder lets you use your phone as a selfie stick
LED lights provide even illumination from all sides
Old Shark 14" Ring Light w/Tripod Stand & Phone Holder ($28.99;Amazon.com)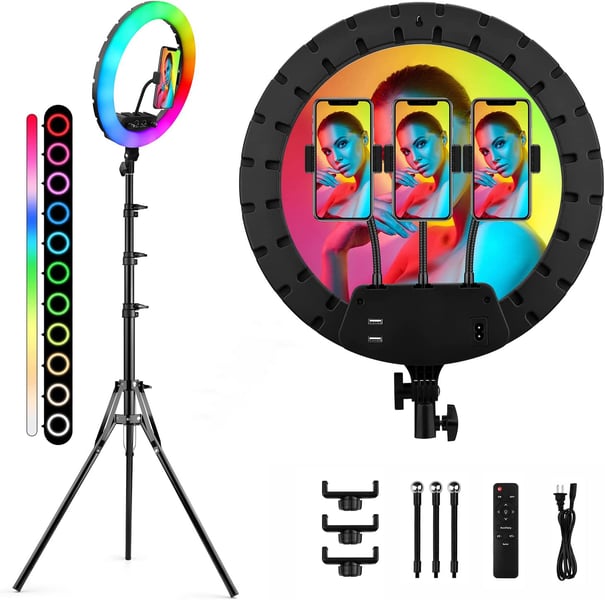 This is the cheapest ring light on our list and is definitely in the consumer-level category, but it comes with enough features to make it potentially desirable as lighting collusion for live streaming and remote work meetings.
This ring light has a diameter of 14 inches, which is large enough to cover your face and the area around it. The tripod stand that it comes with allows you to position the light at different heights, so you can adjust it depending on what type of shot or product you're taking photos of.
The remote control that comes with this ring light allows you to turn the lights on and off without having to get up from where you're sitting or standing.
The 14" Ring Light w/Tripod Stand & Phone Holder comes with a 2-year warranty and can be used for both indoor and outdoor photography.
GVM 10" Led Video Light for Indoor Photography ($139.00; gvmled.com)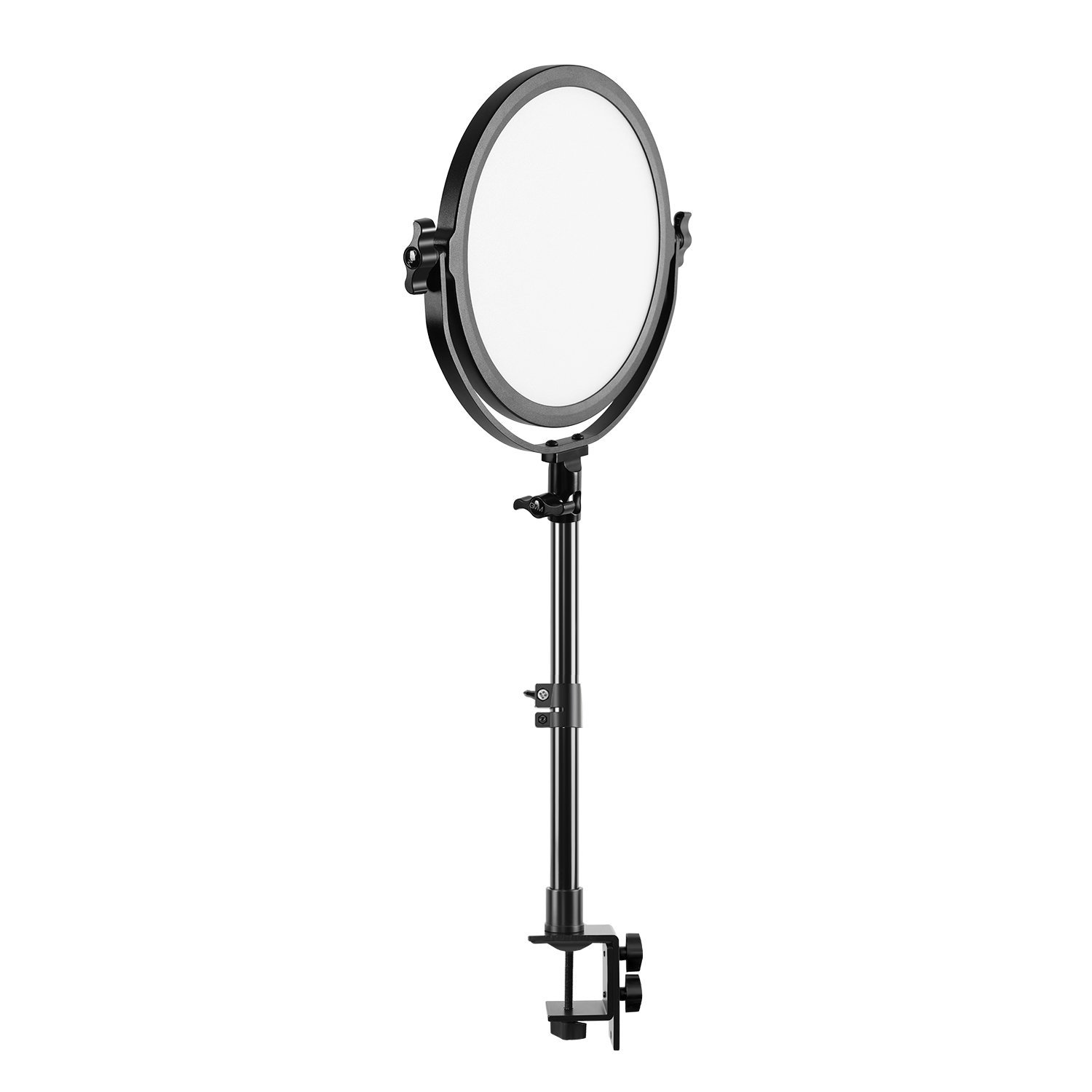 The GVM 10" Led Video Light for Photography is a good choice if you need to shoot in low light at your desk. This light has a desk clamp mount and dimmable control, and its intensity can be adjusted between full power and half power. It's also adjustable, so it can be used either as a spotlight on the subject or to illuminate the background of your shot. Its compact size makes it a good ring light for laptop video conferencing.
The GVM 10" Led Video Light for Photography is portable and lightweight, making it easy to take with you wherever you go. Its compact size allows it to fit into almost any bag or camera case without taking up too much space. Finally, at under $150 (as of this writing), this ring light is very affordable compared with many other options on the market today.
Conclusion
If you're looking for a high-quality light that won't break the bank, pick up one of these ring lights today.
In the world of photo and video, ring lights are a boon to anyone who wants to take their craft to the next level. Ring lights make for excellent lighting in any situation, whether you're shooting portraits or doing makeup tutorials. And if you're still not sold on ring lights, consider this: they've been used by top photographers and videographers for years—vloggers included!
Here's why we love using ring lights:
They produce a soft, flattering light that makes everyone look great (even if they don't think they do).
They come in an array of sizes so you can find one that fits your needs perfectly. If you like your shots close up, choose a small one; if the distance is important for your project (like with vlogging), try something larger instead! You can even buy multiple rings and combine them for unique results!
They allow creative freedom when lighting isn't possible due to lack of space or lack thereof power outlets nearby where needed most--not only does this mean less work involved in setting up each shot but also less cost spent on renting equipment rentals from places like Borrowlenses when all else fails.
Well, there you have it—our top picks for the best ring lights on the market. Are you ready to start impressing your colleagues? Then go ahead and pick up one of these fantastic lights today!