Digital Samba for Education
Inspire students from a feature-rich virtual classroom
An encrypted & GDPR-compliant virtual classroom software for e-learning. Get everything you need to deliver high-quality and inspiring courses and lessons.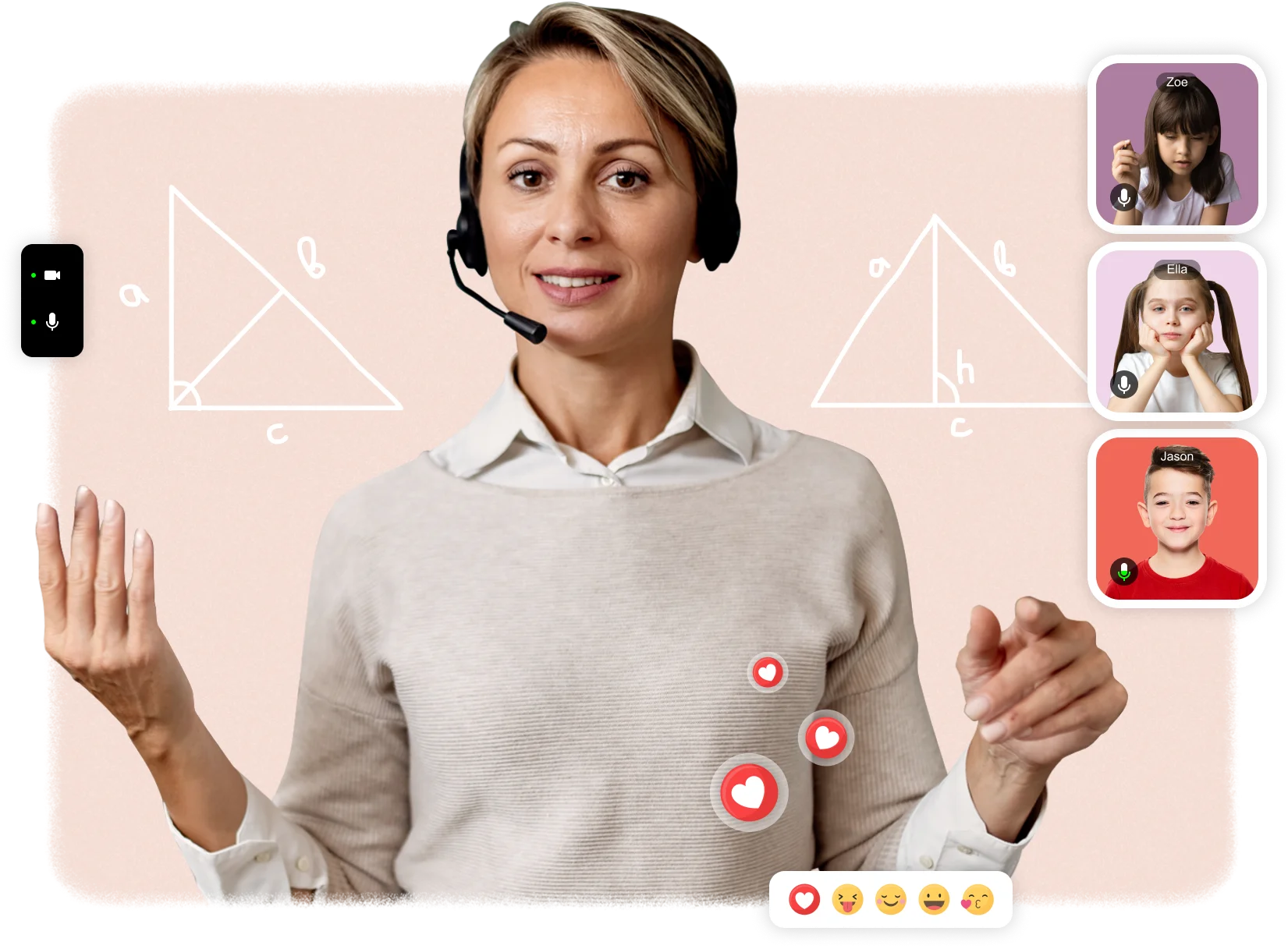 Everything you need to set up your perfect virtual classroom in a few simple clicks
Virtual learning made simple
Q&A
Engage your students by hosting a virtual Q&A with moderation capabilities.
Q&A
Breakout rooms
Provide multiple workspaces for students to collaborate on interactive assignments in small groups.
Breakout rooms
Content library
Easily access and share course materials such as presentations, audio, video and spreadsheets.
Content library
Whiteboard
Annotate and markup shared documents with your students.
Whiteboard
Polls
Create engaging custom polls for your online classes and share the results.
Polls
LMS integration
Connect your educational technology into our system for seamless collaboration.
LMS integration
Custom branding
Use custom branded landing pages, rooms and emails to promote your institution.
Custom branding
Live chat
Students can chat with you or amongst themselves using public and private messaging.
Live chat
Recurring lectures
Schedule your lectures in advance using a single attendee registration setting.
Recurring lectures
Cloud recordings
Capture lectures in full HD MP4 and store them in secure cloud format.
Cloud recordings
Shared notes
Take notes during your online lectures to keep everything on track.
Shared notes
Collaboration tools
Embed web apps like Google Docs and Miro, then work on them with your students.
Collaboration tools
Keep students focused and engaged
Don't let students fall asleep during your class.
Use virtual classroom features like polls, Q&A, whiteboard, hand-raising, and breakout rooms. Your students will be more engaged than in a real classroom.
Students can log in and join a class from anywhere in the world using their phones, desktops, or other mobile devices.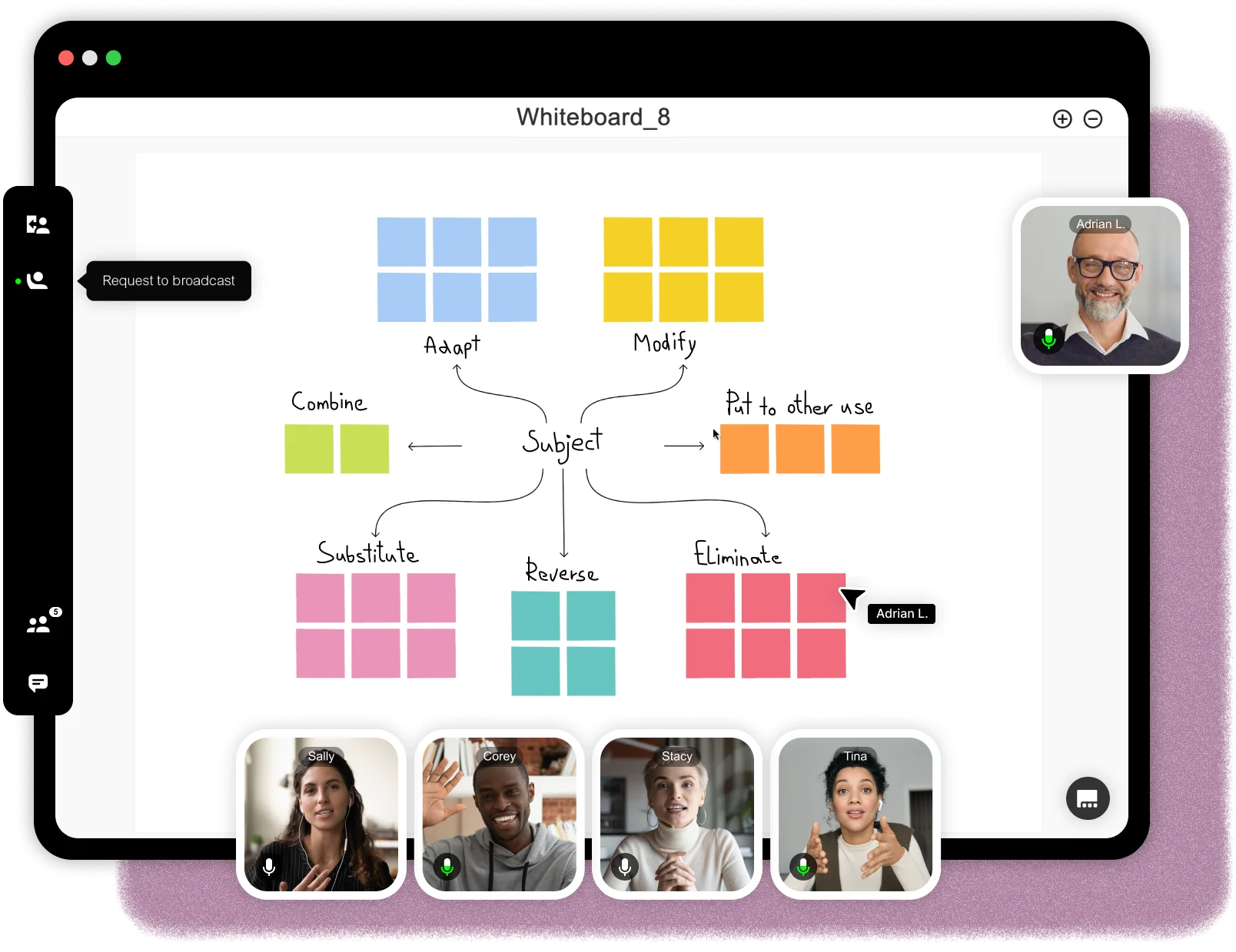 Perfectly organised and accessible lecture materials
Prepare your virtual lessons in advance by managing handouts and saving them for the next class.
Upload and share presentations, audio, video, PDFs, spreadsheets, and videos to your cloud-based content library.
Allow students to download lecture materials while in the virtual classroom. Alternatively, include materials in online class invitations or follow-up emails.
| | | | | | |
| --- | --- | --- | --- | --- | --- |
| | Slides | | PDFs | | Videos |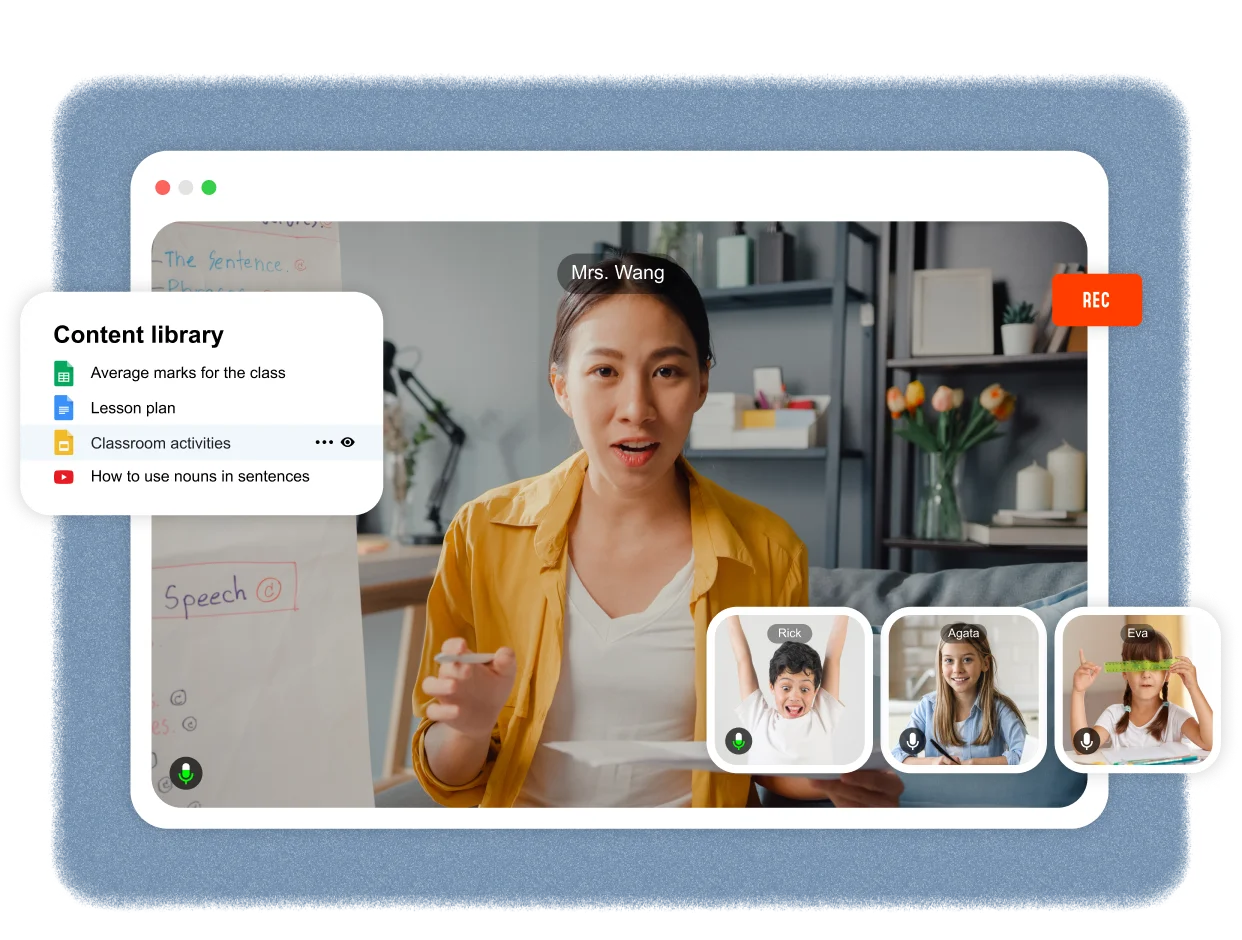 We take the stress away from hosting successful virtual classes
Why Digital Samba's virtual learning platform
Well-organised online classes
Share files with your students and make real-time annotations. Use the whiteboard feature to make notes, diagrams, or drawings that the whole classroom can see.
Get more than just product support
With Digital Samba software for e-learning, you don't just get tech support. You get a partner. We offer our customers true, comprehensive support that goes beyond troubleshooting.
Host with confidence and peace of mind
Digital Samba's online classroom infrastructure, data handling and security meet industry-leading standards. You are backed up by European security and GDPR compliance.
Pick the plan that's right for you
Starter
Feature-rich virtual classroom software for groups of up to 15 students.
* Billed monthly (auto-renewal)
* Billed as €132 yearly (auto-renewal)
Professional
An online teaching software and learning space for groups of up to 35 students.
* Billed monthly (auto-renewal)
* Billed as €168 yearly (auto-renewal)
Institution
Multi-user virtual classroom for 20 teachers and up to 55 students per digital classroom. Need a few hundred more? Contact us.
* Billed monthly (auto-renewal)
* Billed as €1344 yearly (auto-renewal)
Join the thousands who use Digital Samba's virtual classroom every day.