Digital Samba Announces its New Direction and Pricing on 20th Anniversary
Digital Samba, a pioneering company in the video communication industry, is celebrating its 20th birthday this month. For two decades, we have been dedicated to delivering better communications because we believe in making a difference. Our cause is to foster meaningful connections, empowering individuals and businesses to thrive.
In the past year, our company underwent significant changes, modernising the way we deliver exceptional video conferencing solutions to our customers. We refreshed our Digital Samba brand, introduced a new product powered by entirely new technology, and presented flexible pricing options.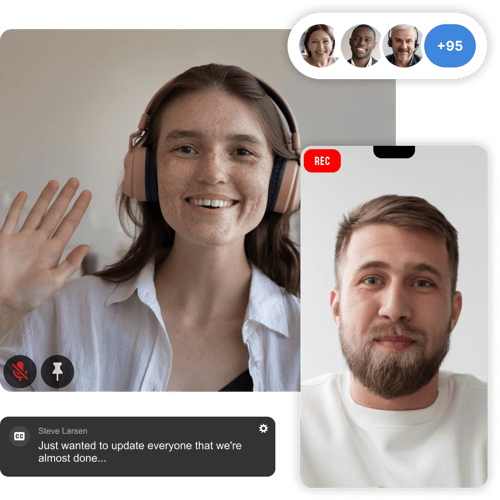 Last autumn marked one of the most pivotal and transformative periods in our rich history, propelling us towards new horizons of growth and achievements.
The launch of our new flagship product provides a solution for a post-pandemic world where video conferencing has become ubiquitous and marks a new era for video communication. Digital Samba's new embeddable video conferencing product is designed for developers to integrate feature-packed, pre-built video conferencing as a low-code API into any application.
The addition of our SDK allows for fine-tuning of the user interface, creating an entirely seamless experience for users.
The new Digital Samba is built with a privacy-first mindset, designed to meet all of the strict regulatory requirements imposed by the European General Data Protection Regulation (GDPR). It is inherently data agnostic making it the ideal for any solution where the sensitivity of user data is a primary concern.
Reflecting on 20 years of innovation
In 2003, Digital Samba (formerly known as Samba Live and OnSync) was founded with a vision to revolutionise the way people connect and communicate. Over the years, we have achieved remarkable milestones, earning multiple awards for our exceptional product and support team.
2003
Digital Samba was founded in Barcelona, Spain when working remotely was nothing more than a pipe dream in the digital world.
2003
2006
We expanded Digital Samba to the USA, where it became a pioneer in the emerging video conferencing SaaS white-labelling industry.
2006
2019
We rebuilt our technology from obsolete Flash to HTML5 and updated our brand from OnSync to Samba Live. Once again we were at the forefront of the rapidly rising WebRTC revolution.
2019
2020
During the pandemic, we helped multiple businesses worldwide transition to a remote work culture, being one of the few providers that could ensure effective business continuity under extreme load.
2020
2022
A massive year for Digital Samba. We added over 50 new features to our product, received over 10 awards, and launched Digital Samba Embedded: Our new VPaaS technology built on the most modern and performant web technologies available.
2022
2023
We extended Digital Samba Embedded with our SDK and enjoy working closely with both loyal and new customers to continue to enhance our solution.
2023
Digital Samba is now developer-oriented, focusing on security
In our 20th year, we decided to make something exceptional. We are excited to announce that Digital Samba Embedded now focuses on developers and businesses who want to integrate video calling solutions into their products - either via our API and SDK or via the upcoming Digital Samba plugins which will allow point-and-click integrations into popular calendaring applications, LMS systems, CRMs and more.
"Now that the world has realised the power and utility of video conferencing, our mission is to make access to truly private video conferencing accessible to anyone. By empowering developers to integrate secure video conferencing into their applications we will enable video communication from those platforms that users already use and trust."

Robert Strobl
CEO and Founder of Digital Samba
To fully align with this vision we dedicate all our efforts towards our new product and no longer sell our Samba Live end-user Webinar, Virtual Classroom, or Meetings as standalone products to new customers - however, we continue to support these products via our partners network.
Moreover, we are actively working on introducing new plugins that will introduce more seamless ways to use our products and continue to push to replace and improve upon the functionalities and features our customers have grown to love.
What you can do with the new Digital Samba
Digital Samba lets customers integrate video conferencing effortlessly into their apps or websites with a few simple lines of code.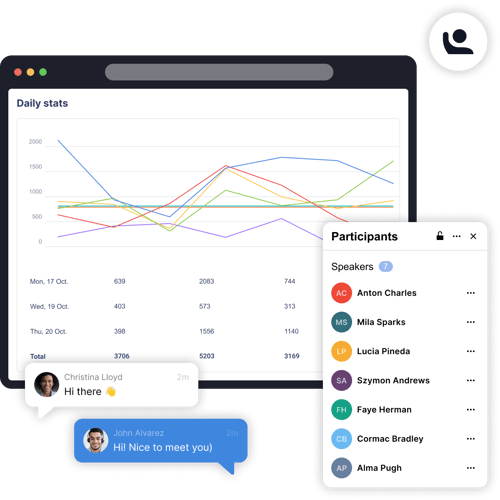 Our video conferencing API and video SDK empower developers to build customised and immersive video communication experiences within their own applications.
Multi-user video conferencing
Conduct video conferences with large numbers of participants simultaneously.
Multi-user video conferencing
Mobile compatibility
Access and use our platform seamlessly on any device and any screen size.
Mobile compatibility
Cloud Recordings
Record and save video conference sessions in the cloud for future reference.
Cloud Recordings
End-to-End encrypted (E2EE)
Ensure secure and private communication during group video calls.
End-to-End encrypted (E2EE)
Virtual backgrounds
Use our SDK to customise your video conference environment with virtual backgrounds.
Virtual backgrounds
AI Captions
Leverage AI to display captions during video conferences for enhanced accessibility. Implemented the Digital Samba way for privacy and compliance.
AI Captions
Roles and permissions
Assign specific roles and permissions to participants for better management and control.
Roles and permissions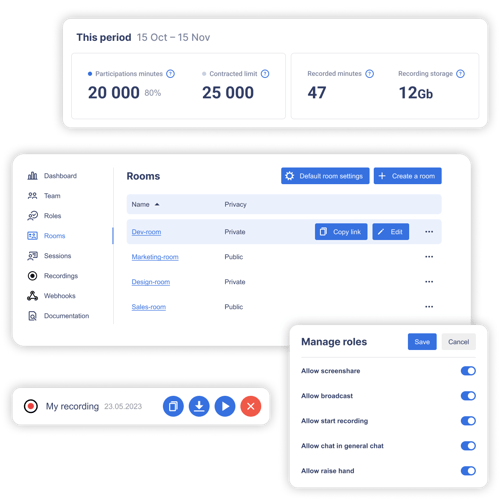 See the full features list here.
Pricing
Our new pricing model is designed to say goodbye to "per host" licensing that forces customers to purchase licences even for those team members that rarely used the platform.
Instead, Digital Samba offers a single licence based on the capacity your organisation needs.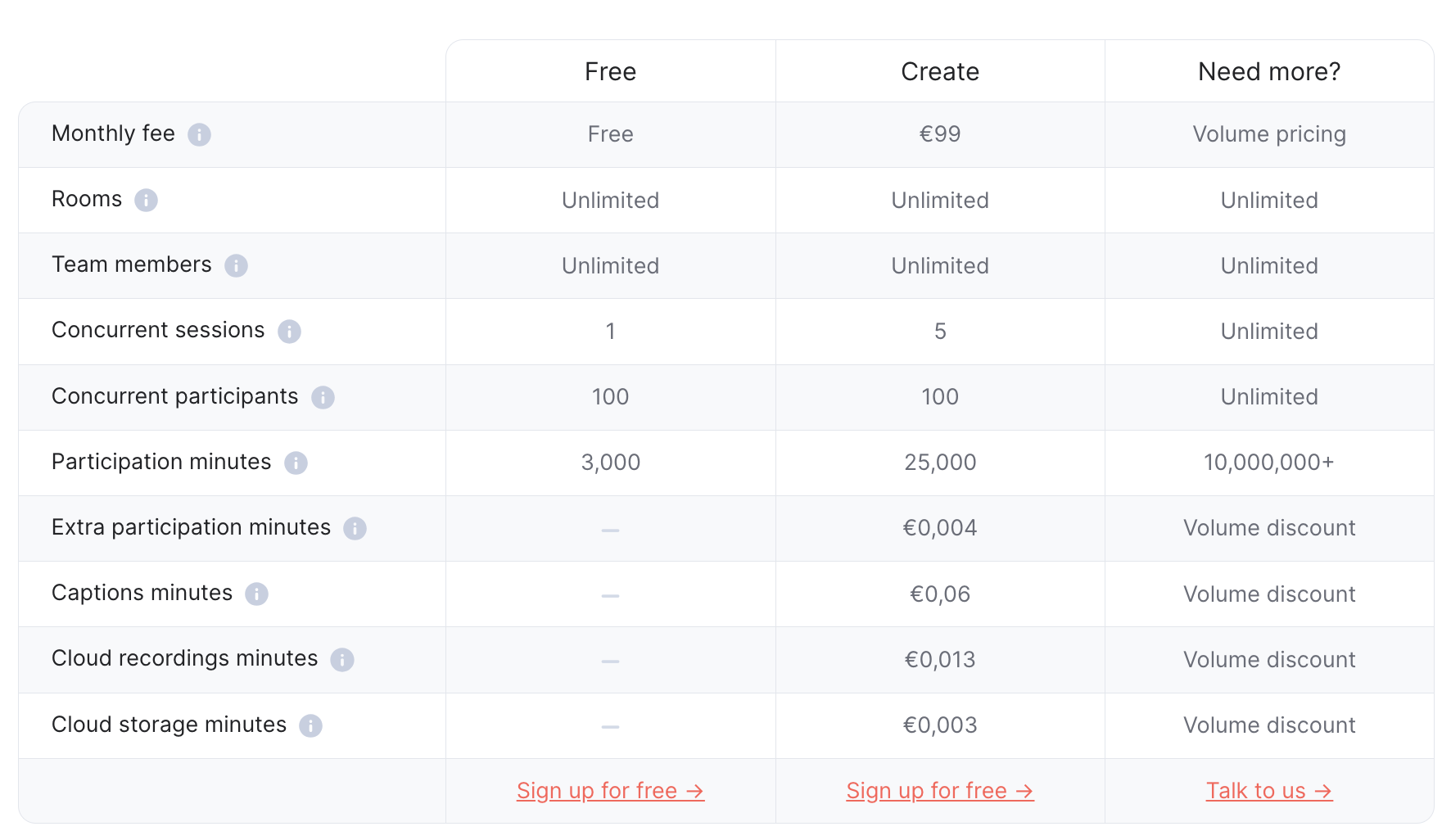 Should you exceed quota, we can continue service and automatically charge for overage and you may upgrade to a larger capacity pack, with higher volume discounts, at any time.
To make entry into the world of Digital Samba easier than ever, we offer a free plan that allows developers to get convinced of performance and get the largest part of development done without spending a cent.
Security through data agnosticism
At Digital Samba, we understand the importance of data security and privacy. That's why our data centres are compliant with GDPR, HIPAA, and SOC-1 standards and regulations.
As the only true GDPR-compliant VPaaS provider in the market, we prioritise the protection and confidentiality of your data with TLS and E2E encryption.
We understand that the data we handle is highly sensitive and Digital Samba is designed from the ground up to be data agnostic.
Looking ahead to the future
As we celebrate our 20th birthday, we remain committed to pushing the boundaries of video communication. Our vision extends beyond providing a video conferencing solution; we aim to embed video conferencing seamlessly into work environments.
We understand the value of time and strive to make video communication easily accessible and comfortable for end-users.
In line with this vision, we have already launched a WordPress video conferencing plugin and have plans to introduce plugins for Google Calendar, Outlook Calendar, Calendly, and other popular platforms. We are excited about the future and look forward to continuing to innovate and shape the video communication industry.
Thank you for being a part of our story, and here's to many more years of success and innovation together! Happy birthday, Digital Samba!