Digital Samba
White-label video conferencing software
European's best fully customisable white-label video conferencing platform built entirely in HTML5 and WebRTC.
A videoconferencing platform made for your success
Software developers, teleconferencing service providers, carriers, and value-added resellers profit from full access and white-labelled Digital Samba.

Unlimited and open licensing for total control
With Digital Samba, you can build the solution of your dreams. You define the level of service, you decide the pricing structure, and you keep 100% of the revenue — no hidden wholesale costs or revenue sharing ever.
Unlimited and open licensing for total control

Fully customisable branding in every detail
Your domain + Your branding = Your system. Full REST API access and customizability that extends to mobile puts you at the forefront of your customer's every good experience.
Fully customisable branding in every detail

Cut your costs and keep your upside
With our private cloud plans, you can present your own company without deploying your own infrastructure. Create your own plans, set your own pricing, and bill customers directly.
Cut your costs and keep your upside
Where superior audio & video quality meets unparalleled collaboration features
Your system should match your branding and values
We are pleased to be a pioneer in the industry when it comes to true white-label video live chat.
Entirely own your environment with personalised domains branded with your logos, colours, fonts, and much more. This includes branded iOS and Android mobile apps we can deploy for you.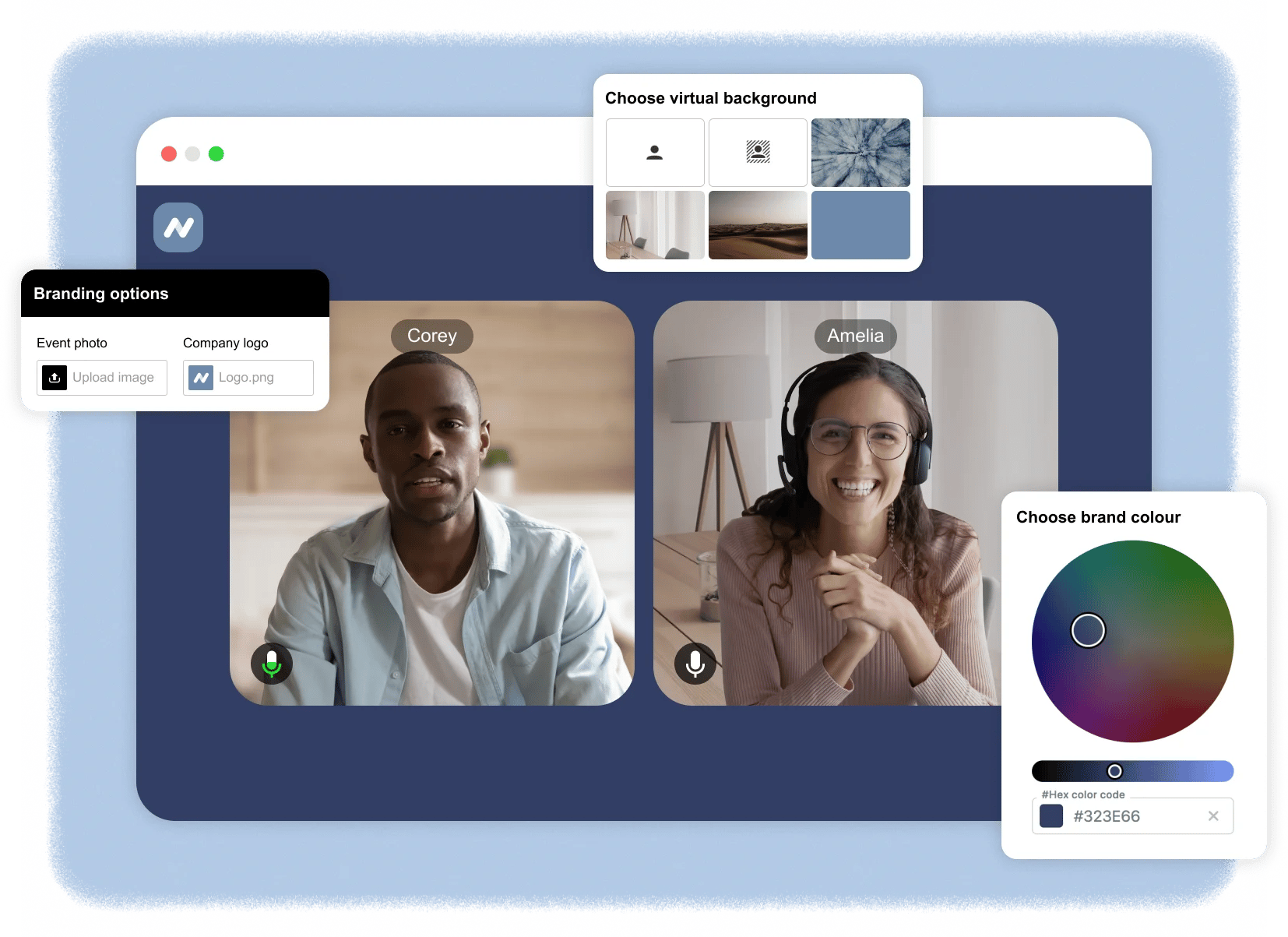 Flexible licensing and payment for a smooth transition
We're all about win-win situations. Our transparent and easy-to-understand pricing plans are based on concurrent users. It means that you can sign up an unlimited number of customers and move current customers to your new platform with absolute ease.
Design your own pricing plans for your cloud service and integrate them with your back-end and provisioning through a powerful API.
Host on your own infrastructure or let us take care of it for you. Either way, we offer a turn-key solution that gets you up and running as quickly as possible, without ever limiting your growth.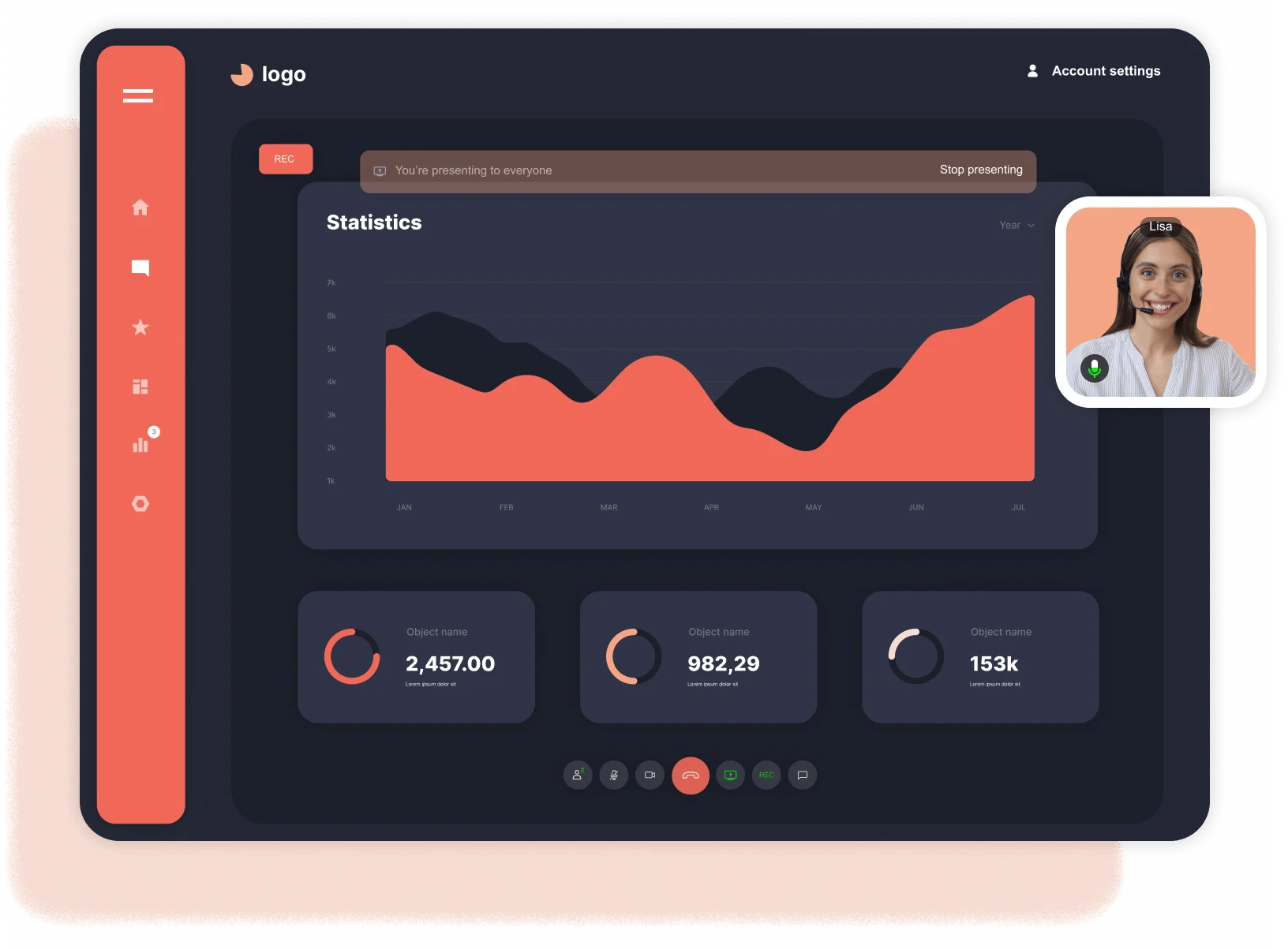 Cutting-edge technology for every account, every time, everywhere
We've built our platform entirely in WebRTC/HTML5 to bring your customers best-in-class multi-point HD video and full-duplex audio experiences.
This specialised solution extends to your branded apps, where your customers can collaborate on their desktops, tablets, or other mobile devices – even via ultra-low bandwidth.
Enterprise-grade security & GDPR
Protect your data with the highest level of SHA-256 with E2EE-encryption.
Superior support superstars
Our 24/7 premium support team has your back for every customer issue.
Bird's-eye view on your business
Manage and analyze your data in real-time via live data API, and build your own dashboard and controls.
The features you need to build amazing solutions
White-labelling
Fully white-labelled video chat software and webinar software, from domain to colour scheme.
White-labelling
Dynamic roles
Teachers & students? Doctors & patients? Martians & Earthlings? You decide.
Dynamic roles
Virtual webcam backgrounds
They are fun and add security by blocking out private spaces.
Virtual webcam backgrounds
Whiteboard
Let users collaborate visually using intuitive drawing and mark-up tools.
Whiteboard
Remote muting
Room moderation is essential in professional group calls.
Remote muting
Content library
Users can upload, share and store videos, PDFs, spreadsheets or other media files in a cloud-based media library.
Content library
Screen sharing
Easily include a live screen feed video element in your video conference.
Screen sharing
Cloud recordings
Record meetings directly on our servers and have them stored on our infrastructure for later retrieval.
Cloud recordings
Live streaming
Stream your video conference to Facebook, YouTube and Vimeo instantly.
Live streaming
Email automation
Automate webinar email invitations, reminders and follow-ups.
Email automation
Live chat
Let participants chat with a speaker or amongst themselves using public and private messaging.
Live chat
Mobile app
Provide a first-class mobile webinar experience with hand raising, chat, Q&A, shared notes and other features.
Mobile app
Web conferencing software
KeyMeeting achieves 30% year-on-year growth with Digital Samba Embedded
Learn how Digital Samba helped KeyMeeting become the #1 provider of meetings and webinars in Italy.
Trusted by some of the biggest names in videoconferencing





Get 10,000 free minutes every month!
Create a free account right now. No credit card required.